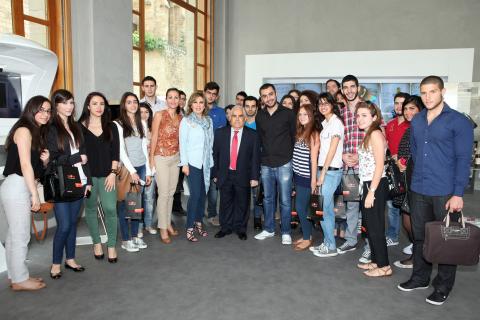 Beirut, June 15, 2014 - Bank Audi has recently launched an initiative consisting in a series of workshops for university students entitled "Payment Technologies: Past and Future" and presented by Mrs. Randa Bdeir, Group Head of e-Payment Solutions and Card Services at Bank Audi sal, with the aim of exposing the youth to newly implemented technologies worldwide and to the future of payment trends.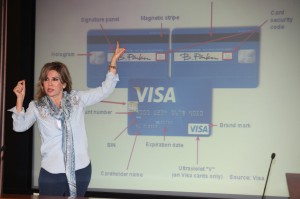 During these workshops, students are guided through the evolution of payment methods, from the barter era to modern credit cards and mobile banking, and are briefed on their spread across the world, particularly in the Middle East. They are also introduced to the specificities of payment cards, namely their different types and categories, as well as international security features.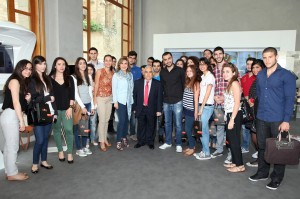 Moreover, they are given the opportunity to explore the wide variety of Bank Audi payment cards and understand how they are sorted according to market segmentation by taking a deep look into the product development process and grasping "the four Ps" principle: Product, Price, Place and Promotion.
The latest technologies and payment solutions are also discussed through an in-depth review of their evolution from the magnetic strip to contactless payment, Tap2Pay NFC mobile payment, MPOS acceptance devices, and of course emall, e-commerce and m-commerce.
Following the presentation, students are treated to a tour inside the e-gallery where they can discover the latest payment solutions and banking technologies that were discussed during the workshop. The e-gallery is the first showroom of its kind and is located in Bank Audi's headquarters in Bab Idriss. It is set up like a museum, showcasing the latest devices, technologies and payment solutions to be implemented in Lebanon by Bank Audi. It is composed of a mixture of informative display boxes, interactive applications and tablets, a prepaid cards vending machine and other state-of-the-art equipment.
Bank Audi invests considerable efforts to play a significant educational role in the society, which consolidates Mrs. Bdeir's quote on the occasion: "We launched these workshops for university students from all over Lebanon because Bank Audi has taken on the responsibility to educate the coming generation. This initiative started with the inauguration of the e-gallery whose objective is to allow the youth to properly understand how the payment system works, what the future payment trends and solutions are, and how they adapt to people's needs and lifestyles".
Since its inauguration in June 2013, the e-gallery has welcomed over 5000 guests who were all impressed with the set up and the showcased technologies they thought would not be available in Lebanon before another decade.
Categories