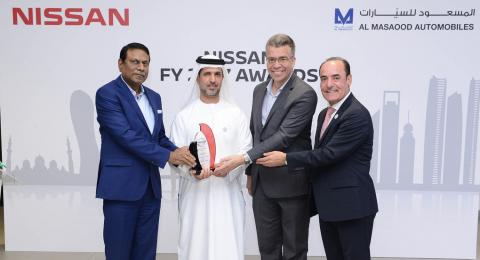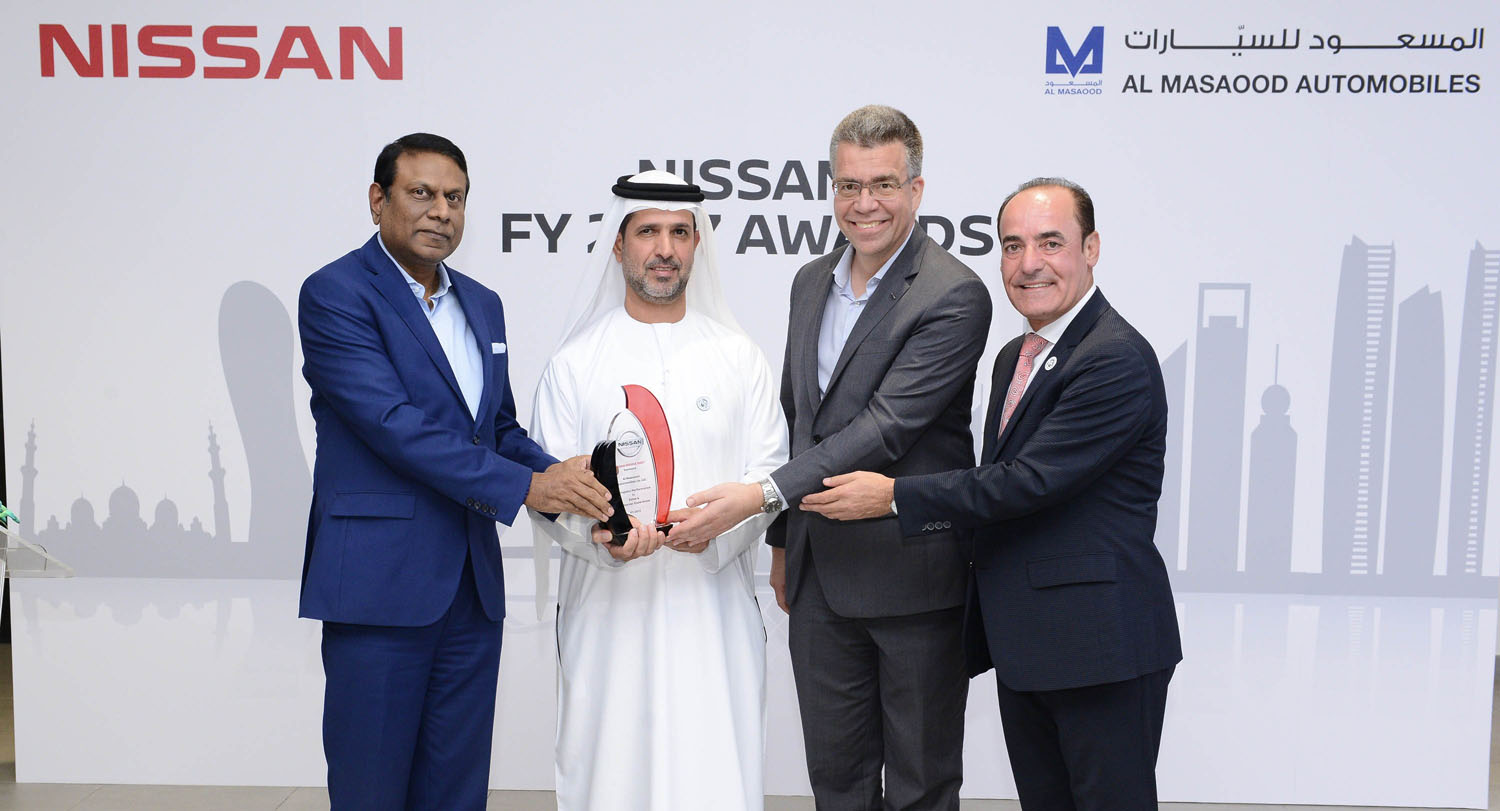 Nissan Middle East awarded Al Masaood Automobiles for 'Exemplary performance in Sales and Customer Experience in FY17'. The authorized distributor for Nissan was awarded this prestigious title for increasing its market share in 2017 and showcasing impressive customer service standards in the automobile industry.
The award aims to highlight the achievements of the company's distributors, recognize sales efforts, outstanding customer and aftersales service as well as the commitment to achieving the highest ranking in market surveys.
As part of continued efforts to remain leaders, Nissan conducts an annual Competitive Customer Satisfaction Survey to benchmark sales & service processes against competitors in main markets to measure showroom experience, sales staff competency, delivery process, delivery timing and after post delivery services. As a result, Al Masaood Automobiles ranked #1 in the FY17 survey in both sales & service.
Since 1984 to 2018, Al Masaood Automobiles has sold hundreds of thousands of Nissans and more recently have been acclaimed for being the first distributor in the Gulf region to successfully roll out Nissan's new retail concept at Khalidiya showroom in Abu Dhabi.
During the award ceremony Al Masaood Automobiles were also commended for their experienced and successful leadership that focused on modernizing and streamlining operating structures to ensure long-term growth and profitability, ultimately increasing market share.
Commending the group, Kalyana Sivagnaman, President of Nissan Middle East and Regional Vice-President Africa, Middle East & India Region, said: "For over 30 years, Al Masaood Automobiles has supported Nissan in achieving remarkable sales in the UAE. The group's dedication and leadership has contributed largely to Nissan's visibility in the market. The seamless rollout of Nissan's new retail concept by Al Masaood is a key testament to their commitment towards providing customers a global brand experience. We are very pleased to be awarding Al Masaood Automobiles this title and would like to thank them for their continued excellence and successful partnership."
"Working with an innovative brand like Nissan makes us front runners in the industry and we are humbled to receive this award from them" said H.E. Masaood Ahmed Al Masaood, Chairman of Al Masaood Group. "At Al Masaood, retaining customer satisfaction and offering a seamless purchase experience is the core focus of our business strategy. Customers of Al Masaood are part of our family and we are always working towards learning how we can serve them best. Al Masaood Automobiles has been and will remain faithful to its 'customer first' ideology and we look forward to continue working with Nissan on its journey towards the future of mobility."
Irfan Tansel, Chief Executive Officer of Al Masaood Automobiles commented by adding: "At Al Masaood Automobiles, we believe that continuous refinement of a high performance and customer-centric culture ensures the enduring success envisaged by our partners. We have a proven ability to thrive, both in good times and in bad, and believe that this stems from ensuring that our respect for UAE heritage and our vision of the future is at the forefront of all our dealings. This award inspires us to continue to win the hearts of our customers and create advocates for Nissan in Abu Dhabi, Al Ain and the Western region. We look forward to many years of successful partnership with Nissan Middle East ahead."
Juergen Schmitz, Managing Director, Nissan Middle East, also commented on the award saying "We are delighted to be here today, celebrating Al Masaood Automobile's notable achievements, who over the last 30 years have reflected upon Nissan's vision to be the leading car brand in the world. Their efforts around enhancing customer service experience and launching the Business Development Call Centre are just a few examples among others, of Al Masaood's continuous efforts to remain at the helm of the auto industry in the UAE."
Al Masood Group has been an icon in the UAE for over four decades, with its superior service standards, extensive spare parts network and cutting-edge technology. Its service centres have a team of highly trained staff, who ensure a smooth and seamless experience for customers.  It has the largest Nissan Service Centre in the world, providing 162 service bays. 
About Nissan Motor Co., Ltd.
Nissan is a global full-line vehicle manufacturer that sells more than 60 models under the Nissan, INFINITI and Datsun brands. In fiscal year 2017, the company sold 5.77 million vehicles globally, generating revenue of 11.9 trillion yen. On April 1, 2017, the company embarked on Nissan M.O.V.E. to 2022, a six-year plan targeting a 30% increase in annualized revenues to 16.5 trillion yen by the end of fiscal 2022, along with cumulative free cash flow of 2.5 trillion yen. As part of Nissan M.O.V.E. to 2022, the company plans to extend its leadership in electric vehicles, symbolized by the world's best-selling all-electric vehicle in history, the Nissan LEAF. Nissan's global headquarters in Yokohama, Japan, manages operations in six regions: Asia & Oceania; Africa, the Middle East & India; China; Europe; Latin America; and North America. Nissan has partnered with French manufacturer Renault since 1999 and acquired a 34% stake in Mitsubishi Motors in 2016. Renault-Nissan-Mitsubishi is today the world's largest automotive partnership, with combined sales of more than 10.6 million vehicles in calendar year 2017.
For more information about our products, services and commitment to sustainable mobility, visit nissan-global.com. You can also follow us on Facebook, Instagram, Twitter and LinkedIn and see all our latest videos on YouTube.
About Al Masaood Automobiles
For over 40 years Al Masaood has been an icon for the UAE's automotive market, today being the main distributor for Nissan, Infiniti, Renault and Bridgestone in Abu Dhabi, and for Ducati in all of the UAE.
Al Masaood Automobiles has operated in Abu Dhabi for nearly four decades, bringing to its customers a complete range of 4x4, luxury, passenger and commercial vehicles, catering to a large and diverse range of individual, fleet and Government users.
Al Masaood Automobiles has an extensive network coverage, including 8 showrooms in Abu Dhabi, Al Ain and Madinat Zayed, together with an extensive flagship sale and after sales complex in Musaffah with a dedicated New Vehicle Delivery Centre, stand-alone Fleet Business Solutions Facility, 5 service centres, 2 bodyshops and 5 spare parts branches. It has the largest Nissan Service Centre in the world, providing 162 service bays. The division employs over 1,000 highly trained staff across its sales and after sales divisions in the UAE.
For more information about our products, services and commitment to sustainable mobility, visit www.masaood.com.
Categories