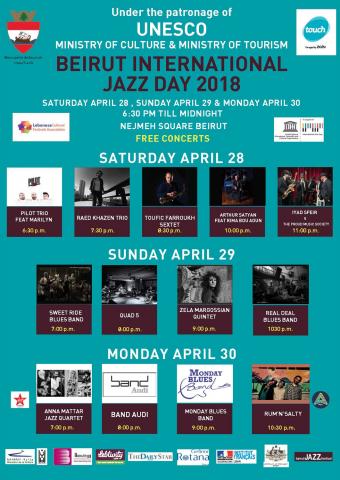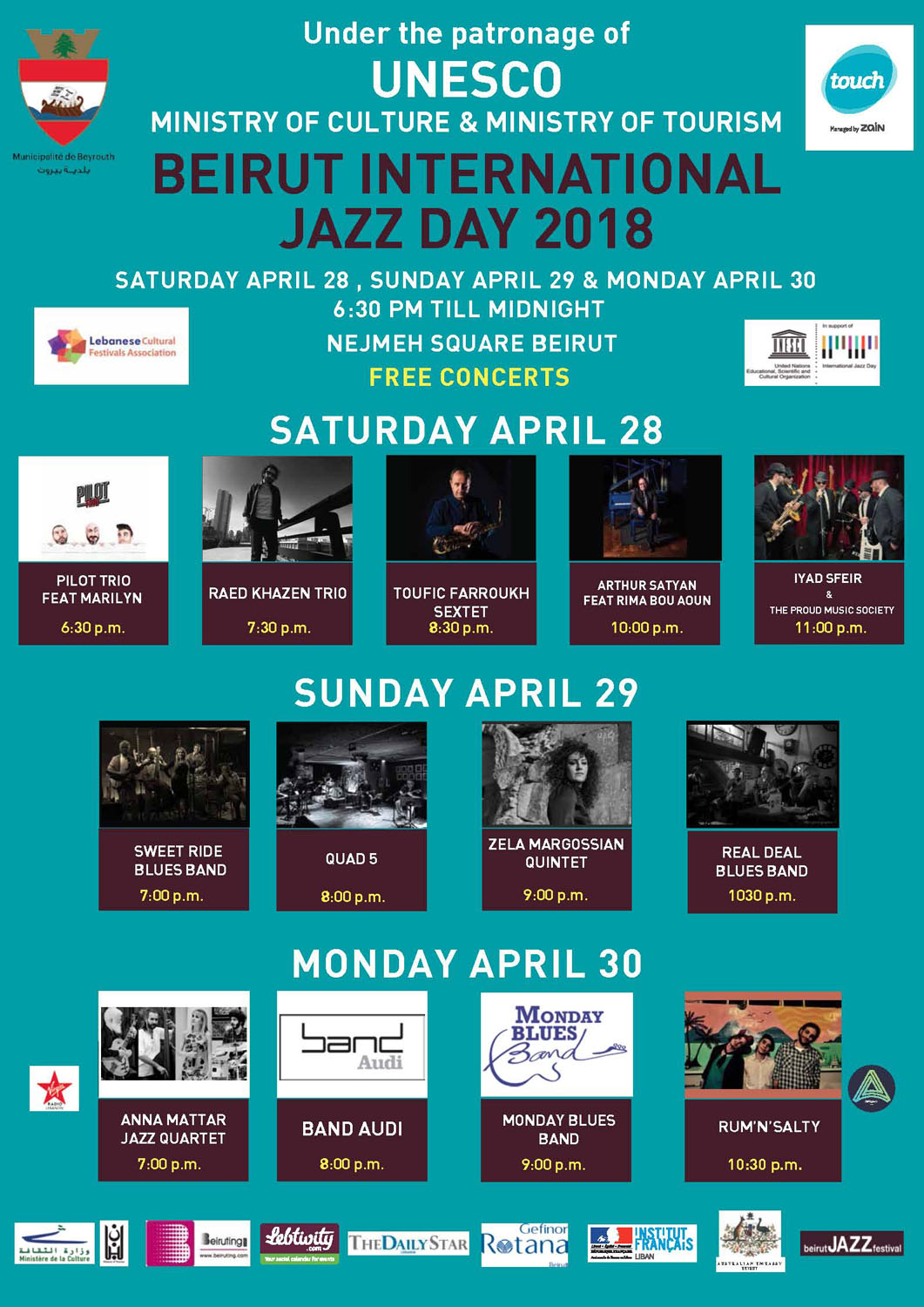 Under the Patronage of UNESCO, the Ministry of Culture, the Ministry of Tourism, the Lebanese Cultural Festivals Association and the Beirut Jazz Festival are organizing the 6th edition of the Beirut International Jazz Day, from April 28 till April 30 for the first time in Nejmeh Square, where free concerts will take place honoring Lebanese talents who succeeded abroad and are now well-known internationally.
For the opening ceremony on Saturday April 28, the renowned artist Toufic Farroukh, along with his band Toufic Farroukh Sextet will give the Lebanese audience a glimpse of his international talent. Honoring his Lebanese roots, the International Jazz Day team will inaugurate the festival on this day, in the presence of the UNESCO officials, the Lebanese Ministers of Culture and Tourism, ambassadors, media and jazz lovers.
The festival will feature a number of local and international artists and bands, including, Pilot Trio featuring Marylin, Raed Khazen Trio, Toufic Farroukh Sextet, Arthur Satyan featuring Rima Bou Aoun and Iyad Sfeir and the Proud Music Society for the first night, Sweet Ride Blues Band, Quad 5, Zela Margossian Quintet from Australia and Real Deal Blues Band, for the second night and Anna Mattar Jazz Quartet, Band Audi, Monday Blues Band and Rum'N'Salty for the last night.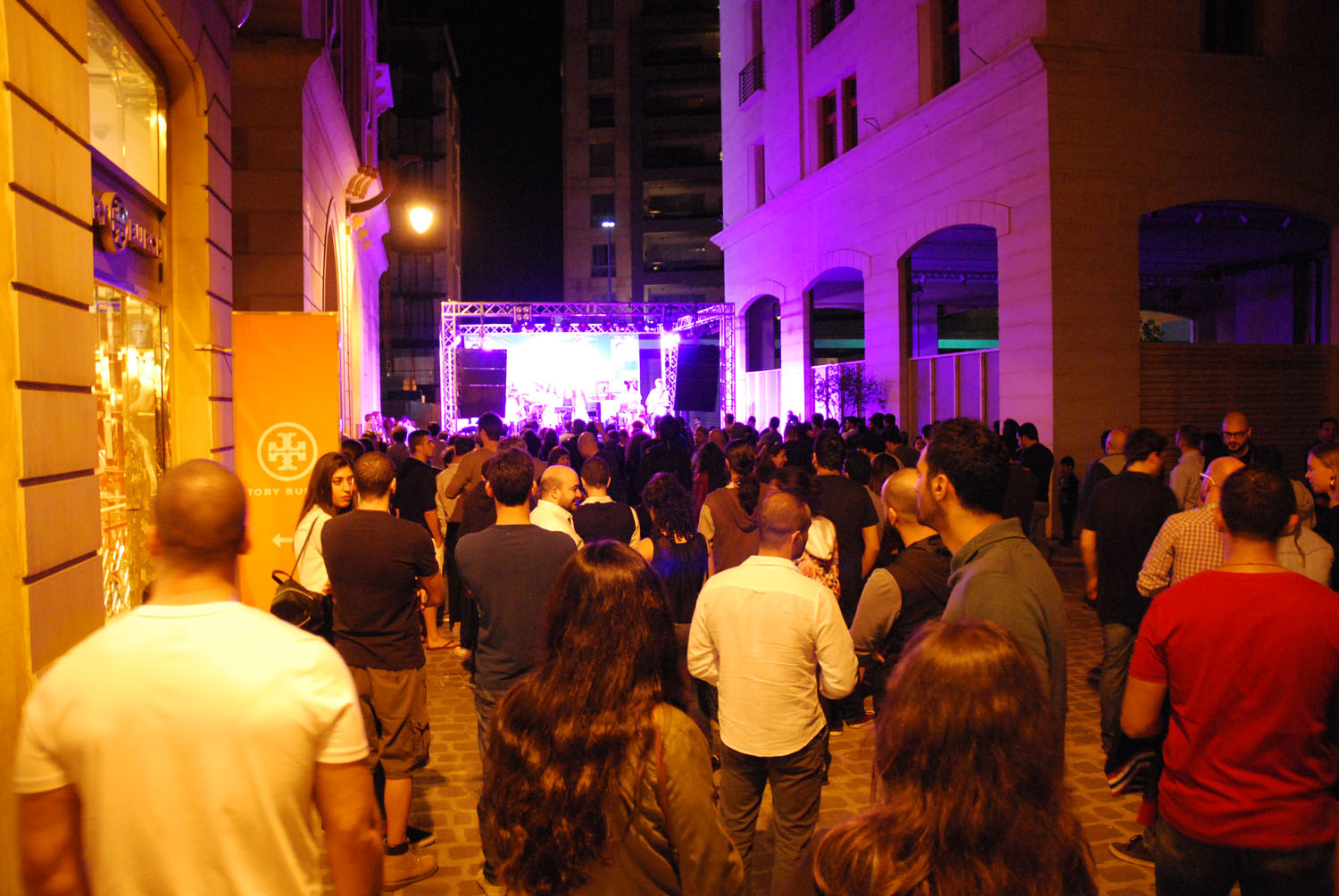 Attracting over 20,000 people, the Beirut International Jazz Day has been supported by UNESCO for the last six consecutive years. In 2011, UNESCO officially designated April 30 as International Jazz Day in order to highlight jazz and its diplomatic role of uniting people in all corners of the globe. Since 2013, Beirut has been participating in the celebration of this day, with the belief of the role of jazz in bringing communities, schools, artists, historians, academics and jazz enthusiasts together.
The Lebanese Cultural Festivals Association whose members have organized many festivals and received the 2012 Time Out Best Music Festival Award for Fête de la Musique and 2016 Lebtivity most popular event 2015 in Lebanon, is organizing this year's edition of Beirut International Jazz Day, with the sole motto for Nina Simone in mind: "Jazz is not just music, it's a way of life, it's a way of being, a way of thinking".
Categories