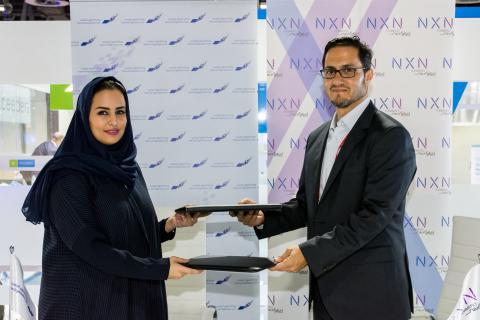 Collaboration reaffirms commitment to the Kingdom's digital transformation agenda and Vision 2030
The National Digitization Unit (NDU) of the Kingdom of Saudi Arabia has signed a Memorandum of Understanding (MOU) with NXN (formerly neXgen), a leading smart city consulting and digital service provider in the Middle East and Africa, marking NDU's first step towards harnessing open data to achieve the digital transformation of the Kingdom.
The MOU underpins an existing partnership between the two entities to support and develop NDU's digital transformation agenda in the domains of digital services development and activation, platform innovation and most importantly data governance.  The scope of the agreement covers four strategic themes of the Kingdom's digital vision which are: Digital Society, Digital Economy, Digital Nation and Digital Talent.
The MoU was announced by Mrs. Deemah Al-Yahya, Acting Chief Executive Officer of the National Digitization Unit, and Mr. Ghazi Atallah, CEO of NXN, on 10th of October 2017 at the Gitex Technology Week in Dubai.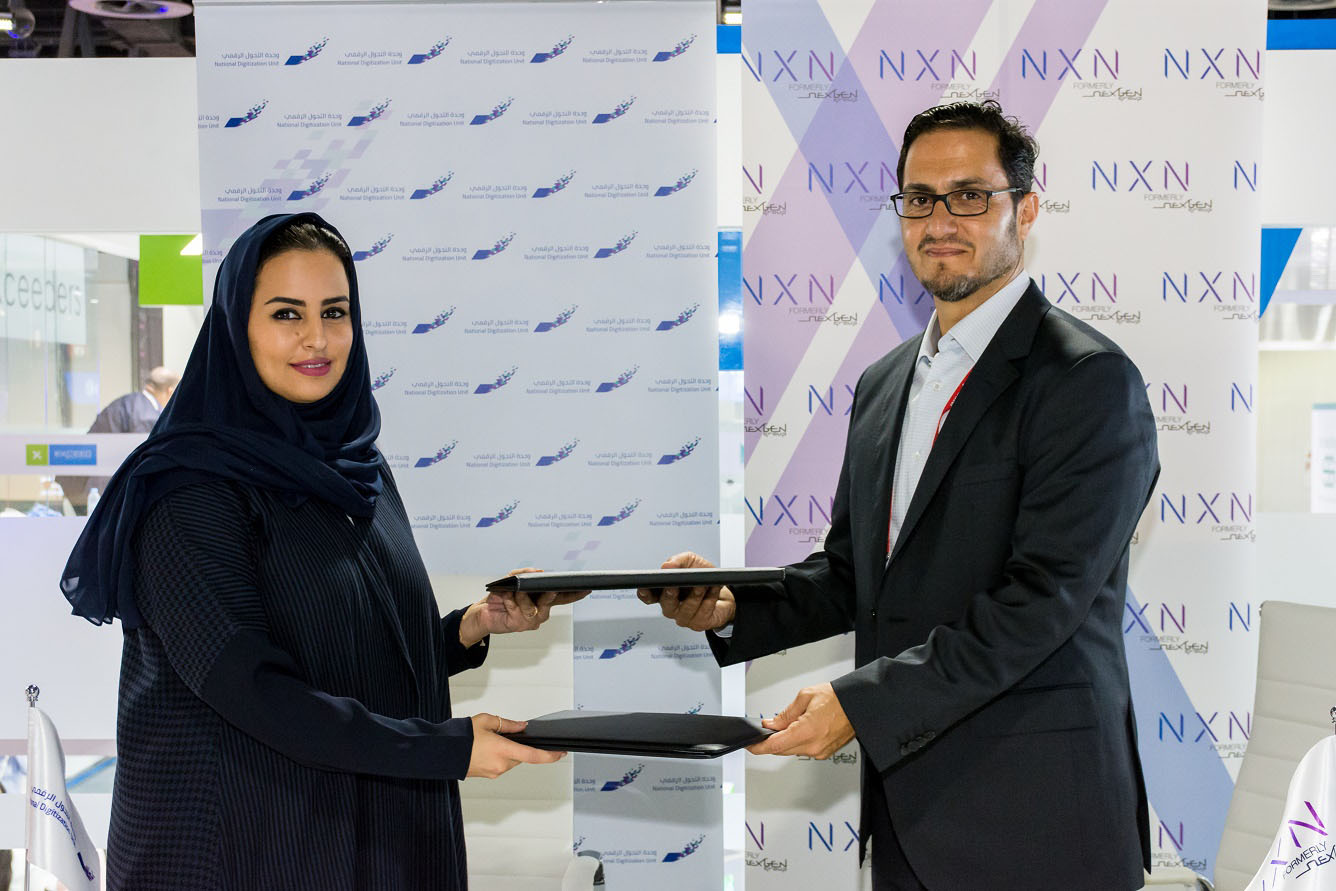 This new collaboration between NDU and NXN is closely aligned with the fundamental themes of the Saudi Vision 2030 to create "a vibrant society, a thriving economy, and an ambitious nation" and the objectives of the National Transformation Program 2020 to build the best future for the Kingdom. It also comes as part of the Kingdom's strategic digital vision and is aligned to the mandate set for the recently created Open Data Committee to create an open data environment in the Kingdom.
Today the world is producing data at an unprecedented rate with more than 3 billion people connected to the internet, compared to only 2.3 million people in 1990. For data to be considered truly open, it must be published in bulk, machine-readable formats, and under an open licence, states Open Data Barometer, a global measure of how governments are publishing and using open data for accountability, innovation and social impact. Its findings show that in 2015 only 10% of government data was published as open data, a small but significant increase from 2013, when 7% of datasets were published in full open data format. Thirty-one countries have at least one open dataset, and just over 50% of the datasets surveyed among the 11 top-ranked countries qualified as fully open.
Saudi Arabia has set out on a national journey to develop an open data ecosystem by providing data and data services to the public, enabling seamless services, deeper insights, and a vibrant data economy driving innovation. According to industry reports, open and shared data can help unlock "$3.2 trillion to $5.4 trillion in economic value per year across key sectors."
NXN will work with NDU and the Open Data Committee hand-in-hand to create the open and shared data governance framework that requires a Kingdom-wide classification framework, and a Policy Framework and Standards Architecture. These include the complete suite of regulatory instruments as well as technical and process guidelines required to support the initiative.
NXN has invested into developing a multi-million-dollar digital platform "DNX" to serve regional nations with a ready to use platform for digital and smart transformation across the Middle East based on open and shared data. This is significant considering that Middle East North Africa (MENA) digital transformation market is projected to expand at a compound annual growth rate of 15.1% until 2020. Countries, including the KSA, are increasingly introducing e-Government and smart city initiatives, with the objective to transform themselves into digitally-enabled countries.
Mrs. Deemah Al-Yahya, Acting Chief Executive Officer of the National Digitization Unit, said, "Open data holds huge potential in achieving development goals in a fast changing world. The National Digitization Unit's decision to join hands with NXN reflects our keen desire to utilize the advantages offered by digitization to tap into open data to achieve the nation's strategic plans for the future. It also comes in line with our mission to leverage global and regional partnerships to drive rapid and sustainable national digital transformation, and realize the Kingdom's national digital vision to rise to the forefront of digital nations with a diversified economy that builds on the nation's talent and innovative spirit,"
"NDU has embraced an ambitious digital agenda to achieve its goal of becoming a digital leader by 2025. This agreement is a solid attestation to this ambition further strengthening NXN's strategic relationship with NDU. It will bring readily deployable solutions for the Kingdom's Smart Cities and Districts through NXN's digital platform, enabling various stakeholders across the Kingdom to leverage these innovative services in their digital transformation journey.  Delivering simple and effective services to our customers from our industry collaboration efforts is always our overarching goal, said Ghazi Atallah, CEO of NXN.
Atallah added, "Moreover, this partnership is in line with our strategy to build a quick-to-market ecosystem that involves various industry players to enable open, better connected nations based on open and shared data. This alliance allows us to capitalize on NXN's 's regional presence and know-how in addressing the ever-growing appetite for digital solutions in the Kingdom of Saudi Arabia, while developing and activating NDU's digital initiatives and drafting key selected Saudi digital sector blueprints."
About NXN :
NXN (formerly neXgen) is a thought leader in the domains of smart cities and next generation technology innovation. NXN leverages its unique combination of regional insight and global outlook and unparalleled experience to consult, build and manage digital transformation services. Further enabled through its partnership with Zain group, NXN is the trusted advisor and digital service provider to some of the most forward-thinking governments and enterprises worldwide. For more information, please visit www.nxn.ae.
About National Digitization Unit (NDU):
National Digitization Unit (NDU) is a centre of excellence mandated to accelerate the efforts to achieve the Vision 2030 objectives. An entity under the National Digitization Committee, NDU is working to realize the Kingdom's National Digital Vision to make Saudi Arabia a leading digital nation with a pioneering and diversified economy that builds on the Kingdom's talent and innovative spirit. It aims to achieve this vision by playing the role of an enabler, disruptor, incubator and guardian of a portfolio of programmes, engaging with various governmental and private stakeholders in the national digital ecosystem. Its mission is to drive rapid, agile and sustainable national digital transformation, utilizing cross sector enabling policies, platforms and critical infrastructure, as well as leveraging global and regional partnerships, the KSA's large youth population and the Kingdom's preeminent position in the Arab and Muslim world to enhance the nation's digital environment.
Categories