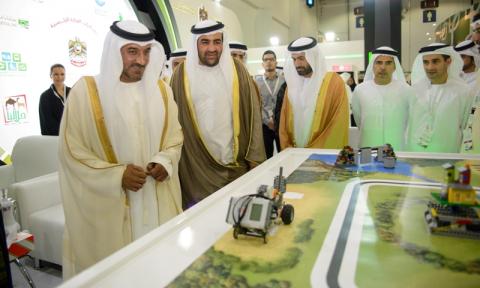 April 14, 2014 - The UAE has been showing a great interest in environmental issues since its establishment in 1971. The state has seen great efforts and a developmental renaissance in the environmental field made possible through institutional and legislative enhancements and the implementation of an integrated and broad set of actions and measures based on the adoption of technical solutions and innovations and key development policies.
As part of its continuing mission to build a sustainable future for the present and future generations, MoEW is participating in the 16th Water, Energy, Technology and Environment Exhibition (WETEX 2014). This comes in line with the UAE's commitment towards fostering a 'Green Economy' as a sustainable development path towards achieving the 'UAE Green Growth Strategy.'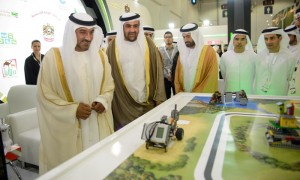 During the first day of the exhibition, the Ministry's team showcased the UAE's efforts to conserve the environment since its first participation in the UN Conference on the Human Environment in Stockholm in 1972 and the establishment of MoEW in 2006. The Ministry also presented its current green programs that have been undertaken after its first initiative, 'UAE Ecological Footprint (2007),' and the more recent launching of the first 'Global Conference on Partnership for Action on Green economy (PAGE 2014). It showcased various green activities being implemented by local government and semi-government entities as well. Eng. Aisha Al Abdooli, Assistant Undersecretary of Environmental Affairs, UAE Ministry of Environment and Water, said: "Our participation in this event complements the national commitment towards building and developing a sustainable environment and applying innovative solutions for its protection in line with the strategic directions of the UAE Government. The MoEW will use this exhibition as a platform for presenting our ongoing efforts to enhance the sustainability of our local natural resources, maintain a reliable food supply, and promote biosecurity." Eng. Al Abdooli added that the MoEW has been focusing on supporting the UAE Green Growth Strategy' which aims to establish a new stage of development based on eco-oriented long-term economic growth. This, she explained, is being achieved through investments in various solutions and options, a number of which have been adopted in previous years, and continuously improving their effectiveness. She particularly pointed out to renewable and alternative energy, green architecture, sustainable transport, cleaner production, and efficient and proper consumption of natural resources as key development areas. Eng. Al Abdooli further clarified that MoEW's support for the UAE Green Growth Strategy reflects the country's intensive efforts to build a diversified economy based on knowledge and innovation from which distinctive job opportunities can be created as part of the UAE Vision 2021 development plan. She also explained that the Strategy has six strategic paths that cover various economic, social and environmental aspects:  Green Energy Green Technology, Green Investment, Climate Change, Green Life, and Green Cities. Eng. Al Abdooli concluded that the UAE Green Growth Strategy builds on sound environmental practices to support economic growth, thus making it a strategic umbrella covering all activities related to a green economy.
Categories