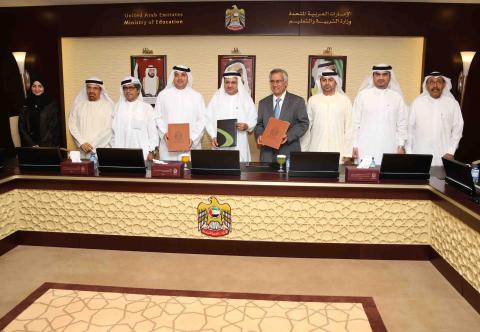 Ministry acknowledges adult education segment's move to enter next level
UAE, June 5, 2014- The Ministry of Education said yesterday that the adult educational system is entering a new stage following the unprecedented move of implementing the latest e-learning systems across the region in a bid to promote digital learning among students. H.E. Humaid Mohammed Al Qatami, Minister of Education, has inaugurated the first digital version of a set of e-books for adult education.
The ministry, Etisalat UAE, and United Group for Education signed a memorandum of understanding (MoU) to formalize the process of transformation. The signing was attended by H.E. Marwan Al Sawalih, Undersecretary of the Ministry of Education, H.E. Ali Mehad Al Suwaidi, Assistant Undersecretary for Special Education, and H.E. Amal Al Qous, Assistant Undersecretary for sector activities and school environment. The MoU was signed by H.E. Al Qatami, H.E. Abdullah Salem Al Maneh, Director General of Telecommunications Dubai, on behalf of Etisalat, and Mohamed Elewa, Director of United Group for Education.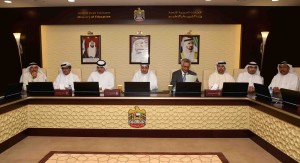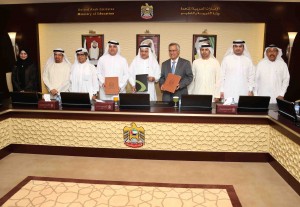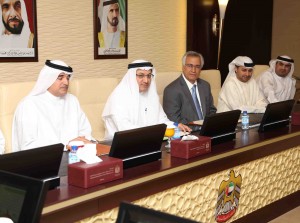 The MoU aims to:
• Provide Internet service managed by the Etisalat (Managed WAN Service)
• Provide cloud computing service (Cloud Computing) to store digital information
• Provide technical consultancy to support the development and implementation of projects emanating from the ministry's strategy to provide the best services within the project (distance learning for adult education)
• Create a studio and digital platform distance learning
• Digitization of four selected school books to interactive web books for Grade twelfth literature for the following subjects: Biology, Mathematics, Arabic History
H.E. Al Qatami said: "The distance-learning project in the field of adult education is aligned with the process of qualitative transformation amidst progress in UAE education. At the same time, the ministry seeks to achieve global competitiveness in education to achieve a leading position. The ministry has recorded numerous milestones over the years including strengthening of adult education and literacy. It has received praises from international organizations, with the newly released report by UNESCO showing a marked decline in the rate of illiteracy in the UAE. The illiteracy rate has been narrowed down to less than 1 per cent."
H.E. Al Qatami stated that the ministry aims to utilize more modern practices in the adult education segment, particularly the adoption of e-learning techniques as opposed to the traditional teaching methods--providing better educational opportunities for learners and associates of night schools, meeting the needs of the learners and providing the requirements for development and labor market. The ministry is also working on adopting technology and tools of modern and smart techniques, along with distance learning, to complement the skills and capabilities of learners.
He commended Etisalat for its commitment and support for the education system's development as well as its eagerness to partner with the education sector. He noted that it achieved global leadership at the level of communication and information technology. "The memorandum of understanding signed today is the first of a series of extended fruitful cooperation and strategic partnership between the ministry and Etisalat to achieve our common goal of integrating sophisticated modern technology into the education sector."
For his part, Abdullah Al Manih, Managing Director, Etisalat Dubai, said: "Our company is proud to be an exclusive partner of the ministry in its move towards the adoption of all smart learning systems.  This initiative is one of the priorities of the government's smart program launched by H.H. Sheikh Mohammed bin Rashid Al Maktoum, UAE Vice President and Prime Minister and Ruler of Dubai."
Al Manih added: "The partnership and the role of Etisalat to make studying easier and accessible to students any time is important. Through this partnership, the curriculum will be available through smart phones and modern electronic devices that come within the package of smart services implemented by the Ministry of Education."
Mohammed Mohammed Alewa, Head, United Group for Education said: "The joint venture provides an outstanding example for e-learning which includes digitizing a selection of tutorial subjects. This gives the ministry the proper methods to allow the student to obtain the textbook as digital content as well as provide a digital library of comprehensive course materials accessible using various smart devices."
Mohammed Al Khumair, Director of School Management Specialist, said: "The idea of e-learning in higher education and home schooled education is part of a comprehensive initiative implemented by the Ministry of Education. The initiative aims to provide a proper and effective e-learning platform through the use of modern technology. A modern education enables students to access their lessons any time, any place electronically but it still contains all the components of a regular classroom."
Categories