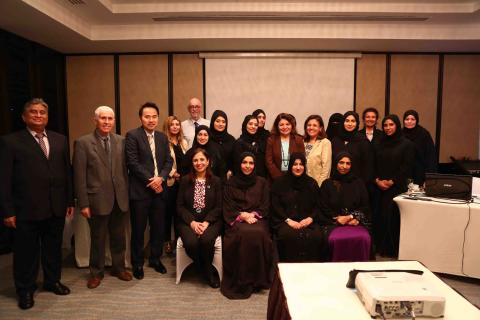 Initiative held in collaboration with World Health Organization and attended by key government bodies
The Ministry of Health and Prevention (MOHAP) organized a workshop for health in all policies in cooperation with the World Health Organization (WHO) Regional Office for the Eastern Mediterranean Region to highlight the significant role of non-health sectors and the impact of their policies and strategies on UAE's health programs. It also aims to train decision-makers on policy development and program planning for all sectors to work together in achieving the UAE's goals stated in the National Agenda and UAE Vision 2021.
Dr. Aisha Suhail, Director of Primary Health Care Department, Dr. Fadila Mohammed Sharif, Director of the Health Education Department, and representatives from the Office of the Prime Minister, Abu Dhabi Health Authority, Seha, and representatives from the Ministry of Climate Change and Environment, Sharjah Health Authority and Emirates Authority for Standardization and Metrology attended the workshop.
The UAE's health education guide was discussed in relation to all the policies and social programs and its importance in achieving the sustainable development goals. The sessions discussed the current health challenges and the importance of including health in policy making processes and intersectoral planning towards the development of a national health strategy, in coordination with the UAE's health and government agencies.
Dr. Aisha Suhail, Director of the Primary Health Care Department, MOHAP, noted the importance of this system to improve the country's health situation and coordinate the plans and policies of various government institutions following the Ministry of Health's strategy in ensuring the health of the community based on a comprehensive and integrated health care system, which uses innovative and sustainable ways to prevent the spread of diseases.
She further emphasized the Ministry's keenness to keep the respected agencies abreast of global developments in accordance with the recommendations of the WHO to raise health standards and promote individual health. Dr. Suhail explained that the workshop endeavors to train the trainers which would echo the guidelines to the different sectors in the UAE. The end goal is to develop a training plan that will help widen knowledge and skills in building health policies.
Dr. Fadila Mohammed Sharif added that the workshop also evaluated the role of government bodies in supporting MOHAP's plans and initiatives in accordance with national policies. It also built stronger cooperation among government sectors, the private sector and key strategic partners towards the overarching goal of providing comprehensive and innovative health services.
MOHAP seeks to promote awareness on healthy lifestyles in the society to reduce non-communicable diseases such as cardiovascular disease, diabetes, cancer and respiratory diseases, fight obesity and diabetes through comprehensive national programs; endorses the creation of green spaces for sports and recreation for the community; develops national health indicators; and implement WHO standards.
Categories