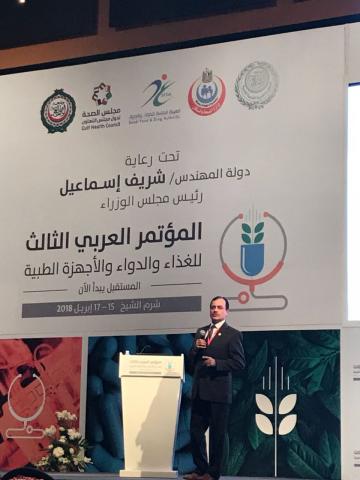 E. Dr. Al Amiri: 'The UAE is an exemplary model in the pharmaceutical and healthcare sectors' 
UAE recommendations submitted tothe Council of Arab Health Ministers
 The Ministry of Health and Prevention represented the UAE at the Third Arab Conference for Food, Drugs and Medical Devices held in Egypt under the theme 'The Future Begins Today.' Among the event's attendees are H.E. Dr. Ahmed Radi, Egyptian Minister of Health and Population; H.E. Dr Ali Hyasat, former Jordanian Minister of Health, H.E. Dr. Hamad Al Manea, former Saudi Minister of Health; Dr. Hisham bin Sa'ad Al-Judaei, Chief Executive Officer of Saudi Food & Drugs Authority (SFDA); H.E. Dr. Nasser AlQahtani, Director General of the Arab Administrative Development Organization (ARADO); H.E. Dr. Amin Hussein Al Amiri, Assistant Undersecretary for Public Health Policy and Licensing at the UAE Ministry of Health and Prevention and Chairman for Supreme National Pharmacovigilance Committee; along with ministers, undersecretaries  and representatives from Arab and international pharmaceutical companies and the Arab Institute for Training and Research of the League of Arab States. Around 700 participants took part in the event.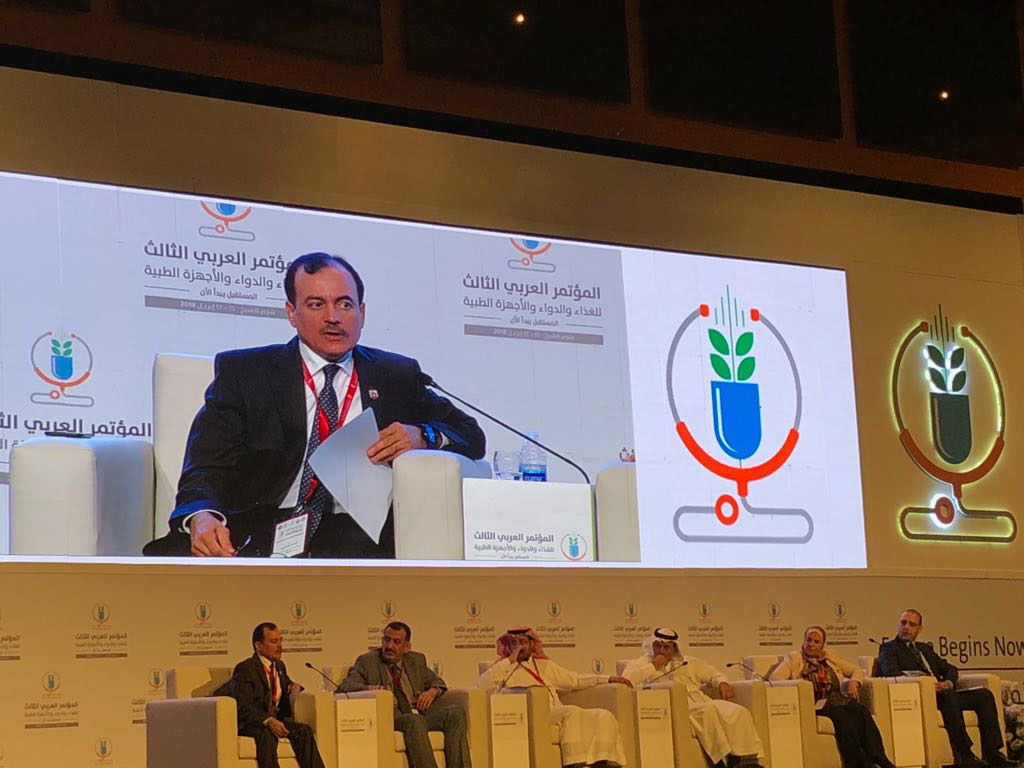 H.E. Dr. Al Amiri noted that the leading forum gathered decision makers in government and private Arab and international entities, scientists, and academic researchers from prestigious universities. The UAE chaired the second session covering the intergovernmental dialogue held in the presence of local, regional, and international drug manufacturers and government decision makers. The UAE, an exemplary model in the Arab world's drug and health sector, delivered a lecture during the conference.
UAE at forefront of building world-class health care sector
In his lecture, Dr. Al Amiri said that the UAE is at the forefront of building a best-in-class health care industry in the region backed by strong government guidance, robust enablers and National Agenda that shaped all national strategies; UAE Vision 2021; Smart Government Initiative; the National Innovation Strategy, Foresing the Future 2050, and the UAE Centennial 2071.
He added that the expected growth of the pharmaceutical market in the UAE is expected to increase from AED 11.3 billion this year to AED 20.6 billion in 2027 at an overall rate of 82.3 per cent. The market share of the private health care sector, in particular, has experienced significant increase over the past few years and is expected to grow further to reach over AED 30 billion backed up by the guidance and facilitation of a responsible public sector.
The number of drug manufacturers operating in the UAE is expected to hit 36 by 2020 from the current 18, while the number of scientific offices, which is currently at 47, is projected to climb to 75 by 2020. The projected growth is based on the Ministry's efforts to encourage investment in the pharmaceutical sector in the presence of a modern infrastructure, airports, and free zones.
Challenges facing Arab pharmaceutical industry
According to H.E. Dr. Al Amiri, the UAE has submitted an integrated report on the most pressing challenges facing the pharmaceutical and medical device industries in Arab countries after conducting a survey. The country also submitted a separate report on key recommendations to hurdle these challenges which include lack of a unified platform for pharmaceutical product registration and lack of a unified Arab drug market as well as the absence of an Arab committee for drug registration similar to the GCC Central Committee for Drug Registration. Other issues raised are different local drug registration procedures; lack of information exchange between relevant authorities; delayed release of drug shipments in ports; import and re-export concerns; and the need for a dedicated Arab body to discuss and solve obstacles and challenges in this field.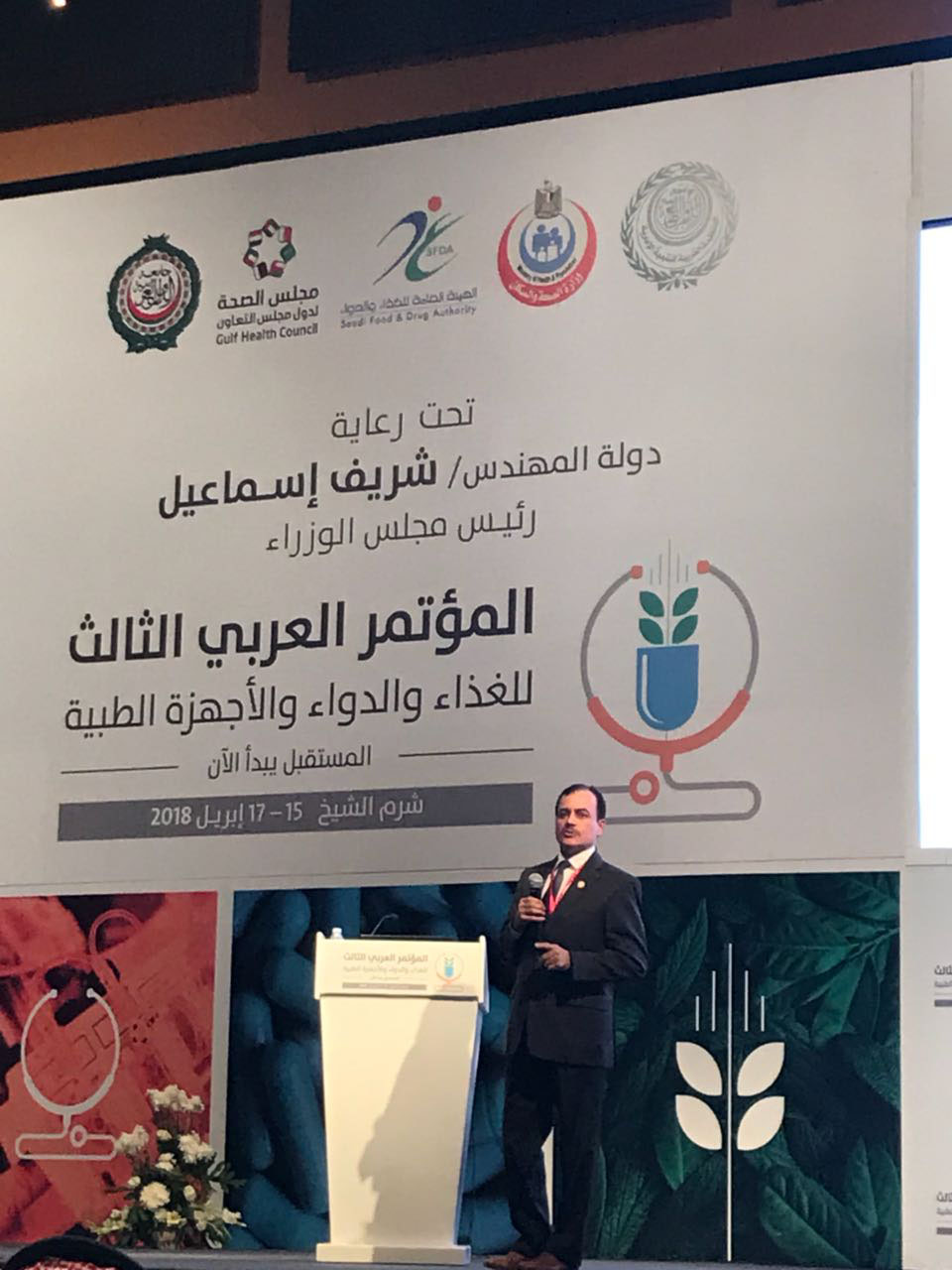 Pharmacovigilance system
H.E. Dr. Al Almiri also pointed out that pharmacovigilance remains a challenging point for all Arab countries due to lack of data exchange and poor communication, especially regarding the innovative drug system; lack of post-marketing surveillance before withrawal of medicines;  non-disclosure of marketing information; weak regulations governing private companies such as imposing fines on pharmaceutical companies by the Food and Drug Administration; lack of feedback among Arab countries on all areas of the drug industry; non-compliance of some Arab countries with intellectual property rights; and lack of pharmaceutical research and development centers that could generate Arab innovative medicine that we can be proud of.
UAE recommendations during meeting of Council of Arab Ministers of Health
H.E. Dr. Al Amiri also shared the UAE's recommendations to address the need to enhance the technical and scientific cooperation between Arab countries and regional and international drug organizations. The recommendations also aim to strengthen industry cooperation among Arab countries; establish a monitoring system to review and apply amendments; and develop indicators to assess and measure performance of relevant policies after the prescribed application period.  HE also highlighted the need to establish state-of-the-art factories and pharmaceutical research centers to stimulate innovation, encourage research, and keep pace with the evolving global industry.
Furthermore, H.E. discussed the need to formulate key drug legislations in the Arab world. The legislations should focus on setting specific mechanisms to protect Arab manufacturers; forming entities responsible for studying the pharmaceutical market and planning its development, and effective pharmaceutical policies; sharing GMP reports among countries; and providing a unified reference for pharmaceutical product registration and compliance with all TRIPS clauses.
Other recommendations included supporting the Arab pharmaceutical companies to improve their competitiveness; enhancing the innovative pharmacovigilance system; promoting the Arab markets abroad; and forming an Arab body to discuss obstacles and challenges in the drug industry. The recommendations were submitted to the Council of Arab Ministers of Health for approval and adoption in their next meeting.
Quality of pharmaceutical systems and importance of governance
The conference highlighted the need to develop regulatory and monitoring processes in the Arab countries as per the standards in relation to quality systems for food, drugs, medical devices, and products. The event also focused on the importance of governance and legislative and regulatory frameworks in ensuring the safety of food, drugs and medical devices, while supporting the localization of food, drugs and medical devices as well as protecting Arab consumers through legislations and regulatory systems to ensure safe food and medicine.
Categories