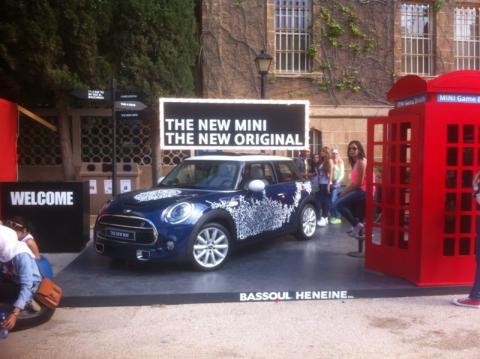 Beirut – Never one to miss a fun-filled event, MINI joined the 'AUB Outdoors' 2014 festivities from May 24th to 25th, helping to entertain and engage over 25,000 attendees at the annual extravaganza themed, "New York City". Organised by AUB students, the festival has run since 1981 and is defined by five F's: Fun, Folklore, Friends, Funky Music and Food – making it the perfect match for MINI.
A long-term event partner, MINI and Bassoul–Heneine sal, the BMW Group importer in Lebanon, choose to visualise the 'fun' element of the festival by selecting one of the most talented artists from the University in the form of Street Art Graffiti / Calligraphy and inviting him to use a MINI as a creative canvas. Working for 60 minutes, Yazan Halwani used his creative expression to turn the bright blue MINI in to a piece of art opting for a calligraphy composition in this case: the letters are flying off a fast moving car.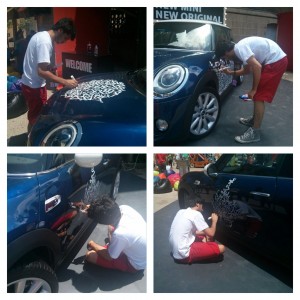 Commenting on the long-standing partnership with AUB Outdoors, Nagy Heneine, General Manager for Commercial Affairs at Bassoul-Heneine sal, said: "Built on the premise of fun and laughter, AUB Outdoor has been a success for over 30 years. In addition, its characteristics perfectly match the MINI, a timeless and classic icon that has a fun and out-going personality that fits all moods. With the support of the students from AUB, MINI was able to truly showcase the craziness of university life in the form of art."
MINI also brought some British flavour to the event with bright red telephone booths similar to those seen around London. The booth were the staging ground for an online competition that encouraged participants to take 'selfie's' to be shared online. At the conclusion of the second day's activities, five winners were selected at random and received select MINI lifestyle items as their prizes.
Bassoul-Heneine sal and MINI are heavily committed to engaging with the larger community in Lebanon, spanning fun events as well as charitable initiatives. Recent activities include Roads for Life | the Talal Kassem Fund for Post-Accident care, Beirut International Platform of Dance 2014 (BIPOD), Tamanna Lebanon as well as the Beirut Art Fair 2013 and the Philippe Hatem Foundation Gala in 2013.
Bassoul-Heneine sal:
Bassoul-Heneine sal is the exclusive importer of the BMW Group in Lebanon, and the oldest BMW importer in the world. Throughout its illustrious history, dating back to 1951 with the establishment of Bassoul-Heneine & Co., the company has built a wealth of expertise, knowledge and trust among its loyal customers desiring BMW and MINI automobiles.
www.mini-lebanon.com
Facebook: https://www.facebook.com/LebanonMINI
Twitter: https://twitter.com/MINI_Lebanon
Instagram: @minilebanon
YouTube: http://www.youtube.com/MINILebanon
For questions please contact:
Bassoul-Heneine sal
Email: nkhalife@bashen.com
Categories