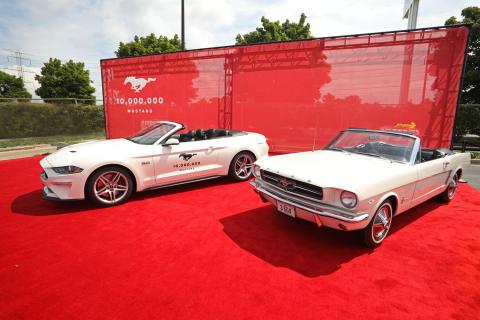 Ford Mustang, a cultural icon inspiring optimism and independence around the world, celebrates the production of its 10 millionth car at Flat Rock Assembly Plant in Michigan
The Middle East's most hashtagged car on Instagram last year also boasts the title of top-selling sports coupe worldwide for three years in a row
Landmark 10 millionth Mustang is a high-tech, 460 horsepower 2019 Wimbledon White GT V8 six-speed convertible saluting VIN 001 – the first serialised 1964.5 Ford Mustang that featured a 164 horsepower, three-speed V8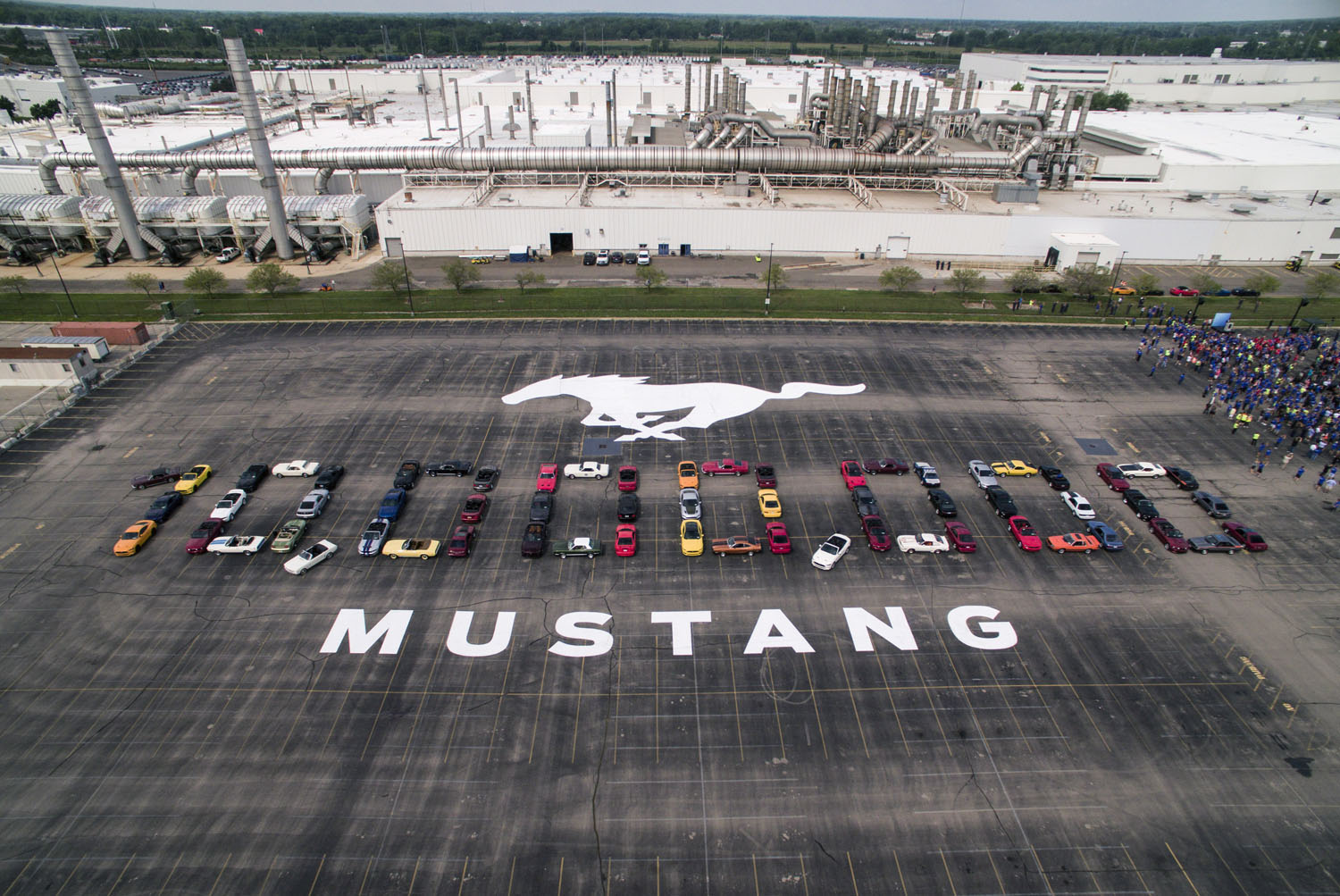 Ford is celebrating the production of its 10 millionth Mustang – the world's best-selling sports car three years straight and America's best-selling sports car of the last 50 years.
The 10 millionth Ford Mustang is a high-tech, 460 horsepower 2019 Wimbledon White GT V8 six-speed manual convertible equipped with the latest driver assist technology and built at Ford's Flat Rock Assembly Plant in Michigan. The first serialised Mustang (VIN 001) produced in 1964 was the same colour and model with a three-speed manual transmission and 164 horsepower V8.
"Mustang is the heart and soul of this company and a favourite around the world," said Jim Farley, president of global markets, Ford Motor Company. "I get the same thrill seeing a Mustang roll down a street in Detroit, London or Beijing that I felt when I bought my first car – a 1966 Mustang coupe that I drove across the country as a teenager. Mustang is a smile-maker in any language."
Ford is celebrating the milestone with employee celebrations at its Dearborn headquarters and its Flat Rock Assembly Plant, including flyovers from three WWII-era P-51 Mustang fighter planes and Mustangs produced for more than five decades parading from Dearborn to Flat Rock, where the Mustang is currently manufactured. During its 54-year production history, Mustang was also built in San Jose, California, Metuchen, New Jersey, and the original Mustang production facility in Dearborn, Michigan.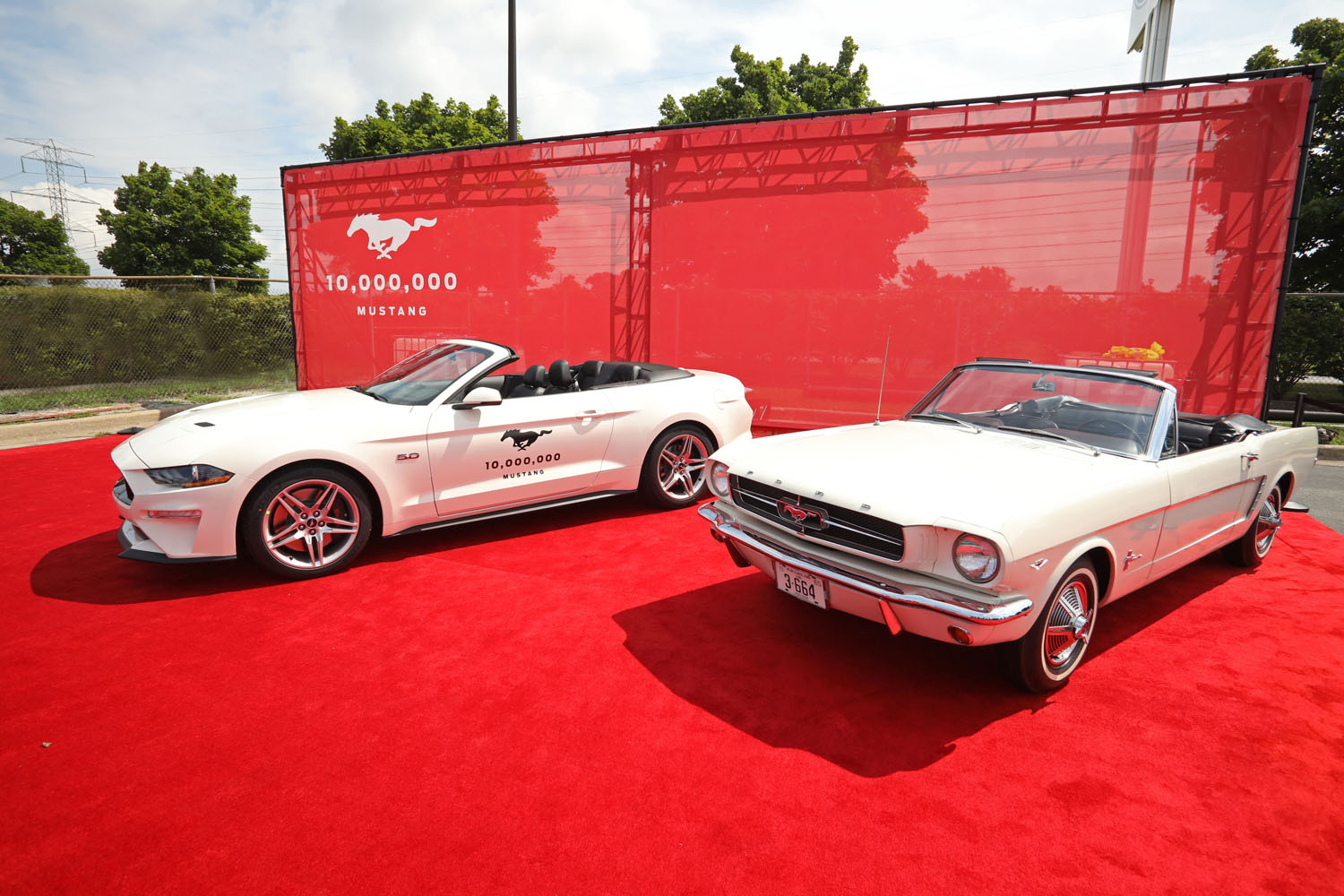 Still world's top-selling sports coupe
Ford sold 125,809 Mustang coupes and convertibles in 146 countries last year, making it the top-selling sports coupe worldwide for the third year in a row. Mustang is America's best-selling sports car over the last 50 years, based on Ford analysis of 1966-2018 total U.S. new vehicle cumulative registrations for all sports car segments supplied by IHS Markit. Social media super star Regionally, Mustang is also the most hashtagged car* on Instagram in the Middle East for 2017, and has continued the trend by commanding close to double the number of Instagram hashtags of its greatest rivals so far in 2018, while its social media status continues to go from strength to strength as the most "liked" vehicle on Facebook at 8.5 million thumbs up.
Better Than Ever** The latest Ford Mustang offers more technology, exhilarating performance and more personalisation than ever.
The iconic Mustang Bullitt returns for the 2019 model year, with an exclusive 480-horsepower 5.0-litre V8 engine, plus distinctive design and trim. The classic California Special also returns with unique design and trim enhancements.
All 5.0-litre V8 2019 Mustangs with manual transmissions offer rev-matching downshifts come to the six-speed Mustang GT, while EcoBoost® gets an optional quad-tip fully active exhaust. All-new custom-tuned 1,000-watt B&O PLAY high-performance sound system and available Apple CarPlay™ via SYNC® 3 will satisfy audiophiles.
Mustang Shelby GT350® ascends to a new level of greatness on the track and off with custom-engineered Michelin Pilot Sport Cup 2 tyres, plus recalibrated ABS and MagneRide™ suspension for dramatically improved traction and lateral acceleration. Other highlights include new interior appointments and optional factory-painted stripes. An available tech package includes all-new custom-tuned, high-performance 12-speaker sound from B&O PLAY, plus heated mirrors with Blind Spot Information System and Cobra puddle lamps.
The Ford Mustang is now in its sixth generation.
Timeline of Mustang Development 
1965 Shelby GT350 introduced; Mustang 2+2 with full fastback roof debuts
1968 Mustang 390 GT stars with Steve McQueen in "Bullitt," 428 Cobra Jet engine debuts
1969 High-performance Boss 302 and Boss 429 introduced
1974 Mustang II debuts
1979 Euro-styled "Fox" platform Mustang debuts – without traditional styling
1982 Mustang GT returns after 12-year absence
1984 Mustang SVO debuts
1993 Limited production SVT Mustang Cobra debuts
1996 4.6-litre Modular V8 replaces 5.0-litre engine in GT and SVT Cobras
2000 Third SVT Mustang Cobra R
2003 Mustang Mach 1 model returns with ram-air "Shaker" hood scoop
2011 All-new 412-horsepower 5.0-litre Coyote V8 Mustang GT debuts
2012 First Boss 302 since 1971 returns with 440 horsepower V8
2015 All-new 6th generation Mustang, first with independent rear suspension
2016 Shelby350/GT350R with flat-plane crank 5.2-litre V8
2018 Gen. 3 5.0-litre Coyote engine and new Performance Package I and II
2019 Limited-edition Bullitt Mustang capable of 262 km/h
---
*Data not directly available from Instagram. Regional figures according to results compiled using leading global social intelligence suite Synthesio, based on Instagram searches with general calculations applied to exclude other areas the searched hashtag may relate to aside from cars.
** Middle East specific specifications and model availability may vary. Please contact your nearest Ford dealer for your market specifications.
Categories