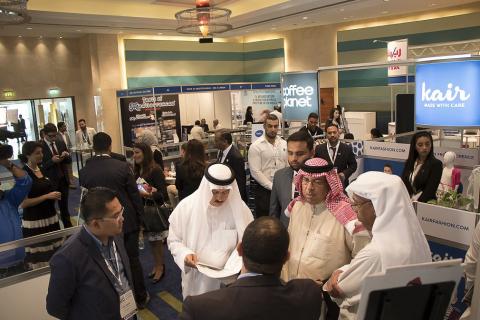 Expo records 10% increase in number of exhibitors this year
Dubai, UAE, 10 October 2017: The Middle East and North Africa Franchise Association (MENAFA) –organizer of the 4th Middle East Franchise Expo is set to welcome around 2,500 regional and international guests to its 4th Middle East Franchise Expo and Conference to be held on 18th and 19th October 2017 at the Jumeirah Beach Hotel, Dubai, UAE. MENAFA announced that it has recorded 10% increase in the number of international and local exhibitors at this edition of the Middle East Franchise Expo and Conference in comparison to 2016 edition.
Two weeks before the commencement of the event, MENAFA has revealed that His Highness Prince Bandar Bin Saud Al Saud, Honorary Chairman of MENAFA, His Excellency Abdulrahim Hassan Naqi, Secretary General of GCC Chamber of Commerce & Industry, Mr. Atiq Juma Nasib, Senior Vice President, Commercial Services Sector of Dubai Chamberand Dr. Khalid Alsharfa, Chairman of MENAFA, will be the keynote speakers for the 4th Middle East Franchise Expo.
His Highness Prince Bandar bin Saud bin Khaled Al-Saud, will be joined by His Excellency Abdulrahim Naqi to present the MENAFA Franchise Awards 2017 for the following categories: Best MENA Franchise Brand, Best MENA Multi-Brand Operator, Best International Franchise Brand, Best UAE Franchise Brand, Best Saudi Franchise Brand, Best Kuwaiti Franchise Brand, Best Bahraini Franchise Brand, Best Omani Franchise Brand, Best MENA Retail Brand, Best MENA Food Brand, Best Service Brand, Best Education Brand, Best Childcare Brand.
Over 80 franchise brands will be participating in this high profile annual event for the Middle East and North Africa (MENA) region. These regional and international brands from the US, Europe, ASEAN Region andMENA will be seeking partners for the expansion of their networks.
Her Excellency Ms. Sara Al Madani of Sharjah Chamber of Commerce and Industry and Franchise Experts Speakers including Hassan Mechmechani of Vapiano, Ahmed Al Farjaof Franaccess, Schuyler Reidel of Reidel Law Firm, Sary Hamawyof World Franchise Associates, Mr. Kris Haggie of Truck-A-Licious, Mahmoud Bartawi of Under500 Restaurant, Rudolf Kotikof RK Franchise Consultancy Inc, Michel Mroue of Atelier House Hospitality, Alex De Pase of Global Franchise Exchange, Andrija Colakof Surf N Fries, Simon Hacker of Alpha Nero FZ LLC, Jonathan Cooper of TVC Entertainment, Joseph Manuszak of Harris Research Inc, Abdulkader Saadi of Glee Hospitality, and Rayan Azab of Brands and Trades Services Middle East, will be speakers during the two-day franchise exhibition and conference to share insight to visitors who are seeking for new business opportunities through franchising.
Dr. Khalid Al Sharfa, Chairman of MENAFA, said: "Franchising is not just the offer of endless global opportunities for business investors from all over the world but also represents a shift in consumer trends and social empowerment. Our delegates will be inspired by our speakers over the two days to build a successful future in franchising."
Since its first franchise Expo inOctober 2014, the Middle East Franchise Expo has successfully evolved over the last four years.  The expo is widely recognized throughout the Middle East as the ideal platform for investors to meet franchisors to do business. The scope and variety of the Seminars and Presentations offer its visitors exceptional value.  Everyone interested in franchising will find opportunities and golden piece of advice at the Forum.
Interested parties should register at http://www.menafaexpo.com/
Categories