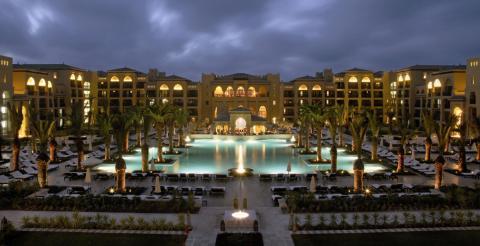 The luxurious resort to welcome guests with exciting offers
Mazagan Beach & Golf Resort, a leading tourism destination in Morocco is set to offer guests a unique Ramadan and summer experience in the coming few months. Capturing the true essence of Arabian traditions and unique summer experiences, the luxurious resort will offer guests a warm ambience for a relaxed and comfortable setting.
With a special focus on family tourists, the resort's Ramadan package offers guests accommodation for 2 adults and 2 children under 12 years starting at 2080 MAD. The Ramadan special deal has been crafted for families to bond and spend time together as well as enjoy a tranquil living experience.
"Ramadan is a special occasion to spend time with family and friends. As such, our unique Ramadan deals will not just offer optimal savings for our guests, but also create memorable experiences including traditional dining experiences, community focused initiatives, family activities and a myriad of special treatments," said Khadija El Idrissi, Director of Communication and Public Relations at Mazagan Beach & Golf Resort.
While lavish iftars and traditional music will be a highlight at the resort during Ramadan, Mazagan Beach & Golf Resort will also offer guests looking to embark on a family vacation, outstanding deals as a part of its summer package. The luxurious resort will offer guests stay for three nights at the price of two and will also offer accommodation and breakfast for 2 adults and 2 children under 12 years old in buffet restaurants as Market Place and/or Olives' restaurants. Starting with rates as 2200 MAD, the summer package is available to guests from 1st May to 31st August, for booking confirmations made before 30th June.
"The summer package promises to be the perfect way to unwind with friends and family during hot summers, getting you back in touch with natural beauty. While guests visiting the resort during the summer will have an opportunity to experience beachfront luxury, they will also have a chance to indulge in a wide range of family-friendly activities which is certain to create memories for lifetime," added Khadija El Idrissi.
Located 90 km south of Casablanca in El Jadida, Mazagan Beach & Golf Resort is a coastal destination resort overlooking the Atlantic Ocean. Set around a magnificent internal courtyard, the resort boasts unspoilt views of the ocean, lagoons, golf course, landscaped gardens and a stunning swimming pool in the center.
Mazagan encompasses a 250-hectare site including an 18-hole golf course designed by Gary Player, a 7km stretch of beach, a variety of restaurants, a nightclub an award-winning spa, a wide range of sport and leisure activities and one of the largest conference centers in the region.
Categories