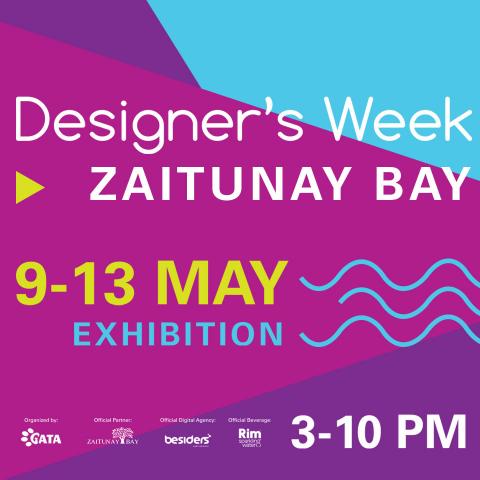 Organized by Gata Events & Promotions in collaboration with Beirut Waterfront Development, Designer's Week is no longer perceived as just a successful exhibition that attracts thousands of visitors and supports small enterprises, emerging designers and artisans. The event has become a highly anticipated annual rendezvous for many, and is coming back this year to Zaitunay Bay in its sixth edition from Wednesday 9th of May to Sunday 13th of May 2018, 3 p.m. to 10 p.m.
In the past five years, Designer's Week proudly introduced more than 300 designer brands, artisans and small enterprises, many of whom have gained local and regional acclaim. The event has also attracted more than 200,000 Lebanese visitors, tourists and foreigners living in Lebanon, looking to enjoy the outdoors in style and explore the latest fashion, jewelry and home accessories' creations.
In its sixth edition, Designer's Week welcomes 70 exhibitors including 20 new comers which underlines the event's role as an address for novelty and undisputed platform to launch up-and-coming talents and brands on their way to fame. As for the exhibits, Designer's Week will showcase the latest Spring-Summer 2018 trends in the following categories: prêt-à-porter, fashion accessories, beachwear, home accessories, jewelry, bags, shoes and artistic paintings.
Categories