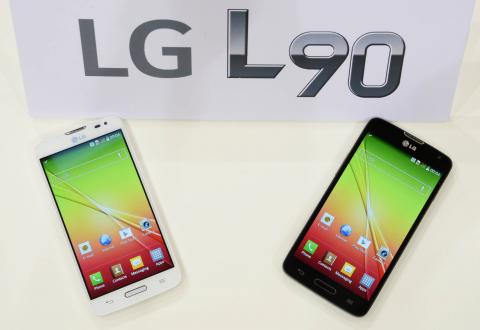 Beirut, 8 May, 2014 - As part of its continued efforts to make accessible the latest technological innovations to its Lebanese customers, LG Electronics recently launched its groundbreaking L90 smartphone in Beirut — a device that has been globally hailed as the premier model in LG's popular L Series lineup.
Initially debuted during Mobile World Congress 2014, the L90 delivers a host of features that guarantee stellar functionality and ease-of-use, including a sturdy lightweight build, a 4.7-inch qHD IPS display and a high capacity 2,540mAh battery.
"This third generation of LG's popular L Series smartphones comes to crown the unprecedented success the series has met over its last two iterations," commented Sean Lee, General Manager of LG Electronics in Lebanon. "The L Series has been designed from the ground up to streamline the user experience by prioritizing ease-of-use and delivering a variety of innovative features that further enhance usability."
The L90 features a simple yet stylish aesthetic that the L Series has become known for, as well as the most up-to-date user interface features.Measuring only 131.5 x 66.0 x 9.7mm, the phone's attractive body is made from sturdy, lightweight plastic that is braced by a metallic finish for added protection. The rims perfectly complement the gorgeous 4.7inch display, which delivers great color and detail at a resolution of 960x540. The phone is also equipped with an infrared receiver that allows it to serve as a remote control for various home entertainment devices.
The L90 is the first L Series device to offer Knock Code, LG's newest feature designed to simplify the powering on and unlocking process, making smartphone security more convenient than ever before. An evolution of the popular KnockON feature that was first introduced in the LG G2, Knock Code allows owners to turn on and unlock their L90 in one easy step by tapping their screens using one of over 86,000 available "knock" combinations. What's more, the knock pattern can be entered on any area of the screen — whether the display is turned on or off — using anywhere from two to eight taps.
Additionally,L90users will be able to experience the most optimized Android experience via Android 4.4 KitKat. Google's powerful and easy-to-use OS offers a refined user interface that features a more balanced layout and intuitive interface as well as faster performance. Photography fans will also be able to take high quality pictures using the L90's stellar 8-megapixel camera, enhancing their experience with a host of image enhancement and post-processing features. All of this is handled admirably by the 1.2 GHz Qualcomm Quad-Core processor, which — coupled with the device's 1GB of RAM and 8GB of internal storage — delivers unparalleled performance and usability.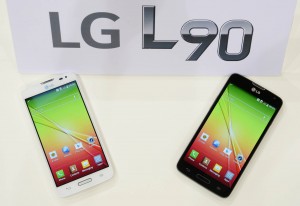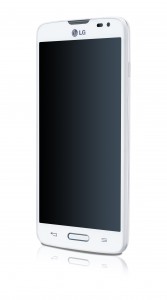 The L90 also comes with several features that substantially improve productivity during day-to-day tasks. Prior Capture, for instance, allows users to capture the full view of a given web page rather than creating a limited screenshot, while Clip Tray creates a visual clipboard of copieditems that pop up at the bottom of the screen, creating an easily manageable collection of information.
About LG Electronics, Inc.
LG Electronics, Inc. (KSE: 066570.KS) is a global leader and technology innovator in consumer electronics, mobile communications and home appliances, employing 87,000 people working in 113 locations around the world. With 2013 global sales of USD 53.10 billion (KRW 58.14 trillion), LG comprises five business units — Home Entertainment, Mobile Communications, Home Appliance, Air Conditioning & Energy Solution and Vehicle Components — and is one of the world's leading producers of flat panel TVs, mobile devices, air conditioners, washing machines and refrigerators. LG Electronics is a 2013 ENERGY STAR® Partner of the Year. For more news and information on LG Electronics, please visit www.LGnewsroom.com.
About LG Electronics Mobile Communications Company
The LG Electronics Mobile Communications Company is a global leader and innovator in mobile communications. With its breakthrough technologies and innovative designs, LG continues to establish a number of benchmarks in the smartphone market, while also helping create a better lifestyle for consumers by delivering a wholly enhanced smartphone experience. As a leader in 4G Long Term Evolution (LTE) technology, LG continues its commitment to developing groundbreaking LTE technologies and fulfilling consumer demands with differentiated LTE devices of the highest quality, all of which are based on the company's wealth of LTE patents and technical knowledge. For more information, please visit www.lg.com.
Categories