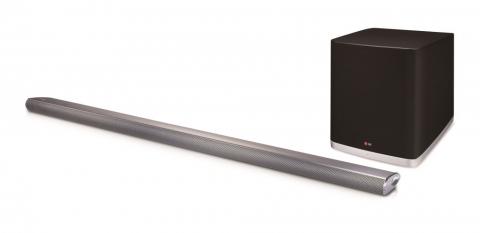 Beautifully Designed Sound Bar Packs 320W of Power, 4.1 Channels and Hi-Fi DAC to Ensure Superb Audio Playback
Beirut, June 11, 2014 — LG Electronics (LG) announced its newest audio accessory for today's flat panel TV units, the advanced NB5540 Sound Bar. The company's latest home entertainment audio product sends 320W through 4.1 channels and employs a Hi-Fi Digital Analog Converter (DAC) to deliver a superior auditory experience. With its slim-body design and wireless connectivity, the NB5540 is the perfect companion for today's thin-bezel TVs. Making it available to its customers in the Lebanese market.
With 4.1 channels, 320W output and a powerful wireless subwoofer for solid bass performance, the NB5540 is a compelling addition to TVs of various sizes. And LG has also included Hi-Fi DAC and Analog Class D amp to guarantee superb HD audio output for clean, natural sound with minimal loss of detail.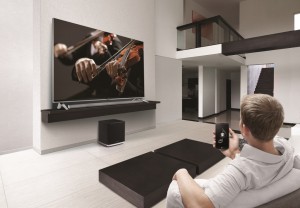 "The NB5540 Sound Bar skillfully blends stunning sound technologies with a gorgeous modern design," said Sean Lee, General Manager of LG Electronics in Lebanon. "One of the many ways in which LG seeks to enrich the home entertainment experience is by providing the highest quality in audio products. The superb NB5540 reflects our ongoing commitment in this area."
The ideal aesthetic accompaniment to the latest generation of premium flat panel TVs, LG's slender device is a mere 35mm in height. A minimalist design and polished dark silver finish make it a great match for modern interior décor as well. Whether placed under the TV or wall mounted, the NB5540 looks and sounds amazing. And the NB5540 offers wireless connectivity options to eliminate unsightly cable clutter. With LG's Sound Sync feature, users can connect the Sound Bar to their TV without cables and Bluetooth makes it possible to stream audio from a smartphone or tablet.
For slightly smaller TV models, LG's NB4540 is well suited for the task. Despite a more compact form factor, the NB4540 still offers 4.1 channels and an output of 320W. Sound Sync and Bluetooth are also included for convenient audio streaming.
LG's NB5540 Sound Bar will be available for purchase in European countries from April.
About LG Electronics, Inc.
LG Electronics, Inc. (KSE: 066570.KS) is a global leader and technology innovator in consumer electronics, mobile communications and home appliances, employing 87,000 people working in 113 locations around the world. With 2013 global sales of USD 53.10 billion (KRW 58.14 trillion), LG comprises five business units — Home Entertainment, Mobile Communications, Home Appliance, Air Conditioning & Energy Solution and Vehicle Components — and is one of the world's leading producers of flat panel TVs, mobile devices, air conditioners, washing machines and refrigerators. LG Electronics is a 2013 ENERGY STAR® Partner of the Year. For more news and information on LG Electronics, please visit www.LGnewsroom.com.
About LG Electronics Home Entertainment Company
The LG Electronics Home Entertainment Company is a global top player in audio-visual products, monitors, personal computers and wearable devices. The company is always pushing the boundaries of technology to create feature-rich devices with stylish designs that meet the needs of global consumers. LG is committed to improving customers lives with innovative home entertainment products led by its award-winning OLED TVs, 4K ULTRA HD TVs and CINEMA 3D Smart TVs featuring the new webOS platform. For more information, please visit www.LG.com
Categories