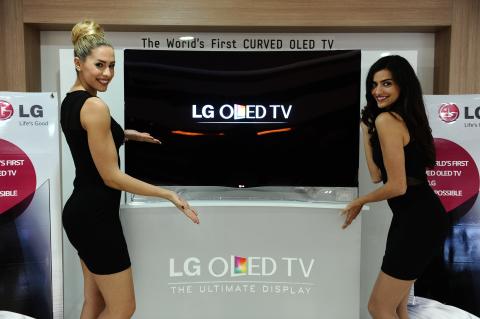 Beirut, April 8th, 2014 - LG Electronics recently added the Magic Remote to the host of innovative options it offers with its CURVED OLED TV, raising the bar for optimal TV viewing experiences
The Curved OLED TV's Magic Remote offers a set of unprecedented features including the smart interactive content search, smart data sharing technology, and its "Voice Recognition" feature. It also comes with the "Magic Wheel" for easy navigation and "Voice Mate" which allows users to use their voice and their language to give simple commands to their CURVED OLED TV. The "Magic Pattern Gesture" enables users to make simple commands using their gestures, and together these features allow users to switch channels and browse the internet without needing to understand the remote control's buttons.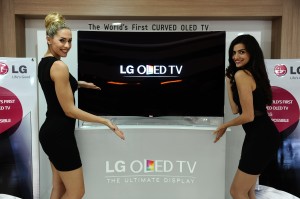 LG's new CURVED OLED TV is an advancement in itself, as it boasts a 55-inch screen with perfect viewing angles convenient for everyone in the room. Its screen offers unmatched picture quality, thanks to the LG developed WRGB technology that adds the fourth sub-pixel color "White" to regular Red, Green and Blue colors seen on other TV screens. The TV also comes in a sleek paper slim design with a 4.3mm thick screen. It looks frameless, therefore giving the viewer greater viewing pleasure, and a cinema-like experience. The model combines the company's industry-leading Cinema 3D technology and smart TV capabilities in one.
"With the launch of the Magic Remote, we are enhancing the users' TV viewing experiences further, and especially the experience of our fans in Lebanon," said Managing Director at LG Electronics Levant Mr. Tae Hun Ryu" we don't only work towards this goal through introducing top-notch technologies, but we also enhance all our products further by adding a bouquet of innovative features and options to them. With this mix, we maintain our leading status in the market."
About LG Electronics, Inc.
LG Electronics, Inc. (KSE: 066570.KS) is a global leader and technology innovator in consumer electronics, mobile communications and home appliances, employing 87,000 people working in 113 locations around the world. With 2012 global sales of USD 45.22 billion (KRW 50.96 trillion), LG comprises five business units — Home Entertainment, Mobile Communications, Home Appliance, Air Conditioning & Energy Solution and Vehicle Components — and is one of the world's leading producers of flat panel TVs, mobile devices, air conditioners, washing machines and refrigerators. LG Electronics is a 2013 ENERGY STAR® Partner of the Year. For more news and information on LG Electronics, please visit www.LGnewsroom.com.
About LG Electronics Home Entertainment Company
The LG Electronics Home Entertainment Company is a global top player in televisions, monitors, commercial displays, audio video systems, personal computers and security systems. The company constantly pushes technological boundaries to create feature-rich devices with stylish designs that meet global consumer needs. LG's consumer products include CINEMA 3D Smart TVs, OLED TVs, IPS monitors, home theater systems, Blu-ray Disc™ players, car audio/video systems, mouse scanners and external storage devices. LG's commercial products include digital signage, video conferencing systems and IP security cameras. For more information, please visit www.lg.com.
Categories