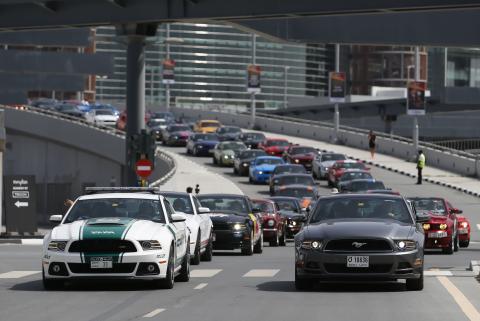 Hundreds of Mustangs troop to show their proud heritage on the largest parade ever for the legendary icon in Dubai
Celebrations held at Meydan mark 50 years of continued production of the legendary muscle car
DUBAI, UAE, 20 April, 2014 – From the race track to the silver screen, the legendary Ford Mustang has captured the hearts of muscle car lovers for 50 years. As global celebrations kicked off to mark the legendary car's golden anniversary, Ford Middle East today commemorated Mustang's 50th anniversary in true muscle car spirit at a massive event in Dubai's Meydan Hotel.
From the very start, fifty years ago, Mustang's unique combination of style, performance and affordability established an entirely new class of sporty cars that has inspired numerous competitors. Mustang has come to evoke a variety of emotions in customers and fans – freedom, independence and being true to one's self – just to name a few.
And to celebrate this historical milestone, over 300 Mustang owners and enthusiasts gathered to show their love for the original muscle car in an impressive parade down Dubai's key locations, led by the famous Dubai Police Ford Mustang Roush patrol car. The parade which went through Meydan Hotel, Al Khail Road, Sheikh Zayed Road, and The Palm Jumeirah, was also attended by enthusiasts and owners from the region who came from as far as Saudi Arabia and as near as Oman to mark this milestone. The parade ended with a Mustang festival which included displays of hundreds of Mustangs ranging from classics to customised, and various activations including competitions for Best Customised and Best Restored Mustangs.
"Ford Mustang is undeniably an iconic muscle car that has its own unique following," said Kalyana Sivagnanam, Ford Middle East & North Africa director.  "From the day it rolled out to showrooms in 1964, Mustang has captivated hearts of car lovers globally. We are thrilled to see so many fans have joined us to mark the legend's 50th anniversary celebrations for the Middle East."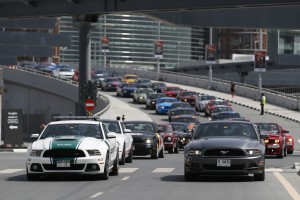 To delight Mustang fans around the world even more, Ford recently revealed a Mustang 50 Year Limited Edition. Created to honor five decades of Mustang heritage, only 1,964 examples of the 50 Year Limited Edition will ever be built when it goes on sale this fall.
Based on the all-new 2015 Mustang GT fastback with performance pack, the 50 Year Limited Edition is designed to provide customers with outstanding performance and a unique appearance that will be instantly recognisable on the road. The only options for the 50 Year Limited Edition are the choice of two exclusive colors, Wimbledon White or Kona Blue, and a six-speed manual or automatic transmission.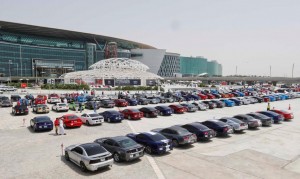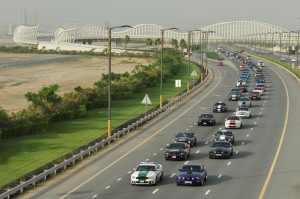 "The new Mustang blends a muscular, contemporary shape with design cues that define it as quintessentially Mustang," said Moray Callum, Ford vice president of design. "The 50 Year Limited Edition adds details that set it apart from other Mustangs, while hearkening back to the 1965 original."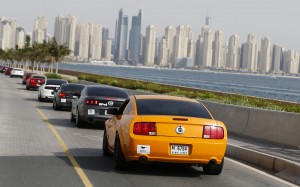 Through the past five decades, the Ford Mustang has been no stranger to envious stares and jealous looks nor has it been camera shy either. Mustang has been a star of the silver screen and the small screen for 50 years, with more than 3,200 appearances in movies and television shows, the latest of which is the widely acclaimed Need For Speed movie which saw Aaron Paul drive a customised 2014 model and featured the silver screen debut of the all-new 2015 model.
"The Mustang attitude of limitless possibilities is universal and enduring, and fans around the world are simultaneously celebrating its golden milestone. Thanks to the never-ending support of Mustang owners, specifically the Mustang Clubs and Groups that joined us from around the region, for their unwavering passion and loyalty to the 'Stang.  The Mustang has made it to half a century and here's looking at more exciting, adrenalin-pumping drives with the Pony car for many more years to come," concluded Sivagnanam.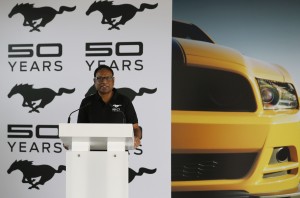 Mustang in Numbers
§ 9,200,000+ the number of Mustangs sold so far since 1964
§ 6,395,000+ the number of Facebook fans, the highest ever for any nameplate
§ 1,000,000 the number of Mustangs sold in less than 2 years from launch
§ 418,000 the number of Mustangs sold in the first year of launch in 1964
§ 22,000 the number of sales and orders the first day of Mustang's launch in 1964
§ 3,200+ the number of movies and TV series Mustang has starred in
§ 50 the number of years Ford Mustang has been in continued production and thrilling fans
About Ford Motor Company
Ford Motor Company, a global automotive industry leader based in Dearborn, Mich., manufactures or distributes automobiles across six continents. With about 180,000 employees and 65 plants worldwide, the company's automotive brands include Ford and Lincoln. The company provides financial services through Ford Motor Credit Company. For more information about Ford and its products worldwide please visit www.corporate.ford.com.
Ford's history in the Middle East goes back more than 60 years. The company's local importer-dealers operate more than 155 facilities in the region and directly employ more than 7,000 people, the majority of whom are Arab Nationals. For more information on Ford Middle East, please visit www.me.ford.com
Ford Middle East is also a responsible corporate citizen with currently three CSR initiatives running in the region including the Ford Motor Company Conservation & Environmental Grants, Ford Warriors in Pink® breast cancer awareness campaign and Ford Driving Skills for Life safe driving awareness programme for young drivers and teens.
The Ford Grants is a grass-root level initiative that has offered US$1.3million in grants to more than 150 Middle Eastern environmental projects since 2000. Ford Warriors in Pink® is a breast cancer community-based awareness initiative recognising the strength and courage it takes to deal with the everyday challenges of battling breast cancer throughout the year.  Ford Driving Skills for Life is a free programme designed to impart safe driving practices to students to help improve their road safety record.
Categories