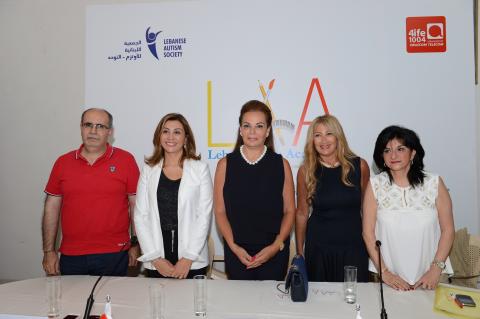 As Part Of The "Alfa 4-Life" CSR Program
And In Collaboration With The "Lebanese Autism Society" Beirut – Lebanon, June 11, 2014: Under the auspices of H.E. the Minister of Telecommunications Boutros Harb represented by his wife Mrs. Marlene Harb, and as part of the "Alfa 4-Life" CSR program, a press conference was held to announce the launching of the "Lebanese Art Academy"- the first academy of its kind in Lebanon for teaching arts to people with special needs. This initiative falls within the continuous cooperation between Alfa, managed by Orascom Telecom, and the Lebanese Autism Society (LAS).
The press conference, which was held at the Sacré Coeur school in Gemayzeh, was also attended by Alfa's Chief Communication Affairs officer, Mrs. Aline Karam, the director of the Lebanese Autism Society, Mrs. Arwa Halawi, interested stakeholders, and media representatives.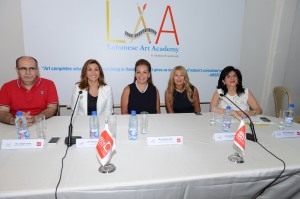 Halawi After the Lebanese national anthem was played, Mrs. Halawi said in her speech that "through this academy, the Lebanese Autism Society will help people with special needs, especially gifted ones, follow art lessons with specialized professors to develop their talents in order to become active members of society". She pointed out that "this is the only academy in Lebanon that will provide people with special needs a chance to enhance their artistic talents". Mrs. Halawi thanked Alfa for sponsoring the Academy, and the Sacré Coeur school for hosting it in its premises.
Hawa Mr. Joseph Hawa, representing the administration of the Sacré Coeur school, which offered its premises to the Academy, said: "We highly appreciate the cooperation for the launch of this initiative," adding that "each person with special needs has a hidden talent, which is what we saw through our active cooperation with The Lebanese Autism Society during the past years". He pointed out that "the school looks forward to strengthening this cooperation in the future in order to build a generation that will accept the other".
Tlais This was followed by the testimony of the young autistic artist Ali Tlais from the Lebanese Autism Society, whose talent was discovered through the "Alfa 4-Life" program. Ali's words reflected his love of art and hope of living a normal life and practicing his favorite hobbies just like any other member of society.
Moukarzel For her part, Mrs. Rita Moukarzel, the head of the Union of Graphic Design and Illustration in Lebanon and Alfa consultant for art therapy, noted that "the importance of this Academy lies in the fact that it represents a treatment for children and people with special needs by teaching them various arts such as drama, dancing, singing, and cooking", adding that "art therapy is a way of enabling these people to automatically express themselves and communicate with others, thus leading them to have fulfilling lives."
Karam Mrs. Aline Karam noted in her speech that "this initiative comes to complement other initiatives we launched with the Lebanese Autism Society, with constant support and encouragement from the Ministry of Telecommunications", adding that through its "Alfa 4-Life" CSR program, Alfa has supported for eight years children with special needs through its cooperation with relevant associations, including children and adults who suffer from deafness, blindness, physical disability, and mental and social problems.
She said that "children and adults with special needs are entitled to be fully integrated into the community. These children have special ways of expression, and we consider it our duty and our role as a socially responsible company to help them unleash their talents in order to benefit from them and benefit the society at the same time".
 Harb Mrs. Marlene Harb, representing H.E. the Minister of Telecommunications Boutros Harb, began her speech by congratulating Alfa for this initiative and said: "I wish Life for Alfa so that you can continue to fulfill your role in society and successfully serve its various constituents, knowing that this role should be played by the state".
Mrs. Harb hoped that "these initiatives and projects will set an example for everyone to play a similar role". She pointed out that "disability has no religion and is not a political party", adding that "these initiatives show that there are people who work together in order to reform society and help people with special needs lead a normal life with dignity".
She also hoped that "we will all emulate your efforts in launching this initiative in order to unite and reach a country with a proper society".
The press conference featured a short film highlighting the most important stages of the cooperation between Alfa and the Lebanese Autism Society, and it was concluded by a cocktail party. 
About Alfa
Alfa is the first Lebanese mobile network owned by the Republic of Lebanon and managed by Orascom Telecom, Media and Technology (OTMT). Alfa capitalizes on the vast know-how and international expertise of OTMT in order to deliver quality and professional solutions for the mobile sector in Lebanon. On October 25, 2011, Alfa was the first mobile operator to launch 3G+ mobile broadband services in Lebanon. In a new technological achievement, Alfa has become the first operator that launches 4G-LTE commercially in Lebanon on May 15, 2013. Alfa currently serves over 1.85 million subscribers and its network covers 99% of Lebanon. For more information, please visit: www.alfa.com.lb
About Orascom Telecom Media and Technology
OTMT is a holding company that has investments in companies with operations mainly in Egypt, North Korea, Pakistan, Lebanon and other North African and Middle-Eastern countries. The activities of OTMT are mainly divided into its GSM, media and technology and cable businesses. The GSM activities include mobile telecommunications operations in Egypt, North Korea and Lebanon. The media and technology division consists of OT Ventures/Intouch Communications Service and the OT Ventures Internet portals and other ventures in Egypt, including LINK Development, ARPU+ and LINKonLINE. The cable business focuses on the management of cable networks. 
Categories