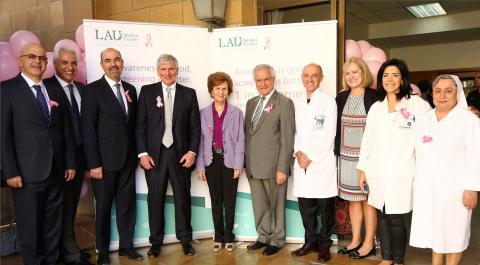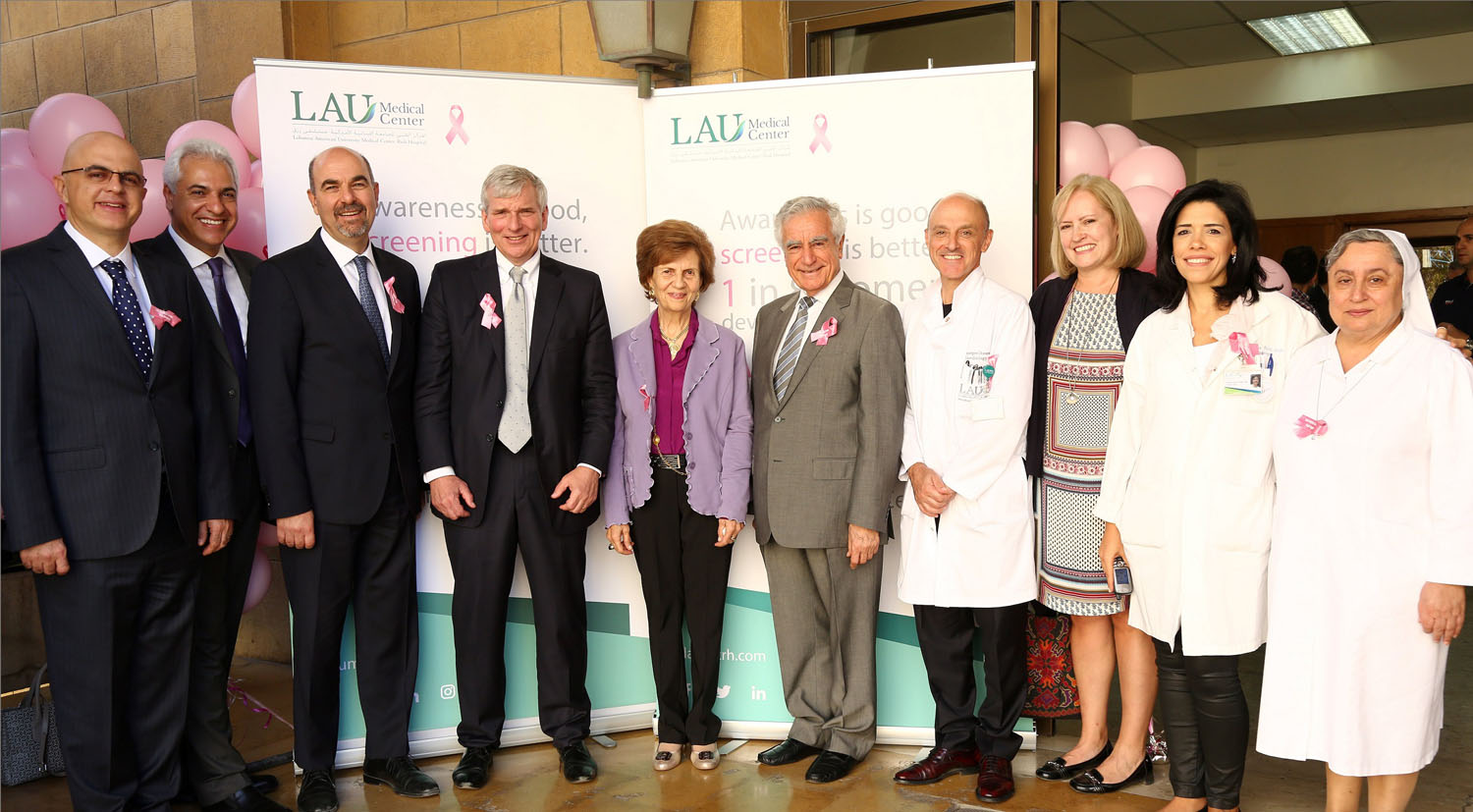 LAU Medical Center-Rizk Hospital launched its Breast Cancer Awareness Campaign under the title "Awareness is Good; Screening is Better" during its conference led by the multidisciplinary team of physician at the medical center. The conference highlighted the importance of radiography and early detection of breast cancer for women.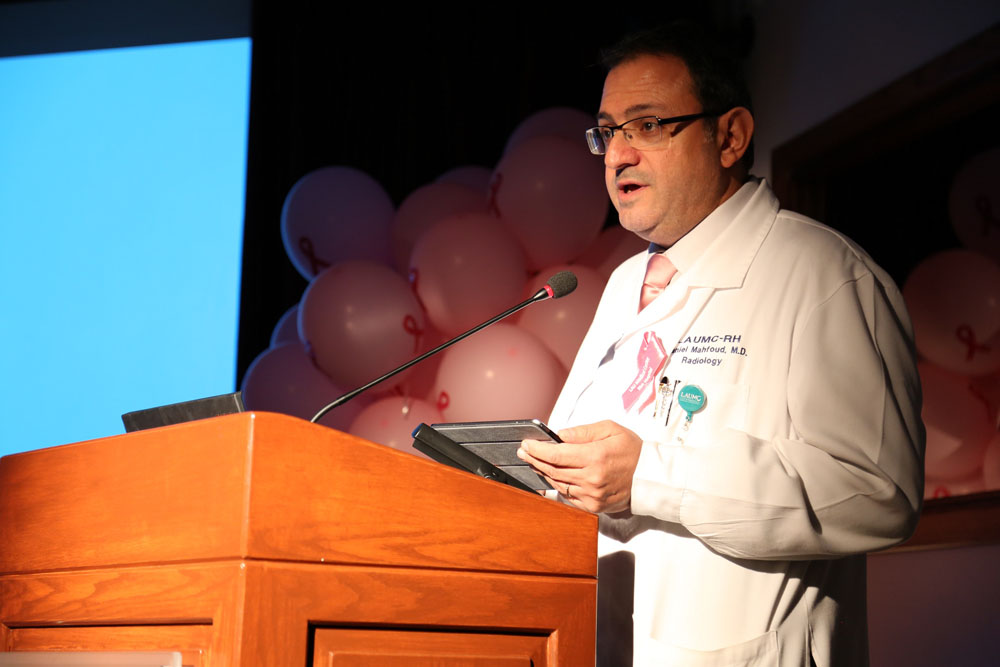 Dr. Daniel Mahfoud, Head of Diagnostic and Interventional Radiology department at LAU Medical Center-Rizk Hospital, announced: "We joined the Ministry of Public Health's yearly Breast Cancer special screening tariffs campaign that started on October 1st till the end of January. We aim at having the majority of women do the mammography on a yearly basis as a preventive act, as we agree that screening is the most tool for early detection."
The lecture discussed the main phases of breast cancer starting with radiology, screening, diagnosis and finally the treatment.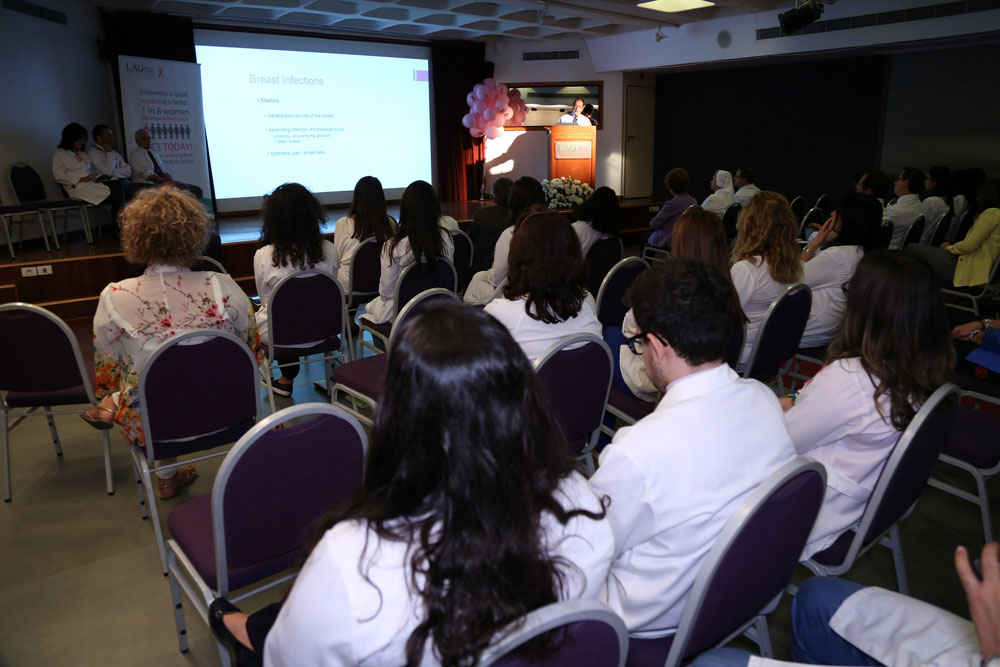 The LAU Medical Center-Rizk Hospital is known for its medical staff that follows up with patients throughout their treatment to help them overcome their illness and recover. The medical staff is divided into different sections including radiology, gynecology, surgery, chemotherapy and radiotherapy that work together to evaluate the patient's case.
Each doctor had the chance to elaborate and explain the tasks each department handle in order to provide patients with the best treatment, as follows: Dr. Tamina Elias-Rizk, Mammography Specialist – Imaging department,
Dr. Michel Samaha, Gynecologist, Dr Ziad Zakaria, General and Breast Cancer Surgeon, Dr. Hady Ghanem, Head of Hematology and Oncology department, and Dr. Salim Chammas, BSc, Radiotherapy Oncologist.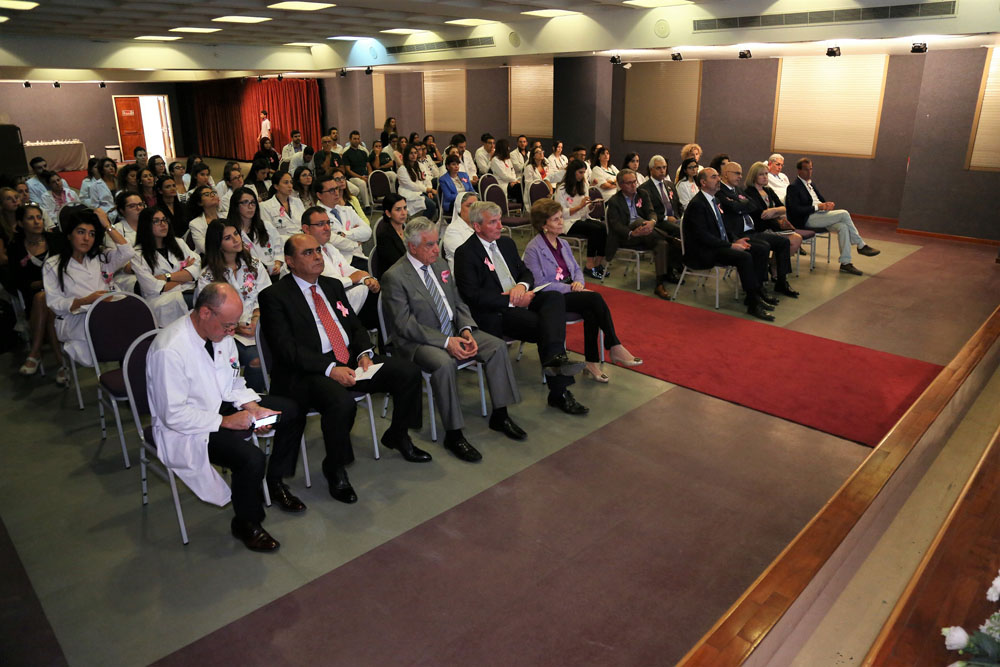 Physicians, residents of LAU Medical Center-Rizk Hospital and students of the LAU Gilbert and Rose-Marie Chagoury School of Medicine had the honor to participate in the conference along with patients and selected media. The conference aimed at raising awareness and encouraging women to early detection. At the end, we all have to cooperate in order to overcome this disease.
The conference was preceded by a half day open door interactive exposition where visitors were invited to pass by the 2 stations showing recorded advanced topics on screens and doctors were available at each station for further explanation. Pink ribbons and informational leaflets were distributed to raise awareness about the importance of the yearly screening and to create more engagement between physicians and the attendees.
About LAU Medical Center-RH:
LAU Medical Center-Rizk Hospital is a leading academic medical facility serving as the primary teaching hospital for LAU's schools of Medicine, Nursing, and Pharmacy. Since 1925, the LAU Medical Center–Rizk Hospital has a heritage dedicated to fostering and advancing the health of humankind. The hospital has evolved through its history in becoming more comprehensive with its services, facilities and offerings; continuously developing with the core purpose of healing with compassion. The LAU Medical Center–Rizk Hospital is guided by high profile physicians and staff embracing a high standard of ethical sets of values. It employs more than 200 physicians and 600 health staffs, all engaged in offering a professional, caring and preventive medical and human action. It is committed to excellence in patient care, clinical outcomes, academics and research by continuously investing in human resources as well as cutting-edge equipment.
Categories