New 3D art installation highlights amount of waste thrown away each day and raises awareness on importance of reducing, reusing and recycling
March 31, 2014 - Jotun Paints, one of the world's leading producers and distributors of paints and powder coatings, recently took part in United Development Company's (UDC) successful 'From Trash to Treasure' bottle top art project. The project, which is held in association with Qatar Green Building Council, is an art installation-making initiative aimed at increasing awareness on the alarming amount of waste thrown away each day and to inform people on the benefits and advantages to be gained from reducing, reusing and recycling.
The new 3D pond was unveiled on March 29, 2014 at The Pearl Qatar as part of UDC's Earth Hour 2014 celebrations. Jotun supplied the paints that were used in the creation of the pond.
The pond was completed in four days, with schools, residents and volunteers working closely with select artists and their assistants, from March 21 to March 22, 2014 and also on March 28 and March 29, 2014. During the activity, volunteers sorted, prepared, painted and glued the collected bottle caps to the artwork under the direction and tutelage of the Visual Arts Forum India (VAFI) artists' group. The newly unveiled pond art installation can be seen at The Pearl-Qatar along the Boardwalk close to tower 30 in Porto Arabia.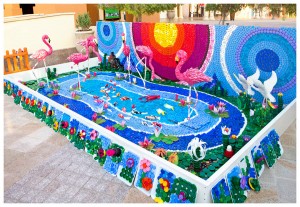 "It was a truly enriching experience to take part in this UDC initiative. The 3D pond not only acts as a reminder of how we should reduce, reuse and recycle, but also increases our awareness on the need to be part of the campaign to help save the environment and preserve its natural resources. Our participation in this activity demonstrates our strong commitment to this global environmental campaign. Rest assured, Jotun will remain steadfast in its promise to develop eco-friendly products that leave less of a carbon footprint and help in achieving total sustainability," concluded Wael Fahmy, Country Manager, Jotun Paints.
Earth Hour is an annual global event organized by the World Wide Fund for Nature (WWF). The event is usually held on the last Saturday of March, asking households and businesses to turn off their non-essential lights for one hour to help raise awareness of the need to take action on climate change and other key environmental concerns.
About Jotun
Founded in 1926 in Norway, Jotun - one of the world's leading paint manufacturers, established its presence in the Middle East in 1974, with Jotun UAE Ltd. Ever since, Jotun has expanded dramatically throughout the region and is the first paint manufacturer to be awarded the ISO 9001: 2008, ISO 14001 & OHSAS 18001 certification. The company also has state of the art manufacturing facilities in Abu Dhabi, Dubai, Saudi Arabia, Oman and Egypt.
Jotun has been at the forefront in terms of developing products specifically suited to local conditions. Three decades of experience in the Middle East region, has helped the company produce a variety of conventional and specialized coatings - each incorporating the latest technological developments while offering performance with economy - catering to the various product segments and demands of the different markets. Today, Jotun's diverse product range includes Decorative, Protective, Marine, Floor/Concrete Protection, Powder Coatings and Intumescent Coatings, bearing a solid testament to the company's reputation of being truly a single source solution for clients, consultants and contractors alike.
Categories