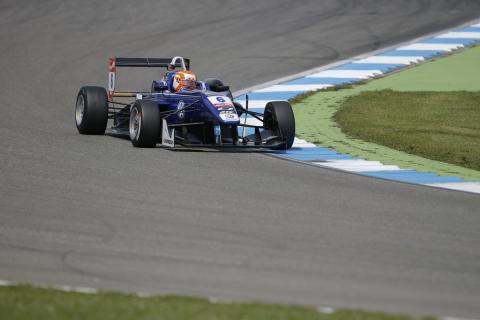 FIA Formula Three European Championship rookie Ed Jones has made an impressive start to his weekend in Hockenheim and will line up in a fantastic third position for the first race of the weekend. The 19 year old enjoyed a solid qualifying session amid hotly contested conditions to move his car to the sharp end of the field and as a result the UAE born driver will line up on the second row of the grid for tomorrow's race.
Building on his first Formula Three race weekend at Silverstone, Jones took to the track this morning for two free practice sessions with a mind to getting used to the Volkswagen powered Dallara car around the Hockenheim ring. Making progress throughout the two 40 minute free practice sessions he was to finish with a combined tenth quickest time – showing his potential from the offset. Jones said of qualifying, 'We did struggle a little bit for pace in the morning which was frustrating because we knew that the car was quick here however knowing this definitely still gave us confidence as we prepared for qualifying.'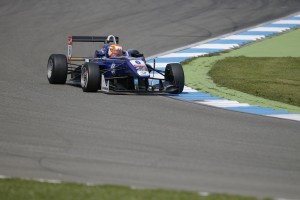 Between the practice session and qualifying, Jones had the opportunity to sit with his engineer while light rain began to fall over the circuit. Thankfully by the time the cars were called for qualifying the track was completely dry and conditions overhead were cloudy but not threatening rain.
It was a slow start to qualifying with most of the field electing not to set a competitive time until the final half. Jones remained confident in his approach and soon moved his car into fourth position overall – once again showing his potential. Not content with that, the Carlin driver pushed for even more time and soon was lying in third position. His lap time was unable to be bettered and as the flag fell he was in an assured third position.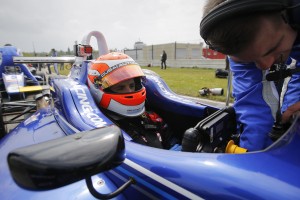 Looking ahead to starting third overall tomorrow, Jones said, 'Pre-qualifying the weather kept us guessing but I think the track was a lot better this afternoon which helped us to get the confidence to set our quickest lap.
'There were a lot of drivers who weren't respecting the track limits but for me it was a case of playing it safe at turn one, not getting caught in that trap but keeping the speed there - and that worked perfectly as we now start the race tomorrow from third on the grid. So overall I'm very pleased with that result in only my second weekend in Formula Three.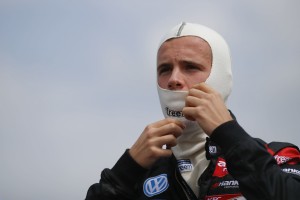 'All in all we put everything together and now look forward to starting the race tomorrow. My starts at Silverstone were pretty good so the plan is to continue like that and aim for the podium.'
Jones will hit the track for the first of three races tomorrow at 12:10 local time.
For more information, please contact:
Shamal Marketing Communications
PO Box 502701
Office 106, Arjaan Office Tower
Dubai Media City
Dubai, United Arab Emirates
E-mail: maria@smc-pr.com
Web site: www.smc-pr.com
Categories