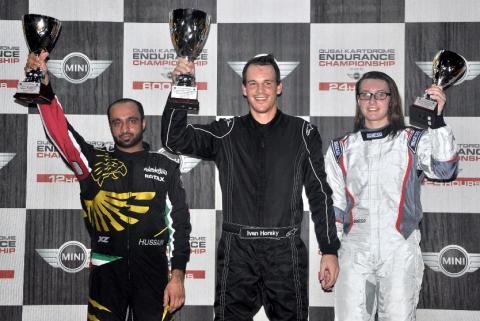 Double win for Connor in SWS Junior Class
Dubai, September 15, 2014 – Dubai Kartdrome hosted the eighth round of the 2014 SWS RX7 Sprint Cup and SWS Junior Cup races on Monday night, where the country's top leisure kart racers took to the track on a hot and humid night, and once again delivered racing of the highest order. With some of the 'usual suspects' absent, several new faces lined up on the SWS RX7 Sprint grid and after a grueling schedule - with some drivers doing five races on the night to qualify for the two Super Finals - the scene was set for two intriguing contests to cap a busy evening.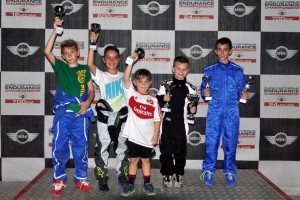 From the outset Atef Al Barwani, Ivan Horsky, Hussain Umid Ali, Sam Zian and Dubai schoolgirl Abigail Birch set the pace and slugged it out up front, as they dueled for every bit of tarmac.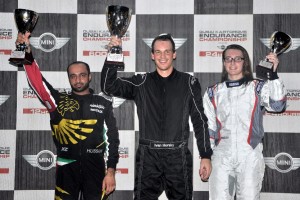 Al Barwani managed to edge ahead and he crossed the line first with a healthy margin but was later found to be under the weight limit and disqualified - he had miscalculated how much weight he would lose in the race. Meanwhile, behind Al Barwani, Horsky had managed to get the better of Umid Ali, Birch and Zian. Thanks to Al Barwani's misfortune Horsky inherited the win, with Umid Ali in his skipstream claiming second and Birch taking third ahead of Zian in fourth. Ahmed Al Melashi was fifth, ahead of Ahmed Bin Desmal, Marwan Al Hammoudi, Rob Steveneson, Nadia Khan and Khaled Al Zayed rounding out the top ten. From the moment the lights went out to start race two, the front runners again set an electric pace with Al Barwani, Umid Ali, Zian and Birch running nose to tail while behind them Ahmed Al Zayed and Bin Desmal chasing hard. With places swapping constantly, Zian made a slick move late in the race to take the lead and immediately set about building a gap which he held until the finish and to take the chequered flag. Behind him Umid Ali claimed second place with Al Barwani, making up for his earlier disappointment, in third after squeezing his way past fourth placed Birch with the finish line in sight. Earlier in the evening Alex Connor was in a class of his own in the Junior Cup field and took two comprehensive wins in the process. The real action was behind Connor where a gaggle of drivers battled for second place during the course of the two races. Zaid Alami finished second in race one, with Oliver Walton third, Maxime Dubos fourth and Luis Velasco rounding out the top five. In race two, with Connor again way up front, the battle for second place was won by Kanal Agha, with Alami third, ahead of Velasco in fourth and Walton in fifth. Award for Best Novice went to six year old Keanu Al Azhari, son of multiple UAE motor racing champion, Karim Al Azhari, for his impressive efforts in his maiden SWS Junior Cup races. Round 9 of the 2014 SWS RX7 Sprint Cup and SWS Junior Cup takes place at the Dubai Kartdrome on 21 September.
Categories