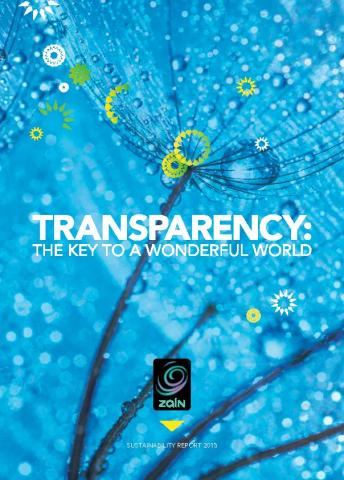 G4 compliant report published exclusively online to minimize environmental footprint includes in-depth insights on the company's operations and detailed case studies
Report attains 'limited assurance' by Deloitte's, confirming Zain's commitment to transparency, sustainability and good corporate governance
Kuwait City - 27 October, 2014 : Zain Group, a leading mobile telecoms innovator across eight markets in the Middle East and Africa, announces the publication of its third annual Sustainability Report entitled 'Transparency: The key to a Wonderful World', which is available exclusively online at: www.zain.com/social-responsibility/sustainability-report/ . The 2013 Sustainability Report, published in both Arabic and English, continues to differentiate the company as being one of the most transparent in the world in its approach to releasing information about its activities and developments.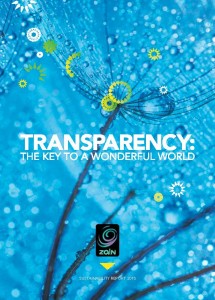 In keeping with the theme of considering the impact of business operations on the environment, Zain Group made a conscious decision not to print hard copies of the report, instead producing an interactive, user-friendly online variant that allows readers to access specific portions of the report, or download it in its entirety.
New in the latest report is the use of the G4 Sustainability Reporting Guidelines framework that provides greater flexibility to allow for the inclusion of content in the report that is more relevant to Zain and its core business of telecommunications as well as those of its stakeholders. Zain is one of the first mobile operators in the region to adopt the new Global Reporting Initiative (GRI) G4 Comprehensive guidelines, which were launched in May 2013 in The Netherlands.
Also new in the Report is the inclusion of a Materiality Assessment section for the first time, which illustrates the process by which Zain's management prioritizes sustainability-related issues and subsequently derives content based on such assessment.
The 2013 report which received 'limited assurance' by Deloitte's Enterprises Risk Services arm confirming the accuracy of the content provided, also places special attention on the following issues:
a)      Stakeholder Engagement: how the organization deals with different stakeholders and how this engagement impacts the business. This was highlighted through four unique case studies, namely one on Zain's Investor Relations team's strategy of engaging with and having transparent interaction with investors and the wider financial community;  Another on highlighting the benefits of Zain engaging with its main technology industry partners and peers at the annual Zain Technology Conference; The third on Zain's Employee Engagement Survey conducted by the company across all operations to determine employee's issues and priorities; and finally on how Zain's activities in South Sudan are stimulating economic growth and prosperity.
b)      Economic Impacts: The report detailed amounts that have been invested by several Zain operations to develop the socio-economic development of each country. Also mentioned were indirect impacts through distribution outlets and franchise stores.
c)       Inclusivity and Connectivity: The report highlights different services offered and programs undertaken to provide connectivity to marginalized and disenfranchised groups such as Syrian refugees in Jordan through the Syria-Sim service. The report also details the ways Zain is providing financial inclusivity through its development of Direct Operating Billing service and for the company's provision of an end-to-end mobile money solution that will be deployed across group operations.
Commenting on the Sustainability Report, Zain Group Chairman, Asaad Al Banwan said, "Zain Group is a pioneering organization at its core, and we hope that the transparent documenting and more importantly our undertaking of sustainability developments is something that will be considered by other players in the region. There has been tremendous progress  achieved by the organization with respect to sustainability activities since the publication of the inaugural report in 2011, and this publication with its additional areas of focus and comparison, underlines our dedication to being transparent with respect to these issues, and to holding ourselves accountable for the manner in which we conduct our business."
On his part, Zain Group CEO, Scott Gegenheimer said, "Sustainability is at the very core of our business and is reflected in every aspect of our day to day operational activities. We continue to take our role in society very seriously and are willing to live up to our responsibilities in the places we do business. This is what the annual publication of our Sustainability Report represents to us." He continued, "Our commitment to sustainability best practice and consciousness of the environment is the reason the report was produced in line with the G4 Sustainability Reporting Guidelines framework and why we are offering only an interactive online report."
Other highlights within the Report include:
The expansion of battery and hybrid solutions deployed by Zain from 141 in 2012, to 212 in 2013, reducing the organization's environmental footprint
The deployment of 795 right-sized generators and 457 outdoor cabinets to improve Zain's energy efficiency
The establishment of the Zain Al Shabab program in Jordan, a community empowerment initiative promoting innovation and supporting youth that has impacted 753 people in the country to date
The continuation of the Future University Network (FUN) Program in Kuwait, through which a total of 78 exceptional young nationals improved their job-readiness through direct work experience and training in Zain's offices
The construction of six schools and partial renovation of three in Sudan, through which an estimated 14,000 students will have improved access to education in order to empower their future success
The economic empowerment of around 150 women in Saudi Arabia through the Hadafi Program, which provides a forum for aspiring female Saudi entrepreneurs to present their business ideas to an expert panel of judges, with the winner receiving seed money to implement their project
An interactive, user-friendly version of 'Transparency: The key to a Wonderful World' can be viewed or downloaded in either Arabic or English versions at:  www.zain.com/social-responsibility/sustainability-report/
About Zain Group
Zain is a leading telecommunications operator across the Middle East and Africa providing mobile voice and data services to over 46.5 million active customers as of 30 June, 2014. With a commercial presence in 8 countries, Zain operates in: Bahrain, Iraq, Jordan, Kuwait, Saudi Arabia, Sudan and South Sudan. In Lebanon, the Group manages 'touch' on behalf of the government. In Morocco, Zain has a 15.5% stake in Wana Telecom, now branded 'INWI', through a joint venture. Zain is listed on the Kuwait Stock Exchange (stock ticker: ZAIN).
For more, please email info@zain.com or visit: www.zain.com www.facebook.com/zain www.twitter.com/zain www.youtube.com/zain
www.instagram.com/zaingroup
www.linkedin.com/company/zain
Categories