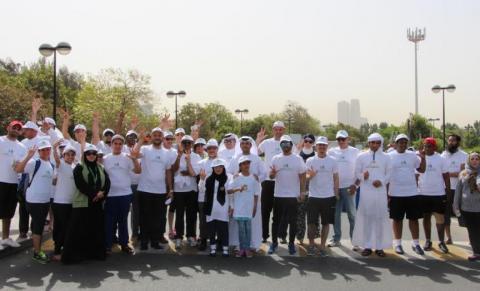 The Ministry of Environment and Water in cooperation with the Dubai Police, Dubai Municipality, the Dubai Sports Council and the Dubai Foundation for Ambulance Services, recently organized the 'Walking for Better Health' walkathon that took place at Khor Al Mamzar, Dubai. Drawing in more than 200 participants, the event was developed to complement the 'World Day for Physical Activity', and the 'World Health Day.'
During the opening, H.E. Engineer Saif Al Shara', Assistant Undersecretary for Agriculture and Livestock Affairs, Ministry of Environment & Water, underlined that the event embodies the ministry's commitment to promote health awareness among the members of the community, and consolidates social responsibility among individuals and the general public with regards to health awareness, and encourages persons to adopt healthy lifestyles. H.E added that the ministry is keen to raise public awareness on the importance of eating balanced food and follow proper physical activities. The initiative also aims to build a generation that is fully aware of the health benefits of regular physical activities.
Participants walked beside Al Mamzar beach till Al Mamzar Beach Park. Ministry staff, representatives of major institutions from the Government and Private Sector, students, and individuals participated in the event. Representatives from the Ministry of Culture, Youth and Community Development, the Ministry of Education, the Emirates Volunteer Association also joined the 'Walking for Better Health.' At the end of the event, H.E Al Shara' honored the institutions who participated in this initiative.
Categories