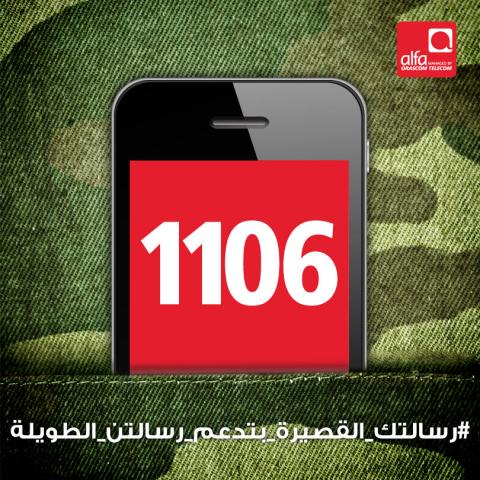 Alfa Launches "Your Short Message Will Support Their Long Mission" SMS Donations Campaign in Support of the Lebanese Army and in honor of the Army Martyr Heroes and Calls its subscribers for Wide Participation 
Beirut – Lebanon, August 6, 2014: By virtue of a decision by His Excellency the Minister of Telecommunications Boutros Harb, Alfa, managed by Orascom Telecom, has launched an SMS donations campaign titled "Your Short Message Will Support Their Long Message" in support of the Lebanese Army. This campaign comes in recognition of the heroism of the Lebanese army that is making the highest sacrifices for the sake of Lebanon's unity; and as an expression of loyalty to the blood of the army's martyr heroes; and as part of Alfa's ongoing support of the military establishment. Each text message sent to the number 1106 will contribute one dollar to the Lebanese army.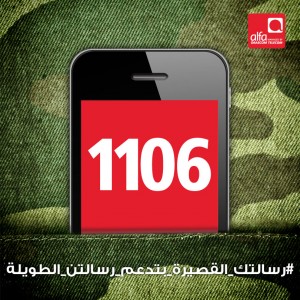 Alfa is confident that its subscribers will respond positively to this campaign, and calls them to widely participate and express their support for the Lebanese army and its national duty during this critical stage that Lebanon is going through.
Alfa also renews its commitment to fully support the military establishment and offers its sincerest condolences to the families of the martyrs.
To our Lebanese army heroes we say: Our hearts are with you!  
About Alfa
Alfa is the first Lebanese mobile network owned by the Republic of Lebanon and managed by Orascom Telecom, Media and Technology (OTMT). Alfa capitalizes on the vast know-how and international expertise of OTMT in order to deliver quality and professional solutions for the mobile sector in Lebanon. On October 25, 2011, Alfa was the first mobile operator to launch 3G+ mobile broadband services in Lebanon. In a new technological achievement, Alfa has become the first operator that launches 4G-LTE commercially in Lebanon on May 15, 2013. Alfa currently serves 1.9 million subscribers and its network covers 99% of Lebanon. For more information, please visit: www.alfa.com.lb
About Orascom Telecom Media and Technology
OTMT is a holding company that has investments in companies with operations mainly in Egypt, North Korea, Pakistan, Lebanon and other North African and Middle-Eastern countries. The activities of OTMT are mainly divided into its GSM, media and technology and cable businesses. The GSM activities include mobile telecommunications operations in Egypt, North Korea and Lebanon. The media and technology division consists of OT Ventures/Intouch Communications Service and the OT Ventures Internet portals and other ventures in Egypt, including LINK Development, ARPU+ and LINKonLINE. The cable business focuses on the management of cable network    
Categories