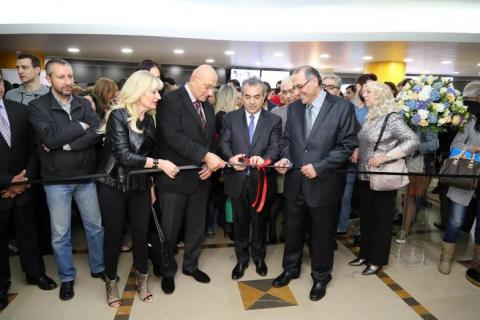 Beirut, April 2, 2015:
Set to redefine the entertainment landscape, and under the management of Grand Cinemas, Galaxy Cinema recently inaugurated their newly remodeled and upgraded theatrical venue on April 1, 2015, in Galaxy Mall, Chiyah.
The new venue features the best in cinema digital screens and sound technology, as well as a completely renovated box office. Brand new concession bars have been aptly engineered and placed across the cinema floor, while the restored lounge area enhances and promotes the true vintage era of cinema, ensuring film enthusiasts an immersive cinematic experience.Grand Cinemas has partnered together with Galaxy Mall in order to recruit a team of passionate and impeccably trained professionals and deliver the cinematic standards it reflects.
Jean Ramia, Co-owner of Selim Ramia & Co, the mother company of Grand Cinemas, commented on the occasion, "We are thrilled to be part of Galaxy Mall's rebranding plans and help them maximize potential through the Grand Cinemas culture. We are best known for our second to none services, ideas and exclusive product offerings," adding that Galaxy Mall, one of the first local film enterprises in the region, has been the flagship of the cinema going trend in Beirut."In a short period of three months, we have worked optimally to deliver a whole new venue with state-of-the-art facilities, offering an unparalleled service at the most affordable price range in the country," Emile Naim, co-owner of Galaxy Mall, explained.
Taking part in the inauguration of Galaxy Cinema were many Lebanese top-notch figures, media representatives as well as the mayor of Chiyah, Mr. Edmond Gharios, who all gathered to celebrate and recognize this exciting milestone. After the inauguration of the venue, the invitees enjoyed the advanced screening of "Fast & Furious 7," one of the year's most anticipated blockbusters.
Categories