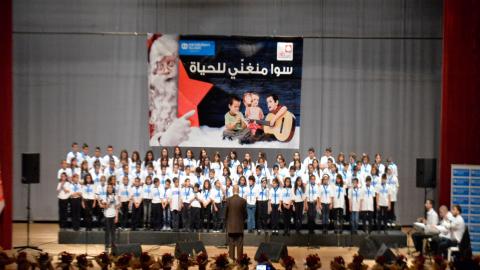 As part of "alfa 4-Life" CSR program
Beirut, 4th of December 2014: As part of the "alfa 4-Life" CSR program, alfa, managed by Orascom Telecom, marked the holiday month through the annual celebration of SOS Children's Villages, which was held this year at the UNESCO Palace, where the SOS Children's Villages choir performed an exceptional program entitled "Together we sing for life".
The event started with a special tribute to legendary artist Sabah, in which the children performed some of her most famous works, before singing Christmas carols and Lebanese folk songs.
The event, which was held as part of the "alfa 4-Life" program, crowns a year of rehearsals for 94 children under the supervision of a professor from the National Conservatory. It was attended by alfa Chairman and CEO, Mr. Marwan Hayek, the President of the Lebanese Association of SOS Children's Villages, Mrs. Afifa Dirani Arsanios, and all the family of SOS children's villages/Lebanon and alfa families as well as media and social representatives.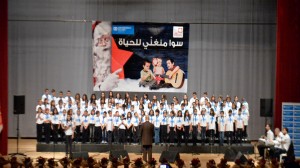 About alfa
alfa is the first Lebanese mobile network owned by the Republic of Lebanon and managed by Orascom Telecom, Media and Technology (OTMT). alfa capitalizes on the vast know-how and international expertise of OTMT in order to deliver quality and professional solutions for the mobile sector in Lebanon. On October 25, 2011, alfa was the first mobile operator to launch 3G+ mobile broadband services in Lebanon. In a new technological achievement, alfa has become the first operator that launches 4G-LTE commercially in Lebanon on May 15, 2013. alfa currently serves 1.9 million subscribers and its network covers 99% of Lebanon. For more information, please visit: www.alfa.com.lb
About Orascom Telecom Media and Technology
OTMT is a holding company that has investments in companies with operations mainly in Egypt, North Korea, Pakistan, Lebanon and other North African and Middle-Eastern countries.
The activities of OTMT are mainly divided into its GSM, media and technology and cable businesses. The GSM activities include mobile telecommunications operations in Egypt, North Korea and Lebanon. The media and technology division consists of OT Ventures/Intouch Communications Service and the OT Ventures Internet portals and other ventures in Egypt, including LINK Development, ARPU+ and LINKonLINE. The cable business focuses on the management of cable networks.
Categories