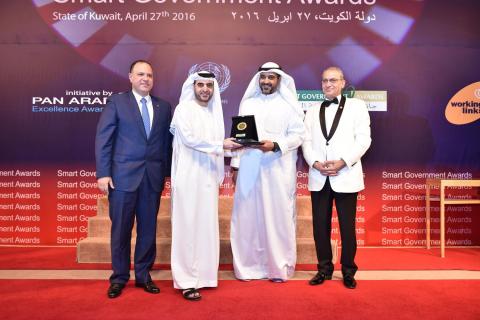 The 'Smart Government Application Store' has won the '2016 Smart Government Award' under the 'Best Smart Application in the Arab Region' category during the Telecommunications Regulatory Authority (TRA)'s recent participation in the 7th Smart Government Excellence Awards held by the Central Agency of Information Technology of Kuwait. This year's edition witnessed the participation of 25 government organizations from the GCC and the Middle East.
The 'Smart Government Application Store' includes hundreds of smart applications that have been developed by federal and local government entities in the United Arab Emirates. It helps make the use of these applications as a part of the daily life of government stakeholders. The smart applications aim to provide easy access to public services in a real-time environment featuring high reliability, safety and security.
The winning Smart Applications in the '2016 Smart Government Award' competition was selected by a panel of top experts and technical professionals. The selection criteria include creativity, ease of use, application structure, interactivity, visible design, content quality, and application reliability.
H.E. Hamad Obaid Al Mansoori, TRA Director General, said, "We are truly honored to be recognized for this award, which confirms the importance of the 'Smart Government Application Store' and its major contribution towards building a foundation for smart transformation. This achievement inspires us further to continue our work in developing more solutions that can ensure the complete use of our services through smart applications, which in turn can increase stakeholders' happiness and satisfaction."
H.E. Al Mansoori added, "Our participation at this year's 'Smart Government Award' competition falls in line with continuing efforts to further cooperate with other GCC countries in the move towards smart transformation.  Our presence here has a significant impact in achieving this transformation and enables us to keep on advancing with various Emirati and GCC entities. We are keen on participating in future events that complement our objective to position the UAE as a leading smart government regionally and globally --serving the authority's strategic goal of establishing the bases for e-government at the federal level."
The TRA presented H.H. Sheikh Mohammed Abdullah Mubarak Al Sabah, Kuwaiti Minister of State for Cabinet Affairs and Director of the Central Agency of Information Technology, with a book entitled 'Smart Government is an Emirati Experience,' which was developed in conjunction with the smart government transformation forum and printed in celebration of 2016's declaration as the 'Year of Reading' in the UAE.
The book highlights the UAE's experiences in its move towards smart governance, which began when the country's wise leadership launched its 'Smart Government' initiative in May 2013 and which has gained momentum over the last two years. The book also features a brief covering the road map to the development of the smart government initiative, covering key points such as analysis, set goals, establishment of services and the development of solutions –  all of which are considered pillars of the Local smart government project.
Categories