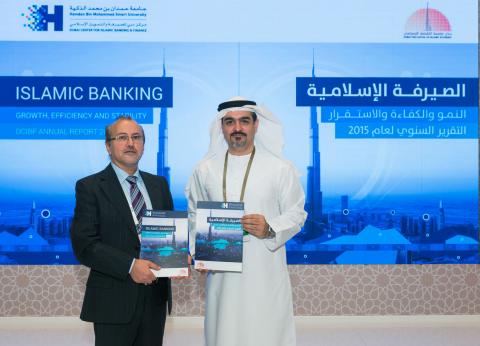 Several GCC countries, including UAE, make it to top 20 most efficient Islamic banks
Kuwait & Saudi Arabia banks lead 131 global institutions
Malaysia the only country outside GCC to make it to top 20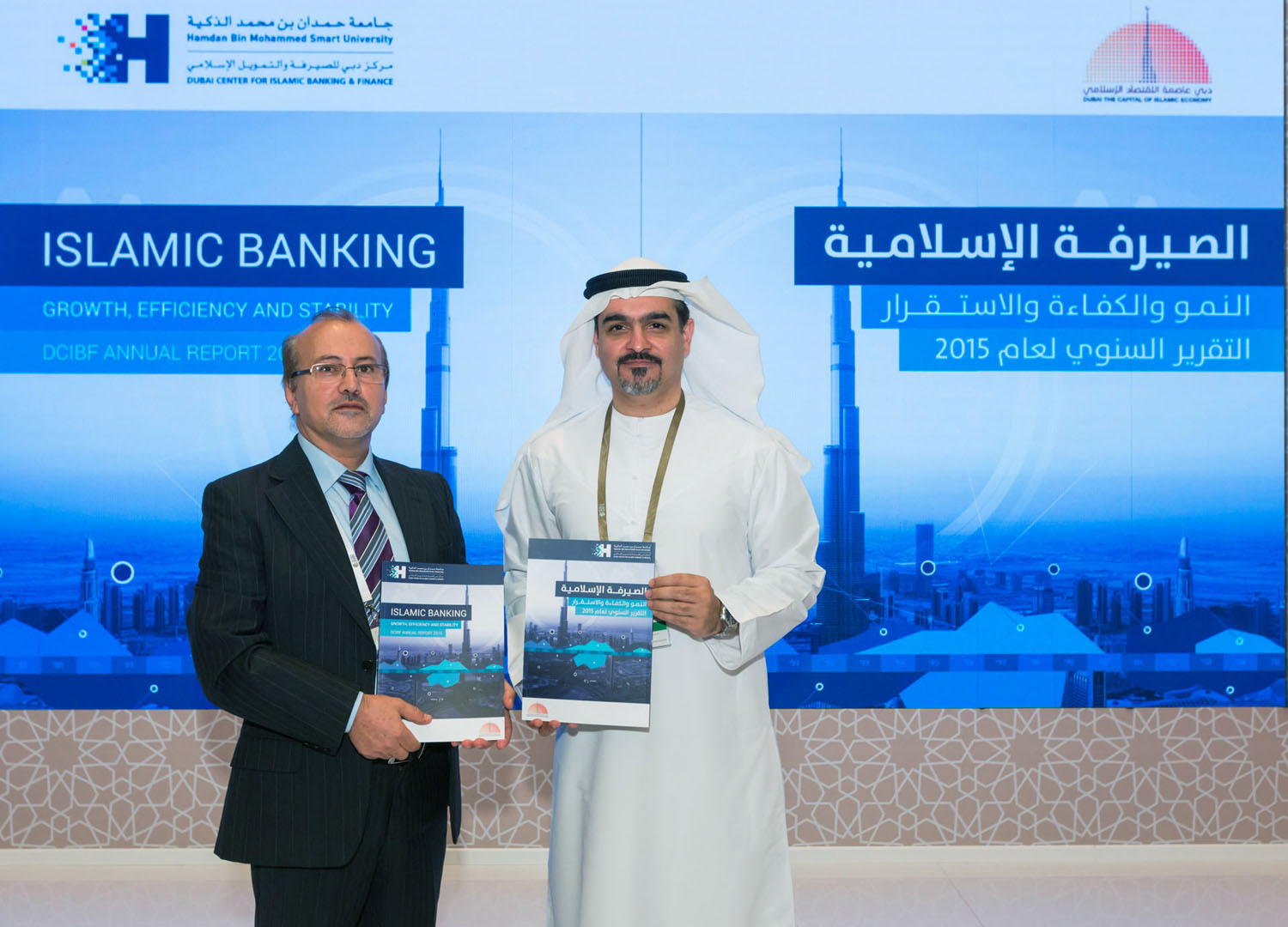 from right to left: Abdulla Mohammed Al Awar, Chief Executive Officer of Dubai Islamic Economy Development Centre and Prof. Nabil Baydoun, Vice Chancellor for Enterprise & University Advancement at HBMSU.
Consistent with its central role of producing groundbreaking and game-changing research works, The Dubai Center for Islamic Banking and Finance (DCIBF), a joint initiative of Hamdan Bin Mohammed Smart University (HBMSU) and the 'Dubai Islamic Economy Development Centre', has formally released its second annual report on Islamic economy today (Wednesday October 12, 2016) during the third Global Islamic Economy Summit in Dubai, the region's premier forum on the Islamic economy, which ran from October 11 to 12, 2016 at Madinat Jumeirah in Dubai.
The latest statistics-backed comprehensive report titled 'Islamic Banking: Growth, Efficiency and Stability' focuses on the efficiency performance of 131 Islamic banks operating globally and other various key facets of Islamic banking. Out of the total Islamic institutions studied, DCIBF's report reveals that an Islamic bank from Kuwait emerged as the world's most efficient.
The Kuwait Finance House (KFH) received the highest efficiency score among all banks mentioned in the report, followed by Al Inma Bank from Saudi Arabia, which obtained the top score in terms of the most cost-efficient Islamic bank in the world. The top 20 most efficient Islamic banks come from seven countries, including the UAE, Qatar, Malaysia, and Bahrain in addition to Kuwait and Saudi Arabia. Outside the GCC region, it is only Malaysia that made it to the top 20 list.
The Dubai Center for Islamic Banking and Finance (DCIBF) plays a pivotal role in the preparation and development of in-depth studies covering developed global Islamic banking sector efficiency—used as a reference and base for the Islamic Retail Banking Awards, which held its inaugural edition in 2015. The extensive research conducted by the Center has also led the DCIBF to being awarded with the Islamic Banking R & D Award in 2015, which was given in recognition of the efforts made to assess the performance of Islamic retail banks.
In business, efficiency refers to how much needs to be spent in order to maximize output. According to the report, as financial markets become more integrated and decentralized, it has become imperative to measure the efficiency of banking institutions.
More than 400 Islamic banks and financial institutions are now operating in over 60 countries from different regions, including Europe, Americas, South Asia, Far East, Africa, and Australia. The report points out that the growth and competitiveness of Islamic banking are being driven by numerous factors such as size, brand, ability to enter new markets, microfinance, combating poverty, strategic alliances, and the development of Islamic finance as an integral part of the global halal economy.
Besides the global ranking, the report, which comprises four chapters, also studied the current state of the global Islamic financial services industry valued at USD 2 trillion at the start of 2015. Although it is expected that Islamic banking will continue to grow globally, the report warns that it may face challenges especially in countries that heavily rely on oil and other commodity prices. In this regard, diversification of the industry and further expansion is essential for its sustainable growth, the report states.
Dr. Mansoor Al Awar, HBMSU Chancellor, said: "The efficiency analysis of Islamic banks used in this report is the first of its kind in that it is specifically designed for Islamic banks and that it has direct relevance to the global Islamic financial services industry. The innovative, pragmatic methodology utilized for the report combines the best academic methods with some basic tools that other practitioners can benefit from. The report is full of substantial statistics and reliable references to back its findings and recommendations. We are confident that the results will positively impact the entire global Islamic economy in such a way that more essential reforms will be implemented to further improve their competitiveness in the global stage."
Dr. Al Awar, added: "The report forms part of DCIBF's commitment to the initiative launched by H.H. Sheikh Mohammed bin Rashid Al Maktoum, UAE Vice President and Prime Minister and Ruler of Dubai, to make Dubai the capital of Islamic economy. It also represents another significant contribution to the realization of Dubai Strategic Plan's goal of promoting knowledge-driven and sustainable economic development in the emirate by providing rigorous scientific research that addresses key issues in Islamic economy and finance. Rest assured that as it gleans more experience and has more resources to capitalize on, the Center will continue to conduct and facilitate research, and will advance the concepts and the applications of research in Islamic banking and finance."
Furthermore, the report tackles the basic performance indicators of Islamic banks. It suggests that while the industry remains on a growth trajectory, concentration of Islamic banking assets in few markets, mainly the GCC and the wider MENA region, may pose a threat to the stability of Islamic banking. A detailed literature review on Islamic banks was also done to look into Islamic banks' developments as well as their profitability over the past few decades.
The study addresses pressing challenges facing the Islamic banking and finance sector at a time when many factors have tremendous impact on the industry such as oil price fluctuations.
The research team was led by Project Director Prof. Nabil Baydoun, with Prof. Humayon Dar and Rizwan Malik serving as Chief Editor and Research Assistant, respectively. The members of the Steering Committee comprised Prof. Rodney Wilson, Prof. Fahim Khan, Dr. Syed Othman Al Habshi, Neil D. Miller, Dr. Yusuf Talal DeLorenzo, and Dr. Khaled Fakih.
Islamic banking and finance have been gaining momentum on a global scale, and have been offering profitable opportunities for institutions and individual investors of all sizes. They now represent an important system offering viable innovative alternative models for investment and growth to the conventional financial system, which is under significant strain owing to the recent financial crisis.
Dubai is well placed to promote rigorous research in Islamic banking and finance. The Dubai Government has seen a real potential for expanding its economic base and wants Islamic economics to play a significant part in the wider economic system.
Categories