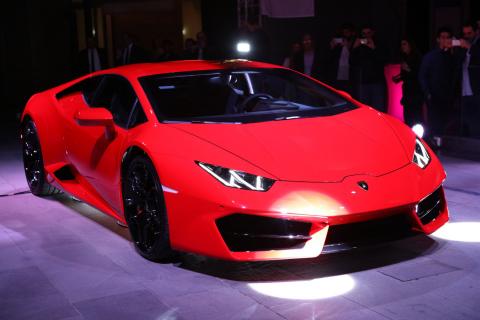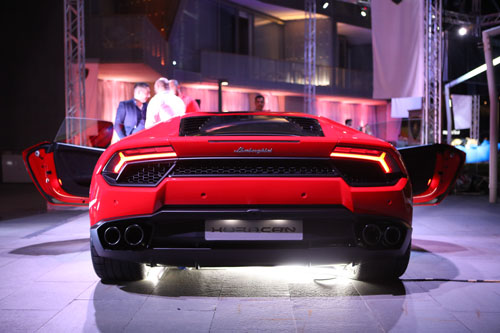 Saad & Trad S.A.L., the exclusive dealer of Lamborghini Cars in Lebanon, launches the two new remarkable Lamborghini sports cars at Le Yacht Club – Beirut, Zeitunay Bay in the presence of the Italian Ambassador HE Massimo Marotti,EMEA Sales Area Manager Mr. Francesco Cresci and the Managing Director of Saad & Trad Mr. Michel Trad, high end profiles and clients, and media figures.
The Lamborghini heritage continues to inspire passionate adrenaline seekers who cherish feeling timeless as they cut through air and become one with the sky. The two new Lamborghini Huracan Spyder LP 610-4 and Huracan LP 580-2 are launched and designed to provide drivers with all the power and technology needed to tame the sky by instinct.
The new Huracán SpyderLP 610-4 stands for inspiring technology, outstanding quality and breathtaking performance. Luxurious comfort with a pure and dynamic design ensures the convertible version of the Huracán is an iconic Lamborghini in its own right. Its lightweight, electrohydraulic soft top gives the new Lamborghini a distinctive presence with roof both open and closed, and maximum comfort for driver and passenger with uncompromising handling and performance.
With new front and rear bumpers, exhaust pipes, and rear grills, the Huracán's shape has never been so aggressive. Aeronautical in taste, but still unmistakably Lamborghini, this car is the purest expression of what can be created in Sant'Agata Bolognese. With the Huracán LP 580-2, you can say the form has never followed function that beautifully.
EMEA Sales Area Manager, Mr. Francesco Cresci commented on the event, "The official presentation of the new Lamborghini Huracán two-wheel drive and the convertible Huracán Spyder, was the perfect opportunity to meet with both clients and media in Lebanon. The enthusiasm and passion of both our dealership and our clients is evident here. The Huracán LP 580-2 two-wheel drive provides a real 'fun to drive' car, while the Huracán LP 610-4 Spyder is perfect for open air lifestyle driving. Together with the highly successful LP 610-4 coupe, the current Huracán product line-up provides a model to suit each Lamborghini driver, but all delivering V10, naturally aspirated Lamborghini performance and stunning design."
Michel Trad, Chairman of Saad & Trad S.A.L., added: "Lamborghini never fails to amaze the Lebanese super sports car fans and we are looking forward to this launch which is a new phase to the Lamborghini production that will enrich the market of Lebanese super sports cars."
With more than 60 years of experience in the business, Saad & Trad S.A.L.has established itself as one of the leading appointed dealers in the market for Lamborghini, with a dedicated commitment to its products and customers as well as a strong and continuously growing market presence.
Categories