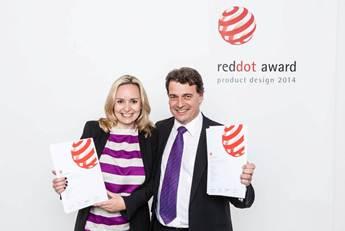 Dubai, July 14, 2014 –
On July 07, 2014 Fujitsu received the official certificates for the Red Dot Awards for product design at the Designers' Night held at the Red Dot Design Museum in Essen, Germany. Fujitsu's two document scanners, the ScanSnap SV600 and the ScanSnap iX500, received the internationally recognised seal of quality for their excellent product design.
Sabine Holocher, PR Specialist and Mike Nelson, Vice President, PFU Imaging Solutions Europe Ltd.
About PFU
Fujitsu brand scanners are designed, manufactured and marketed worldwide by PFU Limited, a wholly owned subsidiary of Fujitsu Limited (Japan). PFU is a globally active IT provider that designs, manufactures and markets computer hardware, peripheral products and enterprise software. PFU offers a broad portfolio of document scanners for professional personal, desktop, workgroup and high-volume production environments and is one of the world's leading document scanner companies. PFU has been engaged in the document imaging scanner business for more than 25 years and generates an annual turnover of over $1 billion. www.pfu.fujitsu.com/en/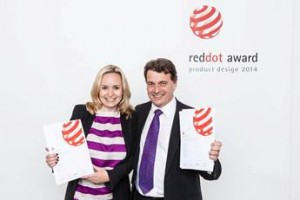 Operating in Europe, the Middle East, and Africa (EMEA), PFU Imaging Solutions Europe Limited is responsible for marketing and sales of Fujitsu document scanners. The European company was established in the United Kingdom in 1981 and has subsidiaries in Germany and Italy. www.fujitsu.com/emea/products/  
Copyright 2014 PFU Imaging Solutions Europe Limited. All rights reserved. PFU and the PFU logo are registered trademarks of PFU Limited. Fujitsu and the Fujitsu logo are registered trademarks of Fujitsu Limited. All other trademarks are the property of their respective owners. Statements herein are based on specified operating conditions and are not intended to create any implied warranty of merchantability or fitness for a particular purpose. PFU Imaging Solutions Europe Limited reserves the right to modifications at any time without notice of these statements, our services, products, and their warranty and performance specifications.
Categories