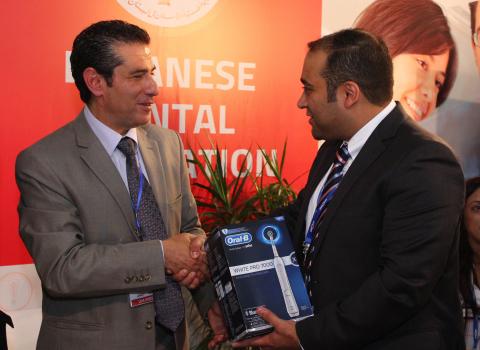 Beirut, September 15th, 2014
: During the 24
th
Beirut International Dental Meeting (BIDM 2014), held under the High Patronage of His Excellency the President of the Lebanese Parliament, Mr. Nabih Berry, a ceremony was organized to announce the renewal of the official partnership between P&G Oral Care and the Lebanese Dental Association, LDA at Biel Convention
Dr. Ashhad Kazi, Professional & Academic Relations Consultant – AP representing Crest and Oral B commented on the occasion: "The vision of Procter and Gamble Oral Care is to improve oral health of more people in more parts of the world more completely. This collaboration with the Lebanese Dental Association is one of the initiatives that we are proud of and keen on sustaining."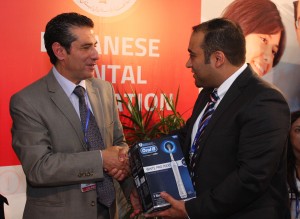 Professor Elie Azar Maalouf, President of Lebanese Dental Association (LDA), stressed on the advantages of such a partnership in benefiting the Oral Care segment in Lebanon. He added: "We are specifically thrilled about the unique benefits that this collaboration between the LDA and Crest and Oral B will provide to the retirement fund for dentists in Lebanon."
The ceremony took place in the presence of the president and members of the Saudi Dental Syndicate, whereby Dr. Kazi presented Professor Maalouf with the newest innovation from Kornberg, Germany, a Bluetooth enabled Power Brush: The Oral-B White Pro 7000 that has just been released in the UK.
Dr. Kazi added, "Oral hygiene is a topic that quite often is overlooked and not given its due importance in our daily lives, with newer oral care technologies now at our disposal, it can be a game changer in the fight for maintaining good oral health. Crest and Oral B have a long history of high quality research as such, they offer a comprehensive line-up of toothpastes, mouthwashes, toothbrushes and flosses which provide consumers with innovative, targeted solutions designed to meet all general and specific oral care needs."
With this collaboration for the second term, both Crest and Oral B and the Lebanese Dental Association will not only be establishing more awareness about the right routine for good oral hygiene and its maintenance, but also providing unique benefits to the retirement funds of dentists in Lebanon.
Categories