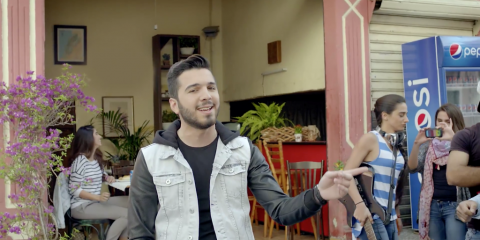 Pepsi has a rich DNA of inspiring fans to connect with pop culture and entertainment in unparalleled ways, and Pepsi is also committed in contributing to the music industry by supporting and empowering emerging talents of the region. With this mission Pepsi offered the opportunity to Hazem Sherif, the winner of Arab Idol, the support via the production of his first music video.
"Supporting emerging talents in their debut is one of Pepsi's main commitments, and bringing music in fresh new ways to our audience is also crucial for the brand. We believe in the power of music and our goal is to offer young talented artists a platform to shine", said Carla Hassan, Chief Marketing Officer, PepsiCo Middle East and Africa.
The music video, which has been produced by Platinum records, has been released on diverse Pan Arab Music channels across the region and generated a big audience with positive sentiment to the artist's 1st steps towards a thriving future.
"The production of Hazem Sherif's first music video is our way of encouraging him to spread his wings and embark on this exciting new journey, and we wish him all the luck to succeed in his career and become the star of tomorrow", added Hassan.
Commenting on the initiative, Hazem Sherif said: "I am already honored to be the winner of Arab Idol Season 3, and the partnership with Pepsi is very much aligned with my- and other young talents journeys. It has been a great opportunity to work on this music video, embodying and representing my passion for music". Hazem ended by saying: "I hope it will be up to standards and that the fans will appreciate it, as they have supported me since the very start".
This initiative is linked to Pepsi's strong partnership with Arab Idol, a program that the brand has been sponsoring with its debut of its 1st season as it believes in its mission to bring music to the region, and embodies Pepsi's spirit and mantra to empower emerging talents across the region.
To watch the music video and support Hazem in his debut, please visit [https://www.youtube.com/watch?v=tXUYkPrOjts].
Categories