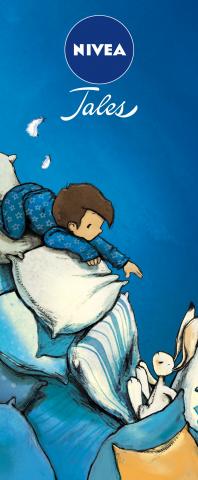 This Spring NIVEA connects mother and child through NIVEA Creme and storytelling
Dubai, April 2015:
Building on its values of family and motherly love, and based on the eye raising statistic that on average, Arabs only read six pages a year*, NIVEA Creme launches NIVEA Tales. The campaign's objective is to facilitate caring moments between mothers and their children, and encourage them to read aloud to their child on a regular basis.
One of the closest and most caring moments between a parent and a child is when putting a child to sleep. The key highlight of this moment is the story told by the parent to the child who takes them both to a wonderful world, and provides a calming and nurturing experience for the child.
NIVEA Creme is a very unique product, that has been around for a long time and for those that know it, the scent and the feel of it are very distinctive – therefore it is easy to use it to create a moment between mother and child just like storytelling, and this is where the idea of NIVEA Tales came from.
As part of this campaign, NIVEA produced five short tales which will take children on a dreamlike journey with their mothers, introducing them to different characters, helping them develop and strengthen their memory and teaching them basic life values. NIVEA Tales only take a few minutes to be read meaning parents can experience this magical moment and bond with their child on a regular basis, without having to plan it.
The stories will convey NIVEA's core values based on protection, courage, family, trust, care, honesty and authenticity, helping children learn about the world around them. The inspiring tales will be available and handed out to mothers during consumer activations across several locations in the UAE and across the GCC.
Together with MBC, NIVEA is also launching "Mom tells a story", a programme which will air on MBC3 and go live on Shahid.net and MB3.net starting March 26, consisting of six different stories where real mothers will tell the stories alongside children aged one to five.
Children are curious about life, they memorize very quickly and they are eager to learn new things. In their younger years, children should be exposed to as many books, words, and sounds as possible to develop their language, personality, and creativity skills and most importantly their imagination and this is where books come in. Books are great things to share with children.
Categories