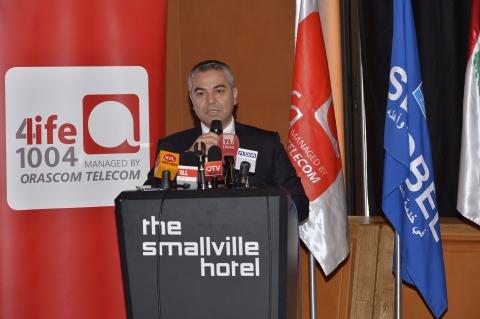 As part of the "alfa 4-Life" CSR program
Beirut, Lebanon, 3rd of December 2014: As part of the "alfa 4-Life" CSR program, and in support of Sesobel's chocolates and sweets products, the launch of a new brand image for these products was announced today. The event, which was held at the Smallville hotel in Badaro, was attended by alfa CEO and Chairman, Mr. Marwan Hayek, Sesobel President and Director-General Mrs. Fadia Safi, in addition to executives from alfa, managed by Orascom Telecom, and Sesobel, as well as media representatives and interested parties.
Hayek To begin with, Hayek pointed out in his speech that "the launch of this project, which will last for a year, coincides with the International Day for persons with special needs on December 3, a symbolic occasion which is valued by alfa". He added, "Hence was this initiative, through which we hope to contribute in ensuring the continuity and sustainability of Sesobel and its production of chocolate and sweets so that it can remain competitive in a market marked with competition". Hayek assured that "today's initiative is a continuation of our cooperation with Sesobel for the past years." He added: "Society needs such associations, as without them it would be empty of human meaning". He finally hoped that Sesobel will continue to love giving and from alfa, he wished that the association continues to love life.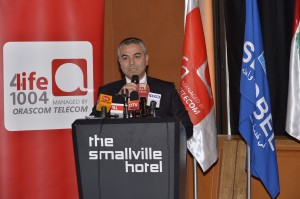 Safi In her speech, Safi said, "Our collaboration with alfa is not fortuitous, but rather a journey of several phases in which the company contributed to the development of our programs to serve our cause". She added, "838 young girls and boys with special needs benefited from our services this year in the fields of rehabilitation, education, and health. This is in addition to more than two hundred people who benefited from the permanent training center". She went on to say, " 'brotherly love' is our motto for this year, a motto that  embodies alfa's loyalty and commitment to us".
Moukarzel Then the President of the Graphic Designers Union in Lebanon, Ms. Rita Moukarzel, gave details about the new brand image of these products as well as the redecoration of the points of sale.
About alfa
alfa is the first Lebanese mobile network owned by the Republic of Lebanon and managed by Orascom Telecom, Media and Technology (OTMT). alfa capitalizes on the vast know-how and international expertise of OTMT in order to deliver quality and professional solutions for the mobile sector in Lebanon. On October 25, 2011, alfa was the first mobile operator to launch 3G+ mobile broadband services in Lebanon. In a new technological achievement, alfa has become the first operator that launches 4G-LTE commercially in Lebanon on May 15, 2013. alfa currently serves 1.9 million subscribers and its network covers 99% of Lebanon. For more information, please visit: www.alfa.com.lb
About Orascom Telecom Media and Technology
OTMT is a holding company that has investments in companies with operations mainly in Egypt, North Korea, Pakistan, Lebanon and other North African and Middle-Eastern countries. The activities of OTMT are mainly divided into its GSM, media and technology and cable businesses. The GSM activities include mobile telecommunications operations in Egypt, North Korea and Lebanon. The media and technology division consists of OT Ventures/Intouch Communications Service and the OT Ventures Internet portals and other ventures in Egypt, including LINK Development, ARPU+ and LINKonLINE. The cable business focuses on the management of cable networks.
Categories