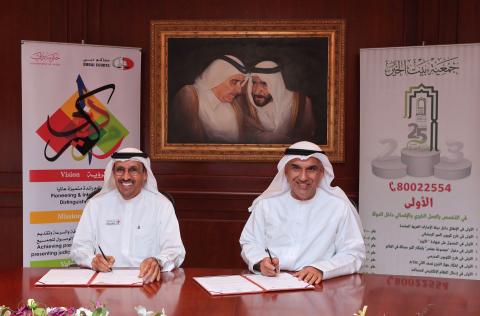 Partnership to support UAE's philanthropic activities
As part of its commitment to social responsibility, Dubai Courts has inked an agreement with Beit Al Khair Society to help promote community partnerships, establish standards in charitable activities and reinforce the UAE's leadership on the global map. H.E. Taresh Eid Al Mansouri, Director General of Dubai Courts, and H.E. Abdeen Taher Al-Awadi, Executive Director of Beit Al Khair Society, signed the agreement. The two parties expressed their full commitment to jointly promote and support humanitarian and charitable works to bolster the country's march towards social development.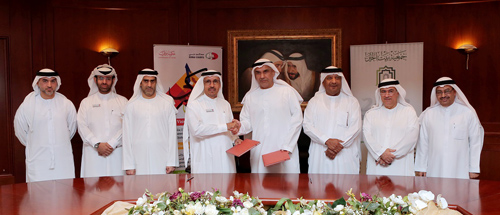 Both sides agreed to deploy all available resources, implement various projects, conduct religious and educational events, and hold joint training courses to promote excellence in the UAE's humanitarian and social development projects. Under the terms of the agreement, Dubai Courts will help increase community awareness as well as encourage all its employees and customers to actively take part in charitable initiatives that promote unity in society and human values based on tolerance, compassion and giving.
H.E. Al Mansouri welcomed Dubai Courts' strategic partnership with Beit Al Khair Society, saying such a collaboration reflects the vision of the UAE's founding fathers. H.E. emphasized the importance of concerted efforts to support social development as a national responsibility and strategic priority. The Director General further reiterated Dubai Courts' commitment to local charitable and humanitarian projects in line with the goal of UAE Vision 2021 to build a harmonious society that adheres to the UAE's values of justice, equality, and social solidarity.
H.E. Al Mansouri said: "Our cooperation with leading humanitarian organizations such as Beit Al Khair Society opens up new horizons for us to implement quality programs that can positively impact society's happiness, welfare and prosperity in line with the vision and directives of H.H. Sheikh Khalifa bin Zayed Al Nahyan, UAE President, and H.H. Sheikh Mohammed bin Rashid Al Maktoum, UAE Vice President and Prime Minister and Ruler of Dubai. We look forward to making tangible achievements as additions to the UAE's many milestones. The country is now at the forefront of the world's humanitarian and social development works."
 For his part, H.E. Al-Awadi praised Dubai Courts for its ongoing support for Beit Al Khair Society's vision of providing distinguished humanitarian services that embody the country's aspirations for a cohesive and vibrant society. H.E. Al-Awadi said the new agreement complements national endeavors to promote social responsibility in local communities and instill the values of engagement, solidarity, openness and compassion as the country's core foundations.
He added: "We are confident that our partnership with Dubai Courts will yield positive results, especially in terms of implementing charitable projects and innovative humanitarian initiatives."
Categories