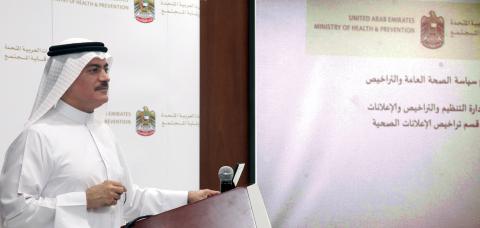 Dr. Al Amiri: Our goal is to be able to issue medical and pharmaceutical licenses 24 hours after application
The Ministry of Health and Prevention (MOHAP) successfully concluded an 'Open Day' for medical licenses at its headquarters recently. The event was headed by H.E. Dr. Amin Hussein Al Amiri, Assistant Undersecretary for Public Policy and Licensing, MOHAP and attended by the Ministry's department heads and staff members.
 H.E. Al Amiri said, "This 'Open Day' event falls in line with the Ministry's objective of improving and further enhancing the quality of its work systems and keying in the development of more health facilities, thereby ensuring easier access and compliance with set international standards and guidelines. Today, we are witness to the MOHAP continuing efforts to effect a transformational shift to improve productivity and enhance efficiencies to make our customers happier, which in turn, will allow us to address key challenges while also implementing the directives of the wise leadership."
 "We are looking forward to enlightening all of our customer services staff with the proper operational procedures needed in performing the essential review of requirements by workers in the pharmaceutical and healthcare industry--providing them with the necessary licensing for medical and pharmaceutical establishments," H.E. Al Amiri added.
 The MOHAP Assistant Undersecretary shared that the next goal is to be able to issue licenses to these medical and pharmaceutical professionals and their related facilities 24 hours after the submission of their requirements. The move reflects the Ministry's continuing commitment towards development of better services, health policies and legislation. This also includes the existence of an adequate explanation in the electronic system of the client to inquire about licensing procedures from A to Z.
 H.E. Al Amiri explained that the launch of the Ministry's initiatives to measure the level of customers' happiness through the happiness index falls in line with the goal to ensure the continuous provision of all administrative services in accordance with quality, efficiency and transparency standards. The move is expected to raise customer satisfaction rates as well as the percentage of functional happiness—further consolidating the UAE's leading position in the MENA region in the global happiness index of 2016, exceeding France, Thailand, Spain and Japan.
Categories