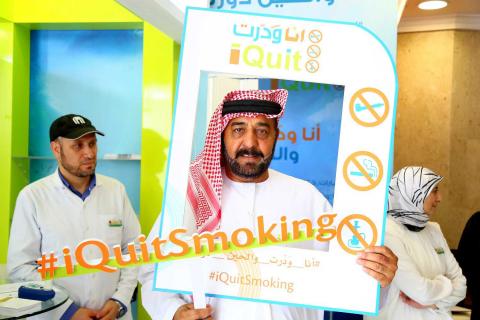 Launch coincides with celebrations of World No Tobacco Day
In line with its commemoration of the 'World No Tobacco Day', the UAE Ministry of Health and Prevention has launched a mobile clinic, in collaboration with Pfizer Global Pharmaceutical Industries, under the slogan 'I quit .... now it's your turn." The clinic will provide counselling and support services to smokers, encouraging them to quit smoking and adopting a healthy lifestyle.
Dr. Hussein Abdul Rahman Al Rand, Assistant Undersecretary for Health Centres and clinics, UAE Ministry of Health and Prevention, facilitated in the ribbon cutting ceremony of the mobile clinic in the presence of H.E. Awad Al Ketbi, Assistant Undersecretary of the Support Services Sector, stated that the Ministry's National Tobacco Control Program is sparing no efforts to curb the spread of the use of tobacco in all its forms and types. He reiterated that Ministry is working to provide support to smokers to help them quit smoking and implement a ban on smoking in enclosed public areas to reduce exposure to passive smokers.
The Assistant Undersecretary said that the Ministry aims to raise awareness about the harmful effects of using tobacco along with about healthy tobacco-free lifestyle among different segments of the society. Dr. Al Rand explained that the UAE National Agenda aims to measure the daily consumption of cigarettes and tobacco products among different age groups. The national indicators as per the Health Survey conducted in 2010 by the UAE Ministry of Health and Prevention show that 21.6 per cent of UAE men and 1.9 per cent of women use tobacco.
Adding further, Dr. Fadila Mohammed Sharif, Director of Health Education and Promotion, UAE Ministry of Health and Prevention, said the mobile clinic initiative will organize several activities and initiatives as a way to reach out to target audience with the aim to raise the level of health awareness among the community members.
This year's 'World No Tobacco Day' is being observed under the theme 'Get Ready for Plain Packaging." This was organized in recognition of how plain packaging reduces the attractiveness the attractiveness of tobacco products, which could decrease demand. Restrictions on using tobacco packaging as a form of advertising limits misleading packaging and labelling, and increases the effectiveness of health warnings.
For her part, Dr. Nadia Younis Director, Public Affairs & Communication Lead- Gulf & Levant at Pfizer, "We are proud to partner with the Ministry in establishing tobacco regulations, which is a vital component of every individual's social responsibility. This serves as a strong platform that will allow us to collaborate with the Ministry and we are eager to support the health authorities, especially MOHAP, towards reducing the negative risks associated with smoking as it could lead to heart disease and cancer."
The program of events will take place in offices, shopping malls, airports and will include several educational activities, such as lung function medical examinations and check-ups for carbon monoxide and blood pressure, as well as an examination of body mass. These tests aims to help isolate health problems at an early stage. There will also be counselling from specialists on smoking, as well as lectures on the dangers caused by different kinds of tobacco in addition to a distribution of educational leaflets on damages cost by tobacco use as well as tips on how to quit.
Categories