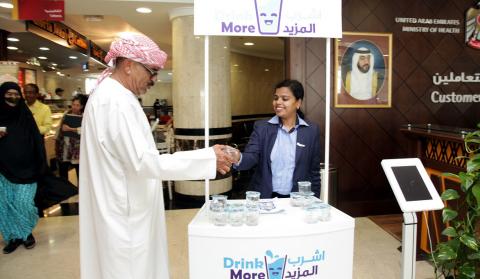 Initiative aims to instill a positive habit of choosing healthier drinks and lead a healthy lifestyle
The Health Education and Promotion Department at the Ministry of Health and Prevention (MOHAP) has recently launched 'Water Week' activities at the Ministry's headquarters in Dubai to raise awareness on the importance of drinking water. The event seeks to instill healthy habits among MOHAP staff and raise further awareness in line with MOHAP's strategy to create a supportive work environment that encourages employees to develop positive water drinking habits. This will help enhance the over-all health of the employees, which in turn will help them be more effective in their tasks and increase
Water bottles will be distributed daily on all MOHAP staff throughout the week in partnership with New Romana General Trading LLC to highlight the benefits of drinking water, at least 8 to 10 glasses every day, instead of consuming other sugary drinks. Water bottles will be delivered along with campaign messages with guiding tips per day. This will be accompanied by an email directed to the employee, which includes additional information about the importance of drinking water and following some methods or tricks that promote the habit of drinking water in the recommended amount, such as adding their favorite flavors to the water by including sliced ​​vegetables or fruits. In addition, the employees are advised to carry a bottle of water everywhere they go especially during the summer and to use numbered water bottles to track their water consumption.
Dr. Fadila Mohammed Sharif, Director, Health Education and Promotion Department, said that the 'Water Week' event was held as part of the Ministry's strategy to promote healthy lifestyles in the communities of the UAE and reduce the prevalence of diseases associated with lifestyle choices. It also aims to encourage employees to raise awareness in adopting healthier drinking options, particularly drinking adequate quantities of water especially during the summer when the temperature and humidity is at its highest.
Dr. Fadila mentioned that water is the most important component to ensure the continuity of the work functions of our body, every part of our body needs water to work properly, as the human body contains a proportion of 55-75% of the water. She added that the body needs water in all its vital processes such as digestion, absorption and transport of nutrients, building of tissues and maintaining body temperature, as well as kidneys performance.
Mr. Janardhan, Executive Director, Romana Group of Companies, Dubai, UAE, stated that, "ROMANA, is highly privileged to support the water week event by Health Education & Promotion Department at the Ministry of Health & Prevention. We believe in educating and creating awareness on "Drink More" the most essential need of life "Water" among internal employees who are the integral part of the community.
Categories