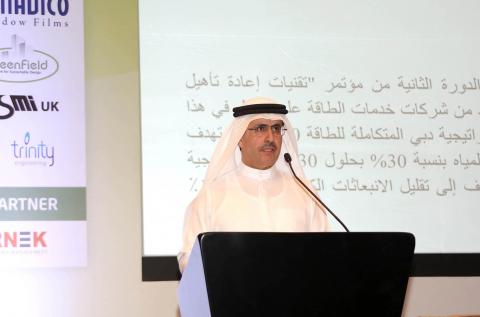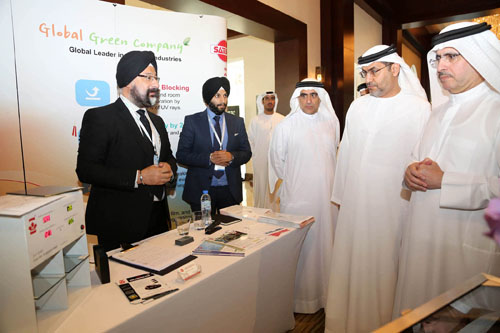 HE Saeed Mohammed Al Tayer, MD & CEO of Dubai Electricity and Water Authority (DEWA), inaugurated the 2nd RetrofitTech Conference in Dubai. The conference was attended by Dr. Matar Al Neyadi, Undersecretary of the UAE Ministry of Energy, HE Ahmed Buti Al Muhairbi, Secretary General of the Dubai Supreme Council of Energy, Holley Chant, Executive Director of Sustainability at KEO International Consultants, Stephane Le Gentil, CEO of Etihad ESCO, and officials from the government sector and some of the biggest local and international companies. Experts in sustainability and green buildings, and representatives from energy service companies, developers, and district cooling were also present.
The conference, held on 14-15 March 2016 at Park Hyatt hotel in Dubai, discusses different topics related to technologies and mechanisms to retrofit existing buildings. It also explores the challenges and opportunities in the UAE's retrofit market to achieve greater energy efficiency and sustainability.
In his keynote speech, Al Tayer emphasised the importance of the conference to encourage more energy service companies to take part in this promising market. He noted that this will support the Dubai Integrated Energy Strategy 2030 to reduce energy demand by 30% by 2030, and the Carbon Abatement Strategy to reduce carbon emissions by 16% by 2021.
"Dubai has a clear strategy for sustainable development based on the vision by His Highness Sheikh Mohammed bin Rashid Al Maktoum, Vice President and Prime Minister of the UAE and Ruler of Dubai. Last November, His Highness launched the Dubai Clean Energy Strategy 2050 to provide 7% of Dubai's energy from clean sources by 2020, 25% by 2030 and 75% by 2050. This firm commitment and ongoing support by our wise leadership has promoted the importance of environmental issues and their inclusion in all Dubai's development plans. As a result, the Emirate has made significant advances in addressing energy efficiency, security, rationalisation, and efficiency of energy demand as key elements of its plans for sustainable development. The strategy launched by His Highness shapes the energy sector in Dubai over the next three decades and provides a practical solution for addressing the environmental challenges the world is facing. This is done by establishing a sustainable model for energy conservation, which supports economic growth, without damaging the environment or its natural resources," said Al Tayer.
"The Dubai Clean Energy Strategy 2050 consists of five main pillars: infrastructure, legislation, funding, building capacities and skills, and having an environmentally-friendly energy mix. The infrastructure pillar includes initiatives such as the Mohammad bin Rashid Al Maktoum Solar Park, which Dubai Electricity and Water Authority (DEWA) is managing and building. The park is the largest single-site solar park in the world. It will produce 1,000MW by 2020 and 5,000MW by 2030, with a total investment of AED 50 billion. The first phase of the project became operational in 2013 and the 200MW second phase will be operational in April 2017. The solar park will help reduce 6.5 million tonnes of carbon emissions annually. The infrastructure pillar also includes the establishment of the Dubai Green Zone, which is a free zone designed to attract research and development centres and emerging companies in clean energy. The third pillar is about providing financial solutions for research and development in clean energy and its applications. This includes the establishment of the AED 100 billion Dubai Green Fund that will provide financial tools for clean energy investors in the Emirate," added Al Tayer.
"DEWA adopts a holistic approach for energy that focuses on energy security by diversifying its resources, using the latest technologies in energy storage, and increasing efficiency in the production, transmission, and distribution of electricity and water. We do our best to transform this vision into reality with sustainability being an integral part of our vision, which has resulted in DEWA's efforts achieving better results in energy efficiency than those of leading utilities in Europe and the USA. DEWA also invests in nine programmes as part of its demand-side management strategy. These include green building regulations, retrofitting existing buildings, district cooling, wastewater reuse, laws and standards to raise efficiency, energy-efficient street-lighting, and the Shams Dubai initiative to encourage building owners to install photovoltaic panels to generate electricity. Dubai aims to install solar panels on the roofs of all buildings by 2030. This strategy provides promising opportunities for energy service companies and promotes the sustainability and energy efficiency business. At DEWA, we also do our best to reduce the effects of all our projects on the environment, and rationalise our use of electricity and water. This is achieved by adopting smart systems and raising awareness among the citizens and residents of Dubai about the importance of adopting green practices as part of their daily lives. This supports our vision to become a sustainable innovative world class utility," said Al Tayer.
Al Tayer noted that DEWA established the Etihad Energy Service Company (Etihad ESCO) to support energy service companies in Dubai and encourage energy efficiency practices. Over 30,000 existing buildings in Dubai are being retrofitted. One of the projects Etihad ESCO is working on is the retrofit of 157 buildings for Jebel Ali Free Zone Authority with investments of AED 64 million. The project will save up to AED 22 million annually in electricity and water costs in the buildings, reducing 31% of their energy use. Etihad ESCO also signed two comprehensive Energy Savings Performance Contracts (ESPC) at a combined value of AED 37 million to improve and enhance the overall energy efficiency of the lighting infrastructure of the power plants at Jebel Ali, Al Awir, and 7 other DEWA-owned buildings.
"These strategies and leading projects contribute towards achieving the Smart Dubai initiative, which was launched by HH Sheikh Mohammed bin Rashid Al Maktoum, Vice President and Prime Minister of the UAE and Ruler of Dubai, to make Dubai into the happiest city on Earth. They also contribute towards achieving the Dubai Plan 2021 to make the environmental elements of Dubai clean, healthy, and sustainable, and make the Emirate the preferred place to live, work, and visit," he added.
"DEWA supports the sustainable development of Dubai to contribute to the happiness and well-being of its citizens, residents, and visitors. By participating in this conference, we reiterate our commitment to transform Dubai into a model for a smart and sustainable city in cooperation with our partners in the public and private sectors. I am sure that today's conference will come up with positive results and important recommendations that enhance Dubai's position as a regional role model for energy performance contracting markets, and support our efforts to achieve the vision of His Highness Sheikh Mohammed bin Rashid Al Maktoum for Dubai to be the city with the lowest carbon footprint in the world," concluded Al Tayer.
Categories