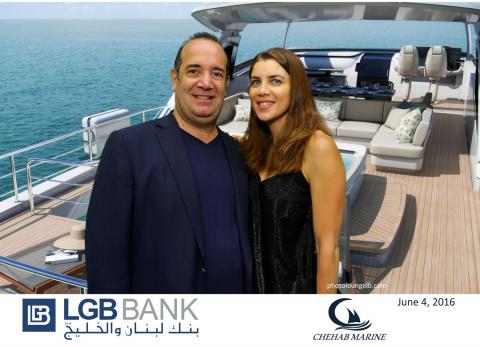 Always ready to support the Tourism and Investment sectors in Lebanon, LGB BANK sponsors the opening of Chehab Marine showroom in Dora, thus providing the opportunity to Yacht lovers to benefit from the bank's products: Yacht Loan and Yacht Card.
In the presence of the top notch company's clients, LGB BANK showed its support to Chehab Marine, seeking to further fulfill its loyal clients' ambitions and dreams through the Yacht Loan and the Yacht Card. Users of these two products will receive several benefits related to water sports.
The Vice Chairman CEO of LGB BANK, Mr. Samer Itani said, "We are very proud to participate in such a prestigious event that reflects one of Lebanon's touristic aspects, a country that offers us numerous opportunities to benefit from its aquatic riches. The "blue gold" is an essential source of investment that contributes in Lebanon's prosperity".
Following its recent pioneering achievements among the Lebanese Banking Group "Alpha" on the unaudited financial results of the year 2015, where the bank was ranked first in the asset growth rate of 12.44%, ranked second in the deposit growth of 10.86%, ranked third in the growth of private capital that increased by 17.10%, ranked fourth in the growth of loans that increased by 8.43%, fifth place in the net profit growth rate of 13.14%, and received the MEFTECH award for the best retail bank of the year, LGB BANK S.A.L. seeks to acquire various awards that showcases its successes through its innovative and modern financial products offered in its 18 branches in Lebanon, a branch in Cyprus, and a representative office in Dubai, and through its highly secured and safe online banking services on mobile and web, in addition to a range of social media channels. Moreover, the bank customer's benefit from an unprecedented services such as advanced loyalty program and night banking services, in addition to quality products such as foreign currency cards in UAE Dirhams, Turkish Lira, Saudi Riyal and Sterling Pound, as well as elite cards such as Black Card, Porsche Club Card and the Yacht Card.
Categories