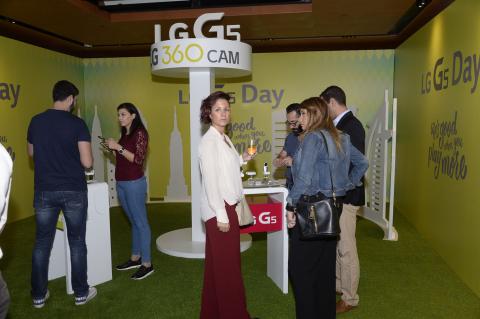 Cutting-edge innovation and utmost entertainment in most anticipated LG G5
LG Electronics unveils its new flagship phone LG G5 in Lebanese market
LG Electronics, the South Korean tech leader has officially launched its much anticipated LG G5 smartphone in the Lebanese market, in front of a media crowd during a brunch, in Beirut.
LG G5 represents many innovations that revolutionized today's mobile lifestyle and gaming fanatics. "Life's good when you play more" slogan guides today's generation to the amenities of LG G5 in terms of gaming and visualization, especially for the expansion of the phone's processor and the Virtual Reality portals that unlocks a whole new experience for the tech savvies.
When connected to LG 360 VR, LG G5 showcases an ultimate experience in Virtual Reality and offers you the chance to grab your own 360 degrees photos and videos when connected to the LG 360 CAM, and directly upload it to LG Friends Manager, a mobile application that allows the LG G5 users to connect with LG Friends with minimal fuss and effort. LG Friends is constantly on the quest for nearby G5 users and connects them in three simple steps, eliminating the hassle of pairing devices.
Encased in a sleek all metal aluminum body and Slide-out battery for a recharged battery swapping, the LG G5 surpasses the visual experience of its predecessor, the LG G4. Moreover, it offers the chance for users to choose between a standard and the newly wide angle lens to get more in the shot featured in the new camera. The first modular type smartphone, LG G5, offers the ability to transform into a digital camera, Hi-Fi player and more, while keeping its traditional removable battery in a full metal uni-body design for the time ever.
Country Manager of LG Electronics Lebanon, Mr. Igeun Kwack shared his excitement for the LG G5 debut in the Lebanese market saying, "The LG G5 has finally landed on the Lebanese shores," adding," the innovation of the G5 will definitely take the mobile phone industry to the next level in terms of gaming and technology. The G5 has been globally recognized, 33 awards in the mobile world congress in Barcelona and has topped the tech and innovation reviews all over the world, and I am sure that the Lebanese people is always eager to line up with the latest technology revolutions."
The new LG G5 empowers the true feeling of a mobile life, and interprets the result of innovative uniqueness of LG Electronics. An exclusive dinner was held between LG Electronics and its affiliated dealers in the region concluding the exclusive G5 launch event in capital.
Categories