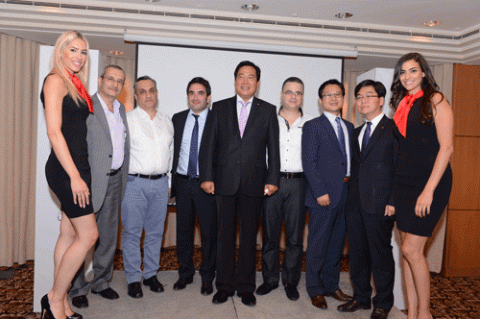 Beirut, July 10, 2014: In advent to its launch in Lebanon, the G3 by LG Electronics made its first appearance in the country in front of LG's network representatives of mobile phone dealers, during a special event held recently at Le Royal Hotel, which was dedicated to discuss the G3 features designed in line with the exceptional options provided by the G-series, and based on the business philosophy of LG that reflects simplicity as a key value in the new generation of smart phones and its slogan "we learn from you", that is inspired from LG's researches related to consumers' opinions and their own experience with mobiles.
The gathering was kicked off with a note by Mr. Tae Hun Ryu, GM of LG Levant, who presented the key features and specs of the new phone regarded as the debut product of LG smartphones, as it extends the most ambitious and exceptional experience, due to its amazing design  and its huge potential in terms of software.
LG unveiled during its presentation of the phone that the G3 comes with a new Quad HD screen of 5.5 inches, supporting a high level of clarity and accuracy reaching up to 1440x2560 pixels, and a density reaching up to 538 pixel/ inch, to provide double the accuracy given in HD screens available on the markets. The G3 is equipped with a camera, with an accuracy of 13 Megapixels, supported with the OIS technology, and an automatic focus laser system, in addition to a frontal camera of 2.1 Megapixels. These features allow users to enjoy higher definition, and capture photos very rich in detail, even in poorly lit places and in a short span of time, representing only a fracture of time needed to take photos with traditional phones' cameras.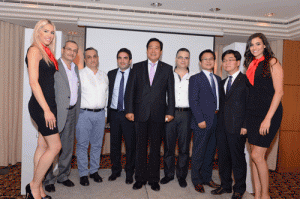 On this occasion, Mr. Ryu confirmed LG's keenness to provide Lebanese consumers with the company's latest innovations in smartphones, and highlighted its continuous work towards identifying and catering to the needs of the users and bringing them products that would enrich their experience, through the high performance and quality elements offered in a modern elegant design in addition to a number of other innovative options.
The G3 is distinct with its design that leverages its advantages. Starting with its external structure, made of several materials, the phone gives the impression that it is made of brushed metal, increasing its resistance to scratches and avoiding fingerprints on it, while the curved form of its edges allows users more ease and greater comfort while holding the phone with one hand, in addition to its light weight, which is only 149 grams.
This added to its simple dimensions of 146.3 x 74.6 x 8.9 mm, and a back control key, that enhances its practicality, dispensing G3 owners from using the side items of the phone, and putting them in the rear area; that includes the volume control, and the power button which the new design reflects perfectly the element of innovation that LG enjoys.
As for the software, the G3 is operated with the latest Android operating systems 4.4.2 (Kit Kat), which is provided with the Snapdragon 801 quad-core "Qualcomm" processor, having a 2.5 GHz speed, while it is equipped with a removable battery with a 3000 mA/h capacity.
The G3 offers a simple user interface rich in graphics, looking more attractive and simpler from older interfaces, which is consistent with the spirit of simplicity in the G3 design. The phone also offers a wide range of features, including the "Smart Keyboard", and the "Smart Notice" protection feature, as well as the "Knock Code" and the "Content Lock" option, in addition to the "Kill Switch" innovative feature.
The event that gathered LG and its mobile dealers, hosted several entertaining sequences, as a competition was held to unlock the Knock code set by LG to win an Ultra HD TV system, yet no one was able to unlock it which proves the high security level that is provided by this feature. A brief funny show followed this to bring joy to the hearts of the participants, while a raffle draw concluded the evening and 3 lucky winners were awarded three G3 phones.
About LG Electronics, Inc.
LG Electronics, Inc. (KSE: 066570.KS) is a global leader and technology innovator in consumer electronics, mobile communications and home appliances, employing 87,000 people working in 113 locations around the world. With 2013 global sales of USD 53.10 billion (KRW 58.14 trillion), LG comprises five business units — Home Entertainment, Mobile Communications, Home Appliance, Air Conditioning & Energy Solution and Vehicle Components — and is one of the world's leading producers of flat panel TVs, mobile devices, air conditioners, washing machines and refrigerators. LG Electronics is a 2013 ENERGY STAR® Partner of the Year. For more news and information on LG Electronics, please visit www.LGnewsroom.com.
Categories