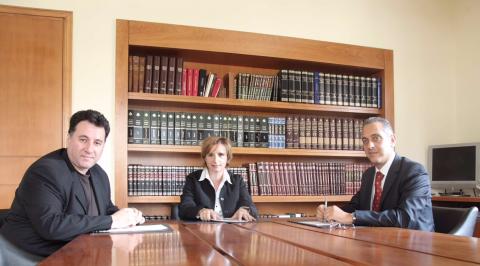 Beirut, November 17, 2014: All-inclusive offshore solutions provider 'Lebanon Offshore' and auditing and consulting firm 'Majzoub & Partners CPAs-Nexia International' organized a conference titled "Why is it so difficult for Lebanese offshore companies to open a bank account in Lebanon?" on November 14, 2014 in Badaro, Beirut.
Attended by a remarkable number of 'Lebanon Offshore' clients, the conference discussed, as well as further examined the obstacles which Lebanese offshore companies face when opening bank accounts in Lebanon especially that Lebanese offshore companies are joint stock companies and should be treated as so by banks.
Present at the intervention, Me Michel Ghanem, Partner at Khalaf Law Firm explained, "While some banks in Lebanon refuse to open bank accounts for offshore companies, their restrictions are a result of internal decisions taken by the management and not according to the laws or circulars of the Central Bank of Lebanon."
Me Ghanem further clarified that some of the factors causing banks to take this decision include their difficulty to control the origin of the money, as offshore companies conduct their activities abroad. Offshore bank accounts also tend not to be profitable enough as their main operations are simple transactions with thin profit margins, and thus, do not require loans or letters of credit.
Mr. Mosbah Majzoub, Managing Partner at Majzoub & Partners CPAs-Nexia International, also commented on the manner, saying, "Conservatism, a requirement for all financial institutions in Lebanon, is not justified in the case of opening bank accounts for offshore companies. Although fiscal evasion could be done through both onshore and offshore companies, the use of an onshore company in this case is certainly easier for doubtful operations, as this may give more legitimacy to illegal operations. "
About Lebanon Offshore: Lebanon Offshore provides a confidential, efficient and cost effective approach to set up an offshore company in Lebanon, offering an all-inclusive portfolio of services and expertise. Comprised of a strong, multilingual team that is committed to customer service, Lebanon Offshore enables the incorporation of an offshore company within just 24 hours. www.lebanon-offshore.com
About Majzoub & Partners CPAs-Nexia International: Established in 1998, Majzoub & Partners CPAs-Nexia International is a certified public accountants firm serving auditing, accounting, consultancy and corporate governance. With an aim to help clients maintain the confidence of investors, manage their risks and strengthen their controls, the company consists of 2 partners and 14 professionals who always work on delivering outstanding services to clients. Ranked among the 10 largest audit firms in Lebanon, Majzoub & Partners CPAs-Nexia International are located in Beirut and Saida. http://majzoubcpas.com
Categories