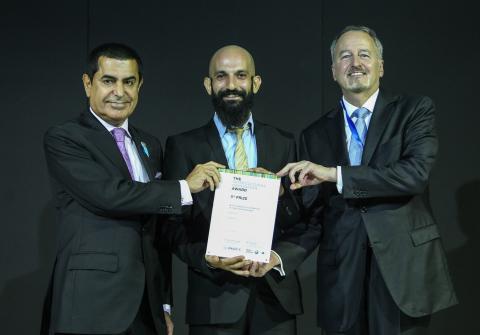 600 applications from more than 100 countries 
8 September, 2014 – arcenciel, a non-governmental organisation (NGO) based in Lebanon has been awarded fifth place among a competitive field of 11 finalists vying for the prestigious Intercultural Innovation Award (IIA) for 2014.  The award was presented in Bali, Indonesia at a ceremony held on August 28th in conjunction with the 6th Global Forum amongst an audience that included heads of state, dignitaries and representatives of the 144 member countries comprising the United Nations Alliance of Civilizations (UNAOC), as well as civil society groups and the media.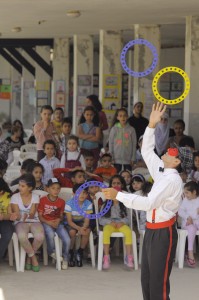 The Intercultural Innovation Award was established in 2011 by the BMW Group and UNAOC to reward and actively support innovative grassroots projects that promote intercultural dialogue and understanding that make a positive and impactful contribution to society.  arcenciel was awarded for its novel Cirqu'enciel programme described as a "Circus School in the Service of Intercultural Dialogue".  The programme includes a circus training school that helps integrate Lebanon's marginalized youth from differing cultural backgrounds to gain a foothold into society by encouraging them to train and perform in different circus acts.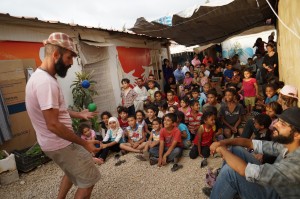 UNAOC and BMW Group received a total of more than 600 entries from grassroots organizations worldwide.  The entries were narrowed down to a 'short list' of 25 for review by a jury comprising scholars, practitioners and representatives of the award partners themselves.  An important component of the judging process was the global potential of the programmes to be able to be replicated and implemented successfully elsewhere in the world.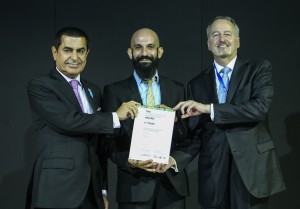 After the ceremony, joint chairs President Nassir Abdulaziz Al-Nasser, UN High Representative for the Alliance of Civilizations and Mr. Bill McAndrews, Vice President Communications Strategy, Corporate and Market Communications, BMW Group commented: 
"The Intercultural Innovation Award is a unique example of the Alliance mandate to bridge cultural and religious borders and to foster understanding," said President Nassir Abdulaziz Al-Nasser. 
"BMW Group's commitment to the awardees extends beyond financial support to include every relevant resource we can offer," said Mr. McAndrews. "This can make the crucial difference in turning an idea into a practice that enriches peoples' lives." 
For fifth place in the IIA Award, arcenciel was awarded a cash prize.  In addition, UNAOC and the BMW Group will provide all finalists with a year-long management and marketing consultancy service tailored to each project's unique needs. 
What the jury liked 
Long after the civil war in Lebanon barriers between intercultural dialogue remain, and behind them, a large percentage of the youth are at risk and often include those from underprivileged backgrounds with many suffering with drug or alcohol problems or even with criminal records who are in desperate need of psycho-social support, but remain isolated and disconsolate.  
arcenciel's novel Cirqu'enciel circus project targets these youth with the aim to bring them together through popular circus acts that build social communication around feats that include juggling, acrobatics, magic, arts of mime and clowning.  "We aim to provide a fun and playful environment where they will feel comfortable to integrate themselves while at the same time, as these young people learn to perform they also learn discipline, respect for authority, with many experiencing 're-integration into society' as they hear the sounds of the audience applaud them for what they have accomplished.  Some even find financial rewards performing at weddings and parties.  With the simplest of 'tools', says Mr. Girges, "We are creating artists for life and helping these people feel valued."  
Note to Editors:
Bassoul-Heneine sal:
Bassoul-Heneine sal is the exclusive importer of the BMW Group in Lebanon, and the oldest BMW importer in the world. Throughout its illustrious history, dating back to 1951 with the establishment of Bassoul-Heneine & Co., the company has built a wealth of expertise, knowledge and trust among its loyal customers desiring BMW and MINI automobiles. 
For questions please contact: 
Bassoul-Heneine sal
Email: nkhalife@bashen.com
Categories