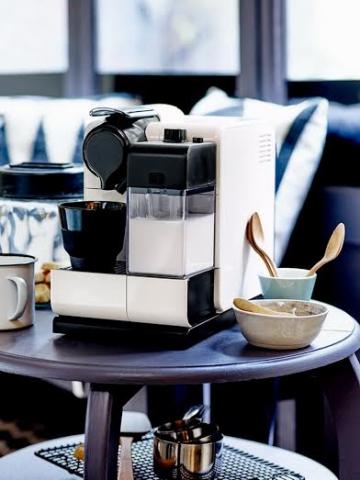 Innovation and design is at the heart of
Nespresso
and its machines are constantly evolving as part of the quest to consistently deliver the highest quality coffee to Club Members. This month,
Nespresso
is introducing the
Lattissima Touch
as part of the Lattissima range which was first launched in 2007. The
Lattissima Touch
has been redesigned to offer even more features for coffee connoisseurs who enjoy coffee with milk. This latest addition to the company's iconic range of sleek and stylish machines creates gourmet recipes for coffee and fresh milk lovers at the touch of a button.
The
Lattissima Touch
is one of the most feature-rich technologies
Nespresso
has to offer and enables coffee lovers to enjoy an enhanced coffee quality experience in their own home. With brand new integrated technology,
Lattissima Touch
owners can create six recipes at the touch of a button including Ristretto and milk froth as two new features. The pre-heating times for the coffee and milk have been further improved so that your favourite coffee recipe is served even quicker.
Be seduced by the glamorous
Lattissima Touch
for a smooth, milky and intense coffee experience. Create the ultimate latte or cappuccino at your fingertips. Available in Glam Red, Glam White and Glam Black, the machine will be the perfect home accessory for those who have an eye for design. With a tactile interface for optimized convenience, creating extraordinary coffee and milk recipes has never been easier.
Lattissima Touch is available in Nespresso Boutiques ABC Achrafieh (Level 0) and ABC Dbayeh (Level 3), by contacting the Nespresso Club at (+961) 5 953 700, on the Nespresso website www.nespresso.com and at selected trade partners.
Categories