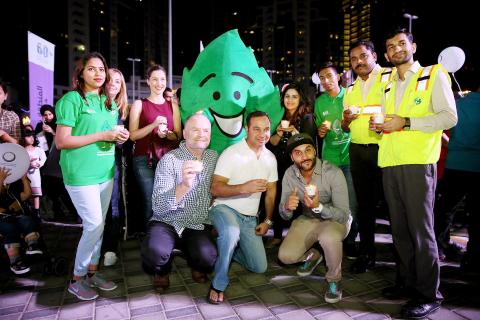 In line with its corporate social responsibility of contributing towards a sustainable environment, Imdaad, a leading provider of integrated facilities, environment, and energy management solutions in the GCC, participated in the Earth Hour for the third consecutive year, which was celebrated on Saturday, March 19, 2016 at the Bay Avenue area in Business Bay, Dubai. Organised by World Wild Fund, Earth Hour has emerged as the world's largest grass-root environmental movement that unites people to switch off non-essential lights for one hour. In support of the event, Imdaad switched off lights in all its offices, headquarters and facilities, including 25 major projects in the UAE from 8.30 pm to 9.30 pm.
 Imdaad, along with Khaddour, the fun-loving leaf character and the mascot of Be'ati – Imdaad's flagship community program – organised a series of interactive activities at its stand at Bay Avenue as part of the Earth Hour celebration, which included distribution of Imdaad-branded candles and a selfie competition. Visitors were urged to post and share their selfies with Khaddour on (social media) to win exciting prizes. In addition, several of Imdaad's employees along with government officials and other organizations joined in the Earth Hour Walk that took place from 8.30 pm to 9.30 pm.
 "Earth Hour has become a global initiative that continues to spread awareness about various environmental issues such as carbon footprints, greenhouse gasses, global warming, and climate change. As a socially responsible company, Imdaad switched off non-essential lights in all its offices and headquarters, reinforcing environmental sustainability and protection. We also participated in the Earth Hour Walk to support the global movement to strengthen its leading role in supporting international efforts to create a robust, safer and greener planet. At Imdaad, we strictly abide by energy-saving practices in all its operations all through the year and strive to introduce innovative and eco-friendly solutions for our clients," concluded Jamal Abdullah Lootah, CEO, Imdaad.
 Last year, Imdaad saved 27,797 kilowatts per hour (kWh) of energy during the Earth Hour, contributing 9 per cent of 305,000 kWh of energy savings recorded by Dubai in an hour-long campaign. In addition, it launched a successful social media campaign under the official hashtag #ImdaadEarthHour, where people were encouraged to post most creative photos of their Earth Hour participation.
Categories