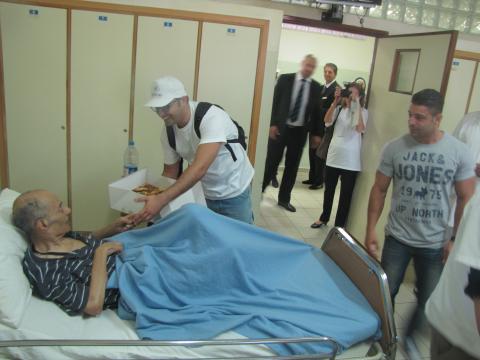 On the occasion of the Holy Month of Ramadan, the Blue Energy Team of the Hilton Beirut Habtoor Grand and Hilton Beirut Metropolitan Palace initiated a campaign aiming at spreading the joy of Eid in the hearts of the less fortunate. Over the period of three weeks, all hotel employees collected used books, clothes, shoes and toys that are still in good condition to be offered to "Dar Al Ajaza Al Islamia". The hotel management even donated the hotels' linen that can no longer be used in guest rooms. 
Renowned for the Hilton family spirit, 10 hotel team members visited Dar Al Ajaza Al Islamia on Friday, July 25 to distribute the gifts along with cakes and sweets prepared specifically for the occasion by Hilton's pastry chefs.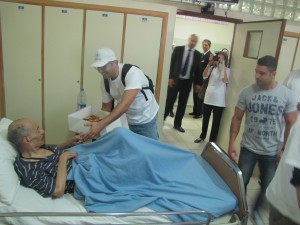 "Creating value for our business and communities is core to how Hilton Worldwide operates as a global hospitality company; and this actually reinforces our brand promise to make each and every member of our community feel cared for, valued and respected", said Naif Zuraikat, Cluster General Manager, Hilton Beirut Habtoor Grand and Hilton Beirut Metropolitan Palace. "This campaign falls in line with our Travel with Purpose program that focuses our efforts in four core areas: creating opportunities, strengthening communities, celebrating cultures and living sustainably", he continued. 
Hilton Blue Energy team kick-started the campaign with an ice cream sale held in the staff restaurant, which proceeds also went to the benefit of Dar Al Ajaza Al Islamia. 
About Hilton Hotels and Resorts
Founded in 1919 as the flagship brand of Hilton Worldwide, Hilton Hotels & Resorts continues to build upon its legacy of innovation by developing products and services to meet the needs of savvy global travelers at more than 550 hotels across six continents. Hilton is the stylish, forward-thinking global leader in hospitality with Team Members shaping experiences in which every guest feels cared for, valued, and respected. Access the latest news at news.hilton.com and begin your journey at www.hilton.com or www.hilton.com/offers for the latest hotel specials. View a list of official social channels at www.hilton.com/social. Hilton Hotels & Resorts is one of Hilton Worldwide's ten market leading brands.
Categories