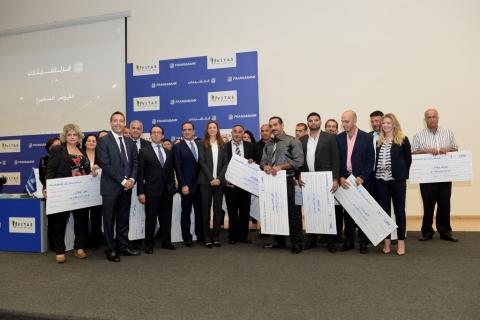 Beirut on Tuesday, November 18th, 2014
Under the patronage of His Excellency the Governor of the Central Bank of Lebanon, Dr. Riad Salameh, and in the framework of the social responsibility of Fransabank in promoting balanced development, a joint press conference between Fransabank and Vitas, was held at Adnan Kassar Edifice for Arab Economy in Jnah Area in Beirut, headquarters of the General Union of Arab Chambers of Commerce, Industry and Agriculture for Arab Countries, to shed light on the microfinance programs/microloans, particularly those provided to remote areas.
The Conference was attended by the representative of HE Governor Dr. Riad Salameh, Executive Director of the unit of funding in the Central Bank of Lebanon Mr. Wael Hamdan, General Manager of Fransabank Mr. Nadim Kassar, General Manager of Vitas in Lebanon Mr. Ziad Halabi, in addition to a high-level foreign delegation from Vitas Group and Global Communities, the parent company of Vitas, as well as mayors, governors, media, and economic and social representatives.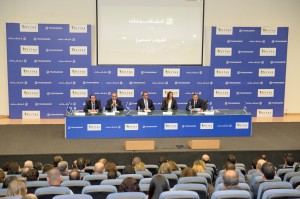 During the conference, 24 awards -- each for the amount of USD1000, were granted to 24 small projects which were distinguished for their performance and returns on various levels.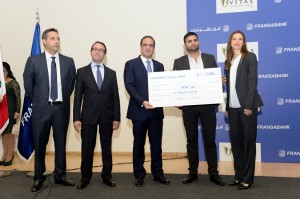 The conference opened with a speech given by Mr. Ziad al Halabi, Vitas' Genral Manager, who said that "today's event is a landmark in the history of Vitas," considering that the cooperation with Fransabank is "a proof of both sides' determination in supporting marginalized groups and low-income people, which will lead them to take advantage of the microloans and hence contribute in economic and social development." He added: "We look to the microfinance sector as a catalyst for the economy, since it plays a significant role in supporting the community through the financing of small and micro projects, which form the cornerstone of the Lebanese economy," and clarified that the goal of Vitas in establishing micro-credit programs is "to provide integrated financial services to meet the needs of entrepreneurs of low incomes, and promote long-term development of individuals, while focusing on the most disadvantaged groups." Halabi also confirmed: "Our partnership with Fransabank has always proved to be successful, because it aims to have a positive impact on individuals, families, and businesses." He concluded his speech by thanking the Central Bank of Lebanon, represented by HE the Governor, Dr. Riad Salameh, who is keeping an eye on the microfinance sector. Halabi also extended his thanks to Fransabank Group's Chairman, HE Mr. Adnan Kassar, "who has been always keen in contributing significantly to the development of the economy and society as a whole, in addition to his belief in the concept of social responsibility which he has applied in both of his private and public missions."
In his turn, Mr. Nadim Kassar, Fransabank's General Manager, described the strategic relationship between Fransabank group and Vitas: "This partnership has contributed effectively to create a balanced development throughout the Lebanese territory, and it resulted in micro loans programs granted by Fransabank. It also contributed in financing small and micro projects, on both the macro and microeconomics in general". Kassar highlighted the need to achieve sustainable development, confirming that "one of the fundamental pillars on which Fransabank is building its values and culture is the empowerment of individuals and low-income communities, and providing them with opportunities to overcome unemployment, improve livelihoods, reduce discrimination or inequality, raise basic living standards, and promote equitable social development, as all those aspects would have their positive impact to the entire community." He added: "In Fransabank's records, more than 10.000 loans were offered and which exceed the amount of $20 million." He also praised the role of the Central Bank of Lebanon, presided by the Governor HE Dr. Riad Salameh and his contributions in developing and fostering the national economy in all its aspects and implications," highlighting the circular 318 and its positive effects on small projects. Kassar pointed out that "Fransabank believes in and applies the strategy of corporate social responsibility which HE President Adnan Kassar has personally adopted and for which he has been internationally recognized when he  contributed in establishing the UN Global Impact, in the period of his presidency of the International Chamber of Commerce from 1999 to 2000." Kassar clarified as well that this strategy is centered on key principles, one of which is to combat poverty and reduce it.
For his part, Mr. Wael Hamdan, Executive Director of the unit of funding at the Central Bank of Lebanon, considered that "it is highly necessary to find ways to secure more balanced and fair investment opportunities targeting various economic sectors and social classes." He added: "Microfinance will be an effective tool in achieving development goals we aspire to. The Central Bank of Lebanon has contributed to the development of the work of these non-governmental organizations, as it allowed them to take loans from banks and take advantage of the incentives portfolio offered by the Central Bank, after approving their classification and enrolling them in the list of companies which banks are allowed to work with." Hamdan emphasized that all of these actions contribute to the development of the level of the financial services, increase the chances of success of micro lending operations, and also help to prevent moneylending." He added: "The Central Bank of Lebanon launched at the beginning of 2013 the incentive program of USD1.46 billion for the sake of economic growth activation, in the form of banking facilities with an interest rate of 1%. The Central Bank launched also in 2014 a package of new incentives amounting to date about USD1.2 billion. The total ofmicro loans that have been granted directly from banks or by non-governmental organizations and funded by the Central Bank of Lebanon have amounted about 44 billion LBP. "
Finally, a short movie was projected, depicting the lives of low income individuals in rural and remote areas in Lebanon, showing how Fransabank helped them establish their small businesses through microloans, in collaboration with Vitas, and how, eventually, their dreams came true. At the very end, a cocktail party was held in honor of the audience.
For Further Information, Kindly Contact
Fransabank Corporate Communications & Advertising Department | Tel: 01-340180 ext. 1817 - 1875
Fax: 01-344251 | Email: marketing@fransabank.com | Website :www.fransabank.com
Categories