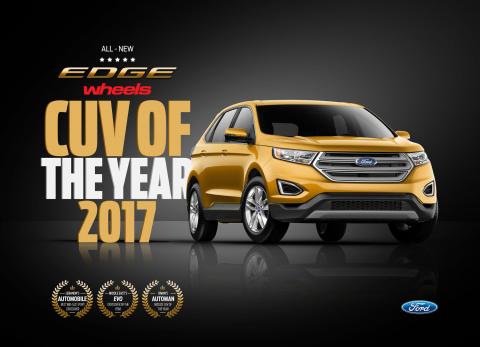 Award caps impressive year for Edge which also includes other segment-best titles in UAE, Lebanon and Oman
Proving its credentials as one of the region's most impressive vehicles, Ford Edge is also a finalist for a coveted Middle East Car of the Year (MECOTY) trophy, the results of which will be announced later this month
All-new Ford Edge CUV delivers premium comfort and refinement, cutting-edge technologies, and class leading space and driving dynamics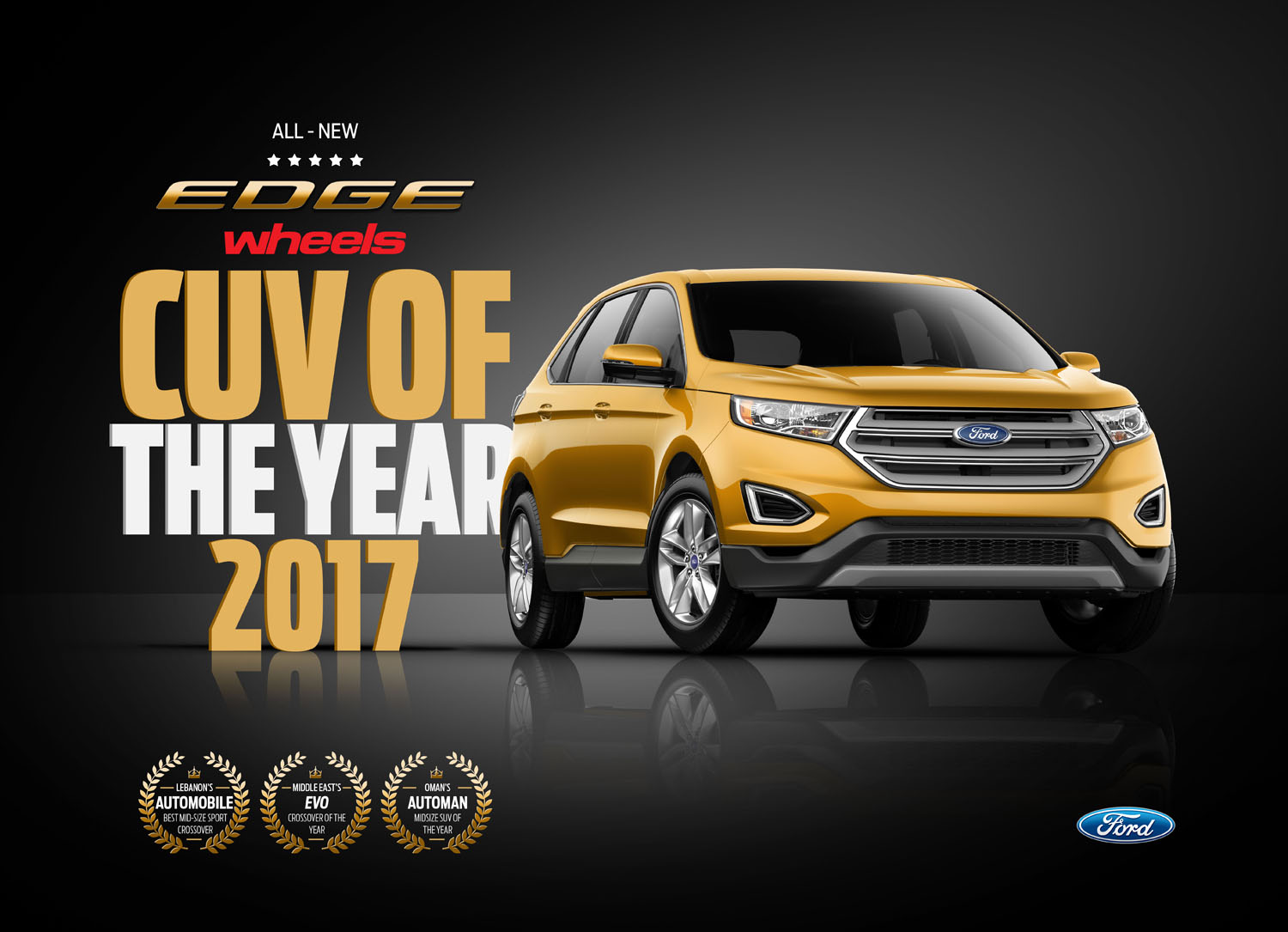 At its annual awards ceremony in Dubai last night, wheels magazine bestowed the title of Crossover of the Year for 2017 on the new Ford Edge, adding another trophy to the impressive crossover utility vehicle's cabinet. Edge has proved to be exceptionally popular in the Middle East since its launch, having already topped the judges' wish list in its segment for Lebanon's Automobile Car of the Year, Oman's Automan Car of the Year, and EVO Middle East's Car of the Year. Later this month, Ford Edge will continue its "most-nominated" trend when it contests for the MECOTY 2017 award in the Compact SUV category, once again proving its credentials as one of the region's most impressive vehicles. The wheels Car of the Year, now in its ninth year, is the region's largest independent automotive awards. In addition to Edge taking home the top honour in the crossover segment, it also caught the eye of wheels' avid readers, who nominated Edge as a finalist for the overall Readers' Choice Award. "Ford vehicles have a deserved reputation for being the most fun to drive, and with the dynamic technology packages we have developed for the Ford Edge, including Ford Adaptive Steering, enhanced Active Park Assist, and the new powerful 2.7-litre EcoBoost engine on the Sport variant, we have set a new standard in the CUV segment," said Crystal Worthem, director of Marketing, Ford Middle East and Africa. "To receive such a coveted award is confirmation of Ford's continued leading presence in this important segment." Ford has a long history of SUV leadership, and when Edge was first introduced a decade ago, it proved a utility vehicle could meet the demanding needs of an everyday commuter, soon becoming the leader in its segment. Ford Edge The all-new Ford Edge upscale crossover utility vehicle (CUV) delivers premium levels of comfort, sophisticated driver assistance features and class-leading driving dynamics to a greater number of customers in the cities of the Middle East region. The all-new Ford Edge cuts a bold, sporty and imposing figure on the roads. Wheels pushed out to each corner give a wide, aggressive stance and help maximise interior space. Raised ground clearance enhances off-road capability, and delivers a seating position for a commanding view of the road. A fun-to-drive, responsive and agile character is enhanced with the sophisticated Ford Adaptive Steering system, which changes the ratio between the steering and road wheels according to vehicle speed. At lower speeds, such as when pulling into a parking space or maneuvering in tight quarters, the system makes the vehicle more agile and easier to turn. At higher speeds, it enables the Edge to react more smoothly and precisely to driver input. Edge features three engine options, two of which are new powertrains – a standard twin-scroll 2.0-litre EcoBoost® four-cylinder engine producing 253 PS and 378 Nm of torque, and a 2.7-litre EcoBoost V6 producing 340 PS and 542 Nm of torque. A normally aspirated 3.5-litre V6 engine which boasts 283 PS and 340 Nm is also offered. All are equipped with dual exhaust and a six-speed automatic transmission. For 2017, the new Ford Edge adds more technologies featuring the latest generation of Ford's innovative communications and entertainment system SYNC®3. In addition to other new languages, Ford's SYNC 3 will support Arabic for the first time – both text and voice activation – enabling simpler control for Arabic-speaking drivers. With integration of Android Auto, Apple CarPlay, and Siri Eyes Free, SYNC 3 is one of the most intuitive systems available. Navigation sees a greatly-improved system, including 3D support with landmarks, a Mecca compass, and enhanced junction view providing detailed lane visuals and guidance. SYNC 3 also provides full dead reckoning support, 1.5 million points of interest and 1.3 kilometres of road, and comes with free map updates for five years; a necessity for the ever-changing and evolving landscape of the Middle East.
Categories